My Favorites
SPONSORED BY SOUND PRECISION ENTERTAINMENT
Wedding Shows can be a bit overwhelming – especially when you get home and start sorting through hundreds of pamphlets and business cards! With My Favorites, you can easily keep track of which vendors you loved most throughout the show and have a list of your favorites sent to your email! Plus, five lucky brides will win up to $500 off services they book from one of their favorited vendors!

You'll have a list on your phone of every booth at the show. When you're talking to someone and you want to contact them later or remind yourself to look at their website, simply check the box next to their name on the list! At the end of the show, your entire favorites list will be sent to your email, so you have a personalized, organized list of companies from the show you want to learn more about.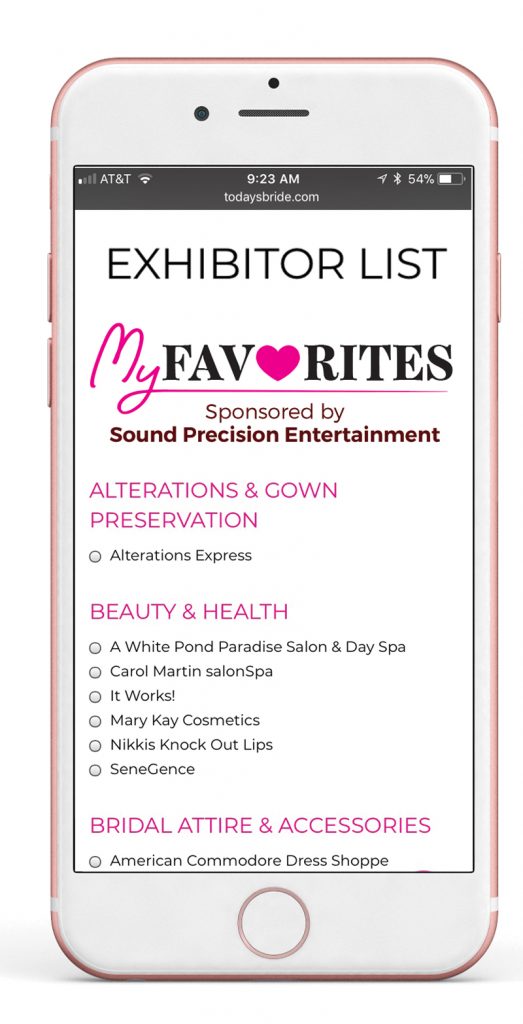 But this list is good for so much more than just helping you keep track of your favorite vendors. It can also help you win up to $500*! Five (5) brides will be randomly selected to win a hefty discount on one of their favorite vendors' services.
Prize amounts include:
Three (3) $100 winners*
One (1) $200 winner*
One (1) Grand Prize winner of a $500 discount!*
*These values can only be applied to ONE vendor. The vendor chosen must be listed on the winners My Favorites list. This is NOT a cash prize. Credit will be given to vendor to apply toward contracted services.