Pamper Yourself – Spa Treatments
The months leading up to the big event can be extremely busy and stressful – with family, etiquette and money concerns at the front of your mind, just to name a few. By setting aside some pampering time for yourself, you gain perspective on things. You also avoid some stress-related conditions that can affect brides, such as sore neck and shoulders, facial lines and fatigue.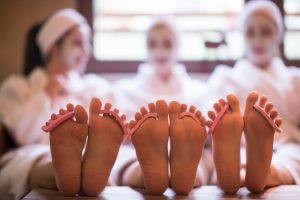 When we think of health spas, we think of relaxation and luxury – a sanctuary of sorts for women. The good news is that while all of those images of health spas have an element of truth, these days, spas offer services suitable for all budgets, and many offer services for men just as much as women. Most also sell the latest, most effective beauty products – from chemical-free make-up to nourishing oils and hydrating masks.
Stressed-out brides should pamper themselves with a massage during the week of their wedding. Experts note that some brides even enjoy pampering their entire bridal party with massages, facials and more. Just make sure you book three to six months in advance to take full advantage of bridal spa services. To maximize the impact, consider scheduling a massage the night before the ceremony. On the eve of the big day you'll appreciate something that will relax you, help you sleep and get your blood flowing. You'll look better – and you'll feel better, too!
So do yourself a favor. Disconnect from the world for a few moments. Leave your cell phone, your iPad, your list of things to do at home, and take an hour here and there in the months leading up to your wedding to recharge your battery!