Crop Bistro: Serving the Best For Your Wedding Day!
One of the best feelings when it comes to wedding planning is finding a venue that has it all! If you want a large space for your reception, a small space for your rehearsal dinner, stunning views and architecture, a great location, and catering options, look no further than Crop Bistro!
selection of spaces
Crop Bistro & Bar is located in Ohio City in Cleveland. This old bank vault has been renovated to reflect it's former glory with all the amenities and luxuries you need today. With 5 different event spaces, you'll find an option that fits your vision. Their Main Dining Room as 35-foot high ceilings, floor-to-ceiling windows, and gorgeous artwork. The Shop allows you to experience this same space, but in a smaller setting, perfect for intimate gatherings. Book the Executive Dining Room for your rehearsal dinner. It's chandelier, artwork, and wainscoting will transport your guests to an era of decadence. For a truly unique experience, dine in The Vault! This old bank vault is the second largest in the country. It even has the original front and back doors, weighing 160,000 pounds! Finally, the Skylight Penthouse is modern and light. With floor-to-ceiling windows, you'll have stunning views of Cleveland!
In-House Coordination
Not only do you get a variety of spaces and catering options with Crop Bistro, but you get someone to handle the details! "Couples are surprised to learn that I am an in-house wedding coordinator," says Ursula Allison, Crop Bistro Event Director. Planning a wedding takes a lot of work. It can be a full-time job! If you already have a full-time job and a social life, it can be nearly impossible to find time to plan. That's where Ursula comes in.  "I personally assist in setting up the room, floor plans, timelines, organizing rentals, print custom menus, and assist with all vendors. Couples can often save so much money by using my services to assist in the planning and execution of ceremonies and receptions at Crop Bistro." You'll feel comfortable in trusting Ursula and her attentive, friendly, and professional staff with executing your wedding vision. "I am very hands on with every event. I am particular, detailed oriented, and extremely organized."
Catered to you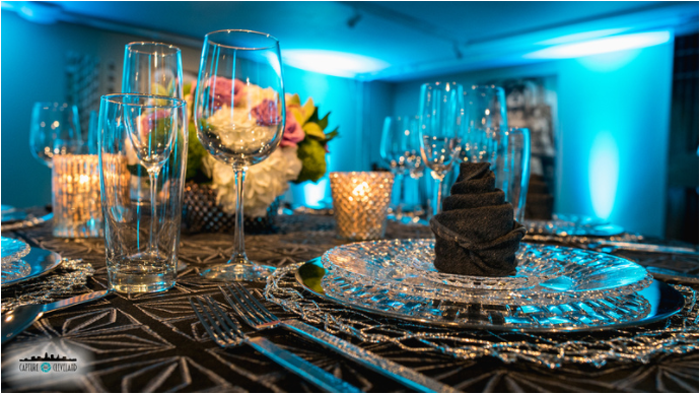 Crop Bistro caters to you – literally and figuratively! They use fresh, local food from small farmers and artisanal producers to create a modern American menu. Their cuisine is centered around flavor, freshness, and invention. You'll taste the passion with every bite! Using intense flavors and top-quality ingredients, their chefs will come up with a menu you love.
Ursula also works hard to ensure that the vision you imagine is a reality on your wedding day. One thing she's seen a lot of and is an expert at embracing: your own personality and style! "Couples are coming up with fresh and fun ways to have fun at receptions. Like a balloon send off at the end of the evening, group singing during toasts, fun Cleveland-themed favors to take home, etc. Basically, anything to make it more memorable, whimsical and fun for all." Whether you're setting new trends or honoring old traditions, Crop Bistro will deliver.
---
Your wedding day should be the happiest day of your life. The process of planning it should be just as enjoyable as the day! At Crop Bistro, you can cross off the most important tasks on your to-do list. Rely on Ursula to organize the details and coordinate the wedding day so all you have to do is enjoy. "Ask questions and don't be shy. There are never any wrong questions. This is your moment!"