FAQs with American Commodore Tuxedo
American Commodore Tuxedo is one of the best places in Northeast Ohio for men to buy or rent suits and tuxes. Whether you're looking for business attire or your wedding ensemble, they have something for everyone at one of their 15 locations across NE Ohio. We sat down with ACT to get the answers to their most frequently asked questions.
What if something doesn't fit at the final fitting?
At American Commodore Tuxedo, we guarantee the perfect fit. We have two crucial fittings to ensure that. During the first fitting, we take measurements and have you try on some sample garments. This allows us to get as close and accurate sizing as possible. We then have our final fitting, which is commonly mistaken for a pick up date. This is actually when we require you to try on the items ordered for your event. It gives us the chance to make minor adjustments or alterations to your outfit so we can give you the perfect fit.
What separates you from the other men's attire rental companies in the area?
We started as a small, family-owned company in 1928 based in Cleveland, Ohio. (That's over 90 years of experience!) We really value our customers and their business. We show that by trying to make the customers feel comfortable and have a good time picking out their attire. Weddings are a once-in-a-lifetime occasion, so we try to make it an enjoyable experience!
American Commodore Tuxedo always guarantee the lowest price and fit of your outfit so you will look your best for any occasion. Also, our warehouse is local, so we can do things extremely fast and efficiently!
What are the most popular men's attire trends for 2019?
Shades of gray and navy are definitely the most on-trend colors right now. We're also seeing grooms going for a slim-fit and a very well-tailored garment.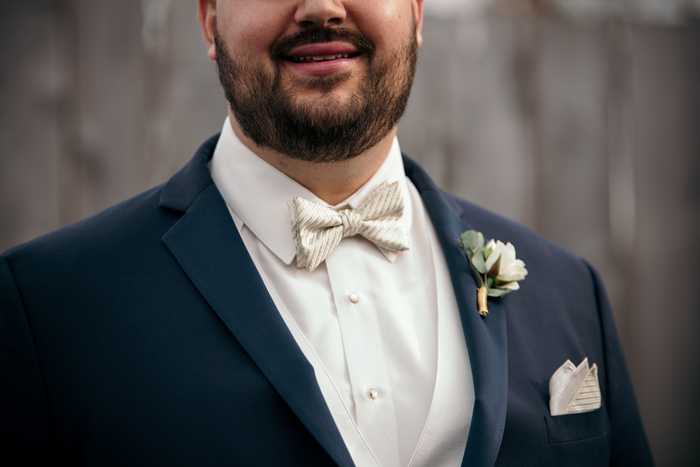 What can a groom do to stand out from his groomsmen's looks?
There are so many options! For a minor difference, he can wear a white or ivory tie while the groomsmen wear the accented color tie, change up his vest or pocket square, or just a subtle difference in flowers on the boutonniere. For a more dramatic difference, the groom could wear a completely different colored tuxedo or suit!
---
Watch real couple Abby & Robby visit American Commodore Tuxedo and learn all about the benefits of booking with ACT.
This video is about Tuxedo Interview
---
American Commodore Tuxedo constantly has new inventory and promotions. They're currently running their best promotion of the year and have extended it for a limited time. They even sell special occasion dresses for your bridesmaids! For modern, trending styles and prices you can't beat, stop by a store near you.