Pumpkin Decor for your Fall Wedding
Did you know it's actually illegal to have a fall wedding without having pumpkin decor? Of course, we're just kidding. But there is no other seasonal item that not only makes your event feel festive and seasonal while fitting in with any theme! Below are some of our favorite ways to incorporate pumpkins into your wedding decor.
Escort Cards
Why is it that everything is cuter when it's miniature?! Whether white or orange, real or fake, these mini pumpkins are perfect for escort cards, seating placements, or even favors! Adhere the name and table number to the pumpkins with a cute paper clip or by typing a pretty fabric around the stem. Or, carve or paint the veggie with their name as an escort card or quote as a favor.
Showing off your Ring
Typically, your photographer will use the fabric from your dress or veil, ring box, invitations, etc. to stage ring shots. But for a fall wedding, what's more perfect than placing them on a pumpkin? The juxtaposition of the simple, natural pumpkin against your dazzling and bling-y ring play off each other perfectly. Plus, the pumpkins naturally neutral color palette serves as a breathtaking background for your ring.
Serving Dish
Use a glass, ceramic, or natural pumpkin to serve candies, desserts, dips, and your signature drink out of (better yet if they're pumpkin flavored)! Guests will love the attention to detail, and you'll have great fall decor to use year after year with meaningful memories.
Just Lying Around
Surrounding the dance floor, sitting at the entrance, on the bathroom counter and bar top, or anywhere else you have open space, pumpkins are adorable wedding decor! They scream fall, making your wedding feel cozy and warm so guests will want to stay longer. Plus, you can gift them to your vendors, family members, wedding party, or guests after the wedding!
Leading the Way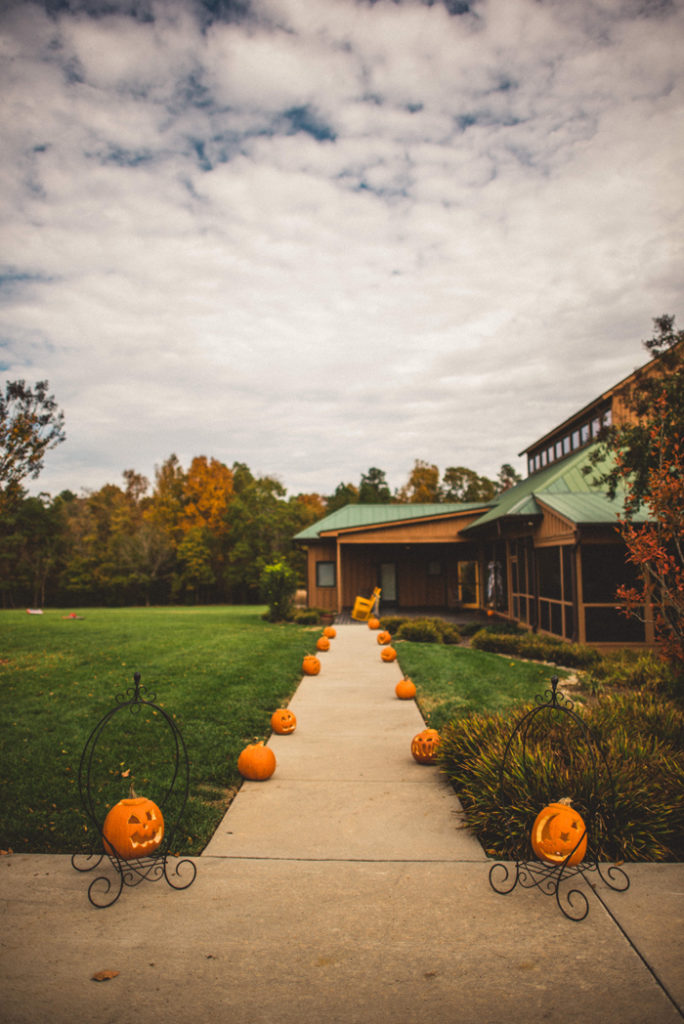 While we still recommend having signs pointing guests in the right direction or telling them the schedule of events, it can be super cute and festive to have pumpkins leading the way! Place them on either side of your ceremony aisle and line the path to your reception hall so guests can get in the spirit on the way to your celebration.
Centerpieces
When you think decor, the first thing you think is probably centerpieces. Place pumpkins in the center of your table with the table number sticking out of the top, empty the inside of a pumpkin to serve as the to a fall flower arrangement, or make a tiny pumpkin tower! You can even have a small pumpkin for each child attending to color or decorate with stickers – a great way to keep them entertained!
Flower Basket
Besides the bride herself, the flower girl probably gets the most attention during the ceremony. There is nothing cuter than a little girl in a poofy dress proudly walking down the aisle. Except a little girl in a princess costume (or otherwise) carrying a plastic pumpkin! Spray paint the neon pumpkin to match your color scheme and have her toss candies instead of flower petals.
Food and Drink Options
Of course, one of our favorite ways to include pumpkins is in your menu! Serve pumpkin pie, pumpkin bars, pumpkin spice lattes or martinis, pumpkin squash soup, or another favorite recipe! Your caterers will love getting creative with your menu, and your guests will savor each and every bite or sip.
---
There are pumpkins for any theme wedding. You can find them in white, orange, sage, and even gray. They are made from felt& other fabrics, ceramic, glass, and plastic. Make your own, shop home decor stores, or pick fresh pumpkins; carve them, paint them, stack them, or arrange them. The options for wedding pumpkin decor are endless! How will you use them?
Up Next: