Cake Cutting Q+A
Cake cutting is probably one of those details of your wedding day that you may not have thought too much about. But just like every other aspect of your wedding, it needs to be thoughtfully considered and planned. We've come up with a list of questions you may not have considered to help you begin to plan your cake cutting.
How did the tradition start?
Back in Ancient Rome, the groom would break bread over the bride's head, which somehow symbolized fertility. The couple would then share the bread with their guests as a show of wealth and good fortune. Eventually, the sweets progressed from breads to scones and pastries, and eventually, cake! Now, the cake cutting and sharing is one of the couple's and guests' favorite wedding traditions.
Learn about other wedding cake superstitions on YouTube!
When do we cut the cake?
While the cake cutting should come after dinner, there is no specific time or order you have to follow! It can come before the bouquet toss, after the Newlywed game, or in the middle of dancing the night away for a nice break. Sit down with your Wedding Planner or DJ/MC beforehand to outline your evening, and then trust them to keep you on schedule so all you have to worry about is enjoying yourself! Make sure all your day-of vendors have a copy of this schedule, so everyone knows what to do, when.
Check out our Order of Activities outline.
Do we need to buy a knife & server?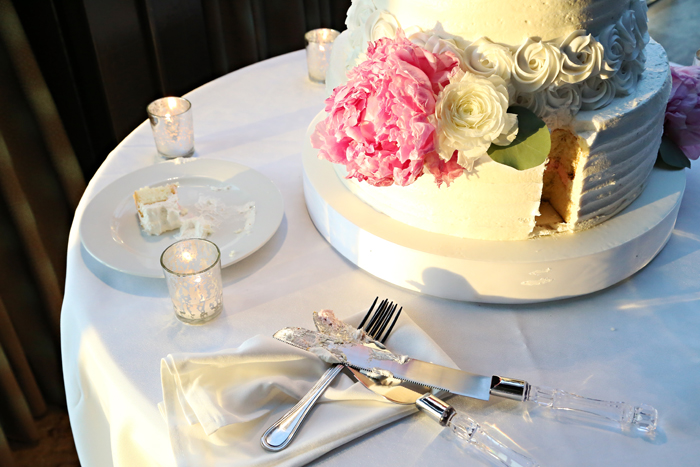 You may receive a knife and serving set at your bridal shower or engagement party. Or, you may have one specially engraved or personalized to be used in your home for many years to come. However, many caterers or bakeries will provide those utensils for you to use during your cake cutting. It's important to ask if they'll be provided in one of your initial appointments, as you don't want to end up with nothing minutes before cutting your cake.
Why do some people use swords?
If you or your fiance are part of the military, you may cut your cake using a saber or sword. (This is most common when the groom is a military member, as they're morel likely wear their formal uniform than the bride would be.) If you want to incorporate this tradition into your cake cutting, you should proceed to your cake under a saber arch before withdrawing your own sword.
---
Find Local BAKERIES:
---
Which tier do we cut?
As dessert tables, pies, cupcakes, and donuts have become more popular at weddings, more and more couples have begun ordering "cutting cakes." These cakes are one-tiered cakes meant only for the newlywed couple. It allows them to continue the tradition of cutting a cake (and get cute photos!), but only provides cake to eat for the two of them.
If you're having a traditional wedding cake, you should make the first cut into the bottom tier of the cake. This is because it is the most supported and stable tier of the cake. And, you wouldn't want to slice into the top tier, as it is traditionally wrapped and frozen to be eaten on the first anniversary. Be sure to ask your baker where they would advise you to cut, as they may have suggestions due to stability or support structures.
Who finishes cutting the cake?
Obviously, the couple is not responsible for slicing the entire cake and distributing it to the guests. So who is? Typically the caterer or venue coordinator will transport the remaining cake to the kitchen where the staff will cut and plate the cake. If you have any requests – like serving a certain flavor first, only cutting 100 slices, or serving a certain size – let your vendors know beforehand.
---
While we hope these answers helped clear up some of your questions, it's best to rely on your professional bakery to guide you through the process of tasting, selecting, designing, and cutting your cake.
Up Next: