Medina County Marriages
Medina is an ideal location for a wedding. It's convenient to access for your Cleveland, Akron, and even Wooster guests! Plus, its small-town community makes everyone feel like they're being welcomed home. Even though it is a small-town, they have all the conveniences of a big city, with everything you'll need for your wedding! From party venues to bachelor(ette) parties, to bakeries and fitness studios, Medina County has everything you need for a perfect marriage.
Caro's Party Center
Ever dreamt of getting married on the water? There's nothing more romantic than getting married in a gazebo. Caro's Party Center has both! Caro's Party Center sits on 120 acres of woods, making every backdrop available to you. You won't even need to go off-site for photos, as they offer some stunning vistas. Need a backup plan or want an outdoor ceremony with an indoor reception? Caro's Party Center has a beautiful ballroom, too!
High Voltage Indoor Karting
High Voltage Indoor Karting is the PERFECT location for your bachelor(ette) party or wedding party bonding! If you like a little healthy competition, adrenaline, and making fun, lasting memories with your closest friends, you need to visit High Voltage Indoor Karting. Race inside if it's chilly, raining, or snowing, or venture outside if the weather is (remarkably) nice. Then, go next door to the Foundry Social for dinner, drinks, arcade games, video games, and more!
Honey Bee Bakery
If you're like us, when you walk into a hometown bakery, you feel like you're in Paris. Is that just us? Honey Bee Bakery has all of your favorite treats like macaroons (see, Paris!), decorated cookies, cupcakes, pastries, and cake sculptures. Imagine getting your spouse a Baby Yoda groom's cake or having a Friend's-themed cake at your bridal shower, topped with the Central Perk couch! Not to mention the trendy wedding cakes, dessert tables, cupcake favors, and more.
Medina County Convention & Visitor's Bureau
Whether you're getting married in Medina County, want to meet there, or are just visiting one of their beautiful parks or attractions, stop by the Visitor's Bureau first. They have the best recommendations on the must-see attractions – like Castle Noel – most romantic bed and breakfasts, and scenic wineries.
One Eleven Bistro
Passed appetizers at your engagement party, a brunch bridal shower, a private plated dinner to start off your bachelorette party, or a buffet at your rehearsal dinner – One Eleven Bistro has it all! You can reserve their private room for three hours and offer your guests a delicious, gourmet meal. Choose your favorite dishes to serve alongside a cash or consumption bar for your party of 25 guests or less. It's the perfect place to kick off your wedding!
Something's Popping Gourmet Popcorn Event Caterer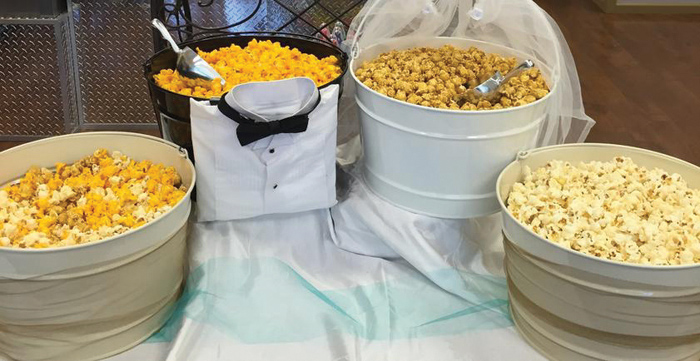 Your love is better than the movies. Why not offer everyone's favorite movie snack at your wedding? They can munch on it during your first dance as they oo and aw. They can grab a few pieces during a much needed break from the dance floor. Or they can enjoy it on their way home. That flavor will always remind them of your big day, no matter when they taste it. Offer a popcorn bar where they can choose their favorites, or cute favors to take home with Something's Popping.
Tru Barre Studio
Whether you want to lose weight for your wedding or just feel long, strong, and beautiful, Tru Barre Studio offers an incredible way to do that. Barre is a low-impact, ballet-based movement that allows your body to stretch and tone every muscle while burning fat and improving flexibility. You'll learn to challenge, push, and appreciate your body. Plus, it's a great way to relieve any wedding planning stress or nerves!
Williams on the Lake
Retreat to a beautiful, lakeside cabin for your nuptials. Williams on the Lake has a gorgeous, cozy interior with a stone fireplace, and is full-service. That means they offer tables, chairs, linens, decorations, centerpieces, china, and stemware, your choice of menu, and staff service! Plus, you can tie the knot outside in front of the water or a beautiful stone "moongate," in the courtyard, or the gazebo. Honestly, what more could you ask for?