Bridal Jewelry Based on Your Style
A lot of factors go into your bridal jewelry. You want it to be beautiful and well-made, but affordable. You want it to accent your dress rather than take away the attention. But you also want it to be your style! After all, the best bridal jewelry is something you can wear again. Here are some of our favorite statement pieces that help convey your sense of style.
Pearl Necklace
Pearls are the absolute most classy jewelry a woman can wear. They exude an air of elegance and regal-ness. That's probably all thanks to Audrey Hepburn's character in Breakfast at Tiffany's. If you want to be every bit of a lady on your wedding day, consider a pearl necklace or earrings. This is the perfect addition to a formal, traditional bride, so pair with a chignon or nostalgic Hollywood waves. Luckily, pearls are timeless and can't be confined to any one style. They look perfect with lace, beading, rouching, satin, chiffon, mermaid dresses, or big ballgowns!
Statement Earrings
If you consider yourself "extra" or dramatic, statement earrings are probably your go-to accessory. Statement earrings can range from massive hoops to lengthy strings of crystals to something with a pop of color. They can turn even a simple white tee and jeans into a stylish outfit. Therefore, it only makes sense that they'll transform your wedding dress into the envy of every bride. It's important to find a pair of earrings that will complement but not overpower your dress, though.
Tiara
If there is one day that you should feel every bit a princess, it's your wedding day. You'll probably never get another chance to wear a tiara, so why not take advantage?! Tiaras don't have to be the royal crown you're imagining that sit on top of your head. Consider a gold leaf headband or even a simple strand of crystals draped across your brow. You could even wear a flower crown or braid halo! The right tiara will draw attention to your face and help you carry your head high (which helps you look good in photos!).
Something Blue
Bridal jewelry is one of the best ways to add "something blue" to your attire. Your mom's earrings or your childhood bracelet can be your something old or something borrowed, too. You're going to wear jewelry anyway, it's a special bonus to make it sentimental. Find jewelry that has sapphire, aquamarine, larimar, turquoise, topaz, or lab-grown diamonds. These blue gems will be something you can wear again and again and can pass on to future generations as their "something old."
Locket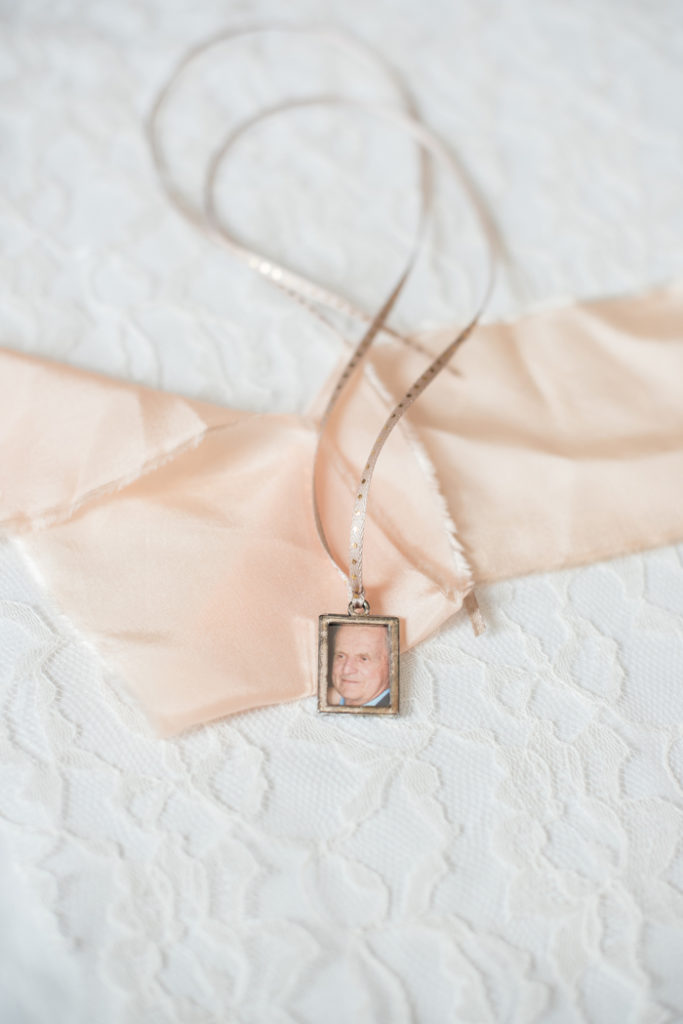 Lockets are usually large, antique pendants. This may not match the vibe you're going for on your wedding day. If you have a fitted, mermaid gown with a see-through bodice, a bulky, tarnished locket probably doesn't match your style. But if you want a sentimental piece with you throughout the day, there's nothing more meaningful. You could put a photo of you and your fiance to look at when you get nervous. Or, a photo of a loved one who has passed and cannot be there to celebrate. If you don't want it to distract from your dress, consider wrapping it around your wrist or bouquet stems.
Cultural
If you want to honor your culture or heritage in your wedding, consider jewelry! You can wear a Claddaugh ring if your Irish, Aztec-style jewelry or something with turquoise if you're Native American, or a Maang Tikka or bangles if you're Indian. If a certain stone is mined where you or your family is from – like Larimar from the Dominican Republic – be sure to incorporate it into your outfit for a piece of home.
---
Jewelry can elevate any outfit and will draw the focus to be wherever you want it. Want to highlight your collarbone or your dress's neckline? Consider a delicate necklace. Want to elongate your neck? A choker or drop earrings will do the trick. Be sure to bring the jewelry you plan to wear on your wedding to a dress fitting to make sure they match. Check out these other accessories that will complete the look.