Finding the Perfect Wedding Shoes
Whoever said diamonds are a girl's best friend obviously didn't have enough shoes. Though they may hide beneath your skirt the entire night, wedding shoes are the finishing touch to your perfect bridal look.
---
It can be difficult to choose just one pair of shoes to wear on your wedding day! Do you want different shoes for the ceremony and the reception? Do you want to be comfortable or look glamorous? Should you spend hundreds of dollars on a new pair of shoes or wear ones you already have? Here are some tips on how to choose the perfect wedding shoes!
glamorous
If you're wearing a hi-low skirt or tea length dress, your shoes will serve as a major accessory and you'll want to show them off. If you're wearing a longer dress, the decision of what to wear is yours. Though they'll be hidden the majority of the night with a longer gown, an expensive or glamorous pair of heels may make you feel confident and beautiful. You only get married once, so why not get the shoes of a lifetime for the occasion? If you've always wanted a pair of Jimmy Choo's or Louboutin's, now is the time to spoil yourself.
If you value comfort over the look of a sky-high stiletto, then you may opt to wear your favorite pair of comfy shoes instead. Whether they're ankle boots, flats, sneakers, or broken in, used heels, you'll still rock confidence knowing you're wearing what you're comfortable in. Plus, just because a pair of shoes are comfortable doesn't mean they're not glamorous! Wedges and flats can be just as sparkly and sophisticated as heels.
comfortable
For those of you who are wearing a long gown and want to make sure you can dance the night away, you might opt for more comfortable shoes. Flip flops, tennis shoes, or slip-on flats are good choices that will be comfortable and cost efficient since you can wear them again. Make sure you decide on what shoes you're wearing before getting your dress altered in length. Make sure your seamstress knows the shoes you're wearing before she makes any changes to the length of your dress.
theme
If you have a theme or style to your wedding, your bridal accessories should match. For a rustic or antique setting, rock some cowboy boots. If you know it'll rain or snow, show off some adorable rain boots. For a Cinderella theme, find transparent heels. Throwing a boho beach wedding? Strappy sandals are perfect.
CUSTOMIZATION
If you truly want a one-of-a-kind pair of wedding shoes, consider customizing your shoes! Bejewel them yourself, add adornments, or have your "solemate" write a handwritten message on the sole.
TIPS
You'll be on your feet the entire day of your wedding. From the moment you wake up, to saying your vows, to dancing the night away, your feet will be supporting you. Though they might not be the focus of the day, you'll want to make sure that they are supported properly so you can enjoy the day without any pain!
Break in your shoes the week before your wedding by wearing thick winter socks and walking around your house in them. You can try blow drying your shoes while wearing the socks to speed up the process.
If you're having a choreographed first dance or are taking dance lessons, wear your shoes to practice in. You may be able to master the moves in flats or bare foot, but dancing in heels is a completely different story.
During your dress fitting, make sure to take your heels (or some very close in height) to ensure the perfect length,
Sometimes you need to take your venue into consideration. If you're having an outdoor wedding, purchase heel stoppers. They go on the bottom of your heel to prevent them from sinking into the ground!
And For the Guys…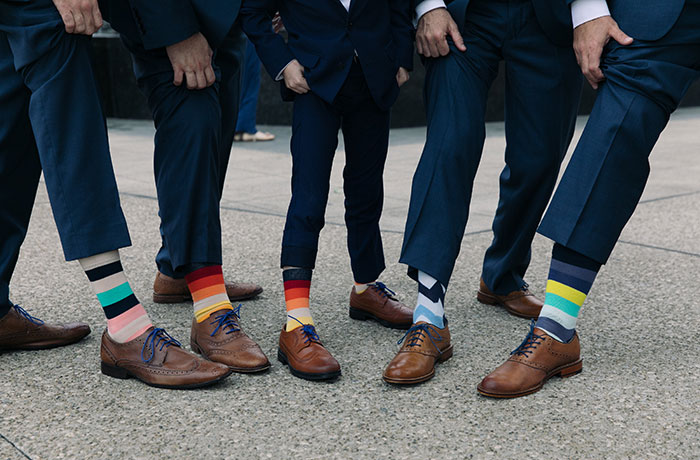 We couldn't forget about you! While there are not nearly as many options for shoes for the groom and groomsmen (usually black or brown), the sock possibilities are endless! Add some fun colors, patterns and designs to really customize your look!
---
Looking for more inspiration? Check out our Pinterest Bridal Shoes board for some of our favorites!