First Look Shoot
Your wedding day goes by so quickly. Other than the ceremony itself and your first dance, you may find that you've barely spent any time with the one person this day is supposed to be about – your fiancé! First look shoots ensure that you have a private moment together to let go of any stress, live in the moment, and embrace and celebrate the love you share.
Pros
Traditionally, the couple doesn't see each other on the day of the wedding until the ceremony. The first look shoot allows the couple to see each other before the ceremony. It's a great time to ease any nerves you may be feeling and allows you to express your excitement to each other. These photos can be an extremely fun part of the day, allowing you to get creative with your grand reveal. Because the bride and groom portraits are done before the ceremony, it also saves time between the ceremony and reception. You'll only have to take family and wedding party photos (if you don't also shoot those before the ceremony) which will allow you to arrive at your reception earlier, giving you more time to party!
---
Find Local PHOTOGRAPHERS:
---
Cons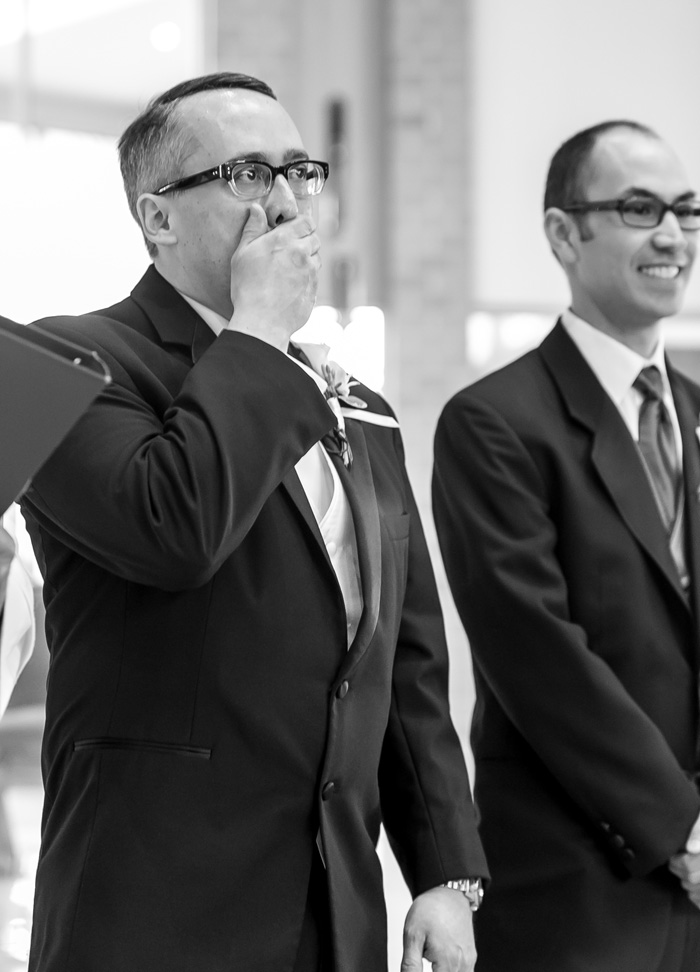 First look shoots are growing more and more popular with weddings, but they're not a tradition quite yet. There's something to be said about saving the moment you first see each other for the aisle. It increases the anticipation of seeing each other as you walk down aisle and will enhance your emotions even more, creating a beautiful shot. If you've always dreamed of seeing your bride or groom shed a tear at the end of the aisle, keep in mind that it might not happen if he or she has already seen you at a first look shoot. Having a first look also takes time away from getting ready, as you'll have to be ready earlier. If you prefer to sleep, take your time with hair and makeup, or want to bond with your girls in the last hours of bachelorette-hood, you should probably skip the first look.
Alternatives
If you like the idea of a first look and love seeing all the reaction photos but don't want to stray from tradition, there are other first look options! You can have a first look with your bridesmaids, mom and mother-in-law, dad, or even your brothers! This can be an emotional moment with your dad, and will certainly be a time when you see a grown man cry. If you choose to have a first look with your bridesmaids, you can still have them help you pick out the dress. We suggest asking them to leave the suite after your hair and makeup is done, but before you don your dress and veil. This will ensure that you still have fun getting ready together, while ensuring that your entourage will still have an epic reaction of surprise.
---
Find Local PHOTOGRAPHERS:
---
Whether you choose to participate in a first look or decide to wait until you walk down the aisle, the instant you and your betrothed first lock eyes on your wedding day will be an incredibly romantic moment. As you're choosing how to capture it, keep in mind that this is a very personal decision, and the best answer to this question is to do what feels right for you and your relationship.