A Military Wedding to Melt Your Heart
If you're following us on Facebook, you might have caught word that All Occasions Party Rental is going to be featuring a super fun, super special military couple in their ad for our upcoming Cleveland magazine. The couple? The effervescent Angela & Dan who are getting married in just a few shorts weeks — on May 23rd!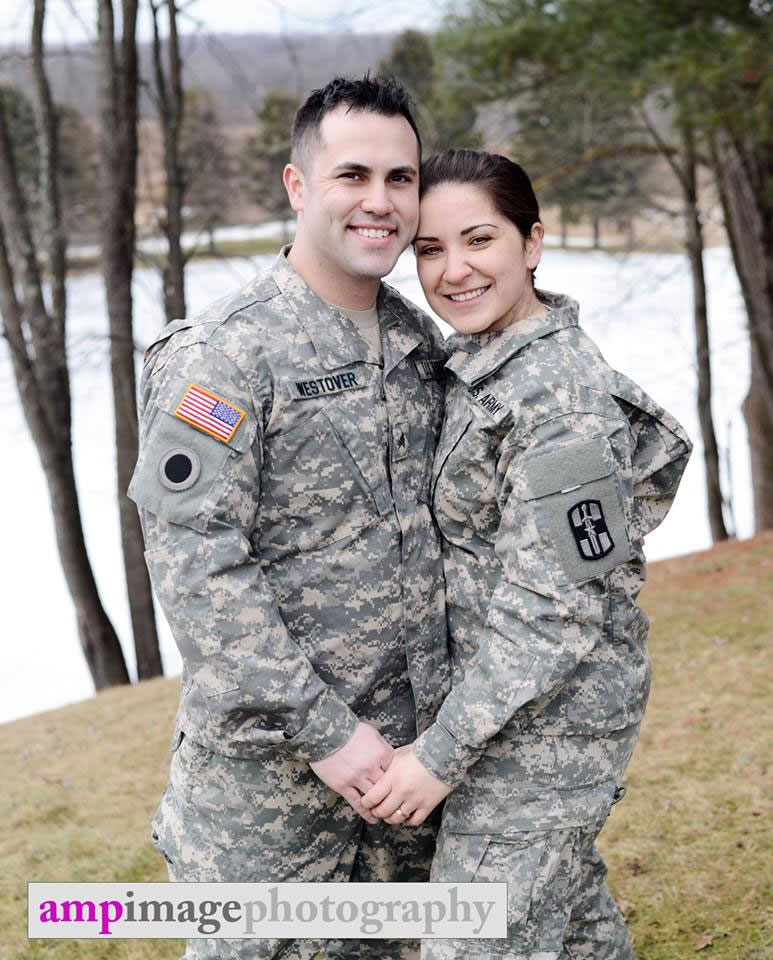 The happy couple was named winners of All Occasions' $5,000 Wedding Rental Package — a title which they earned by obtaining the most Facebook votes during the contest period. As such, they will receive a Wedding Rental Package valued at $5,000 (wowza!) — to be used for the rental of All Occasions Party Rental products. (We'll give you a sneak peek of what they chose shortly.)
In the meantime, Angela provided must-share details about how she & Dan met, their engagement & how they took the grand prize:
How did you hear about the contest? Via a Facebook friend. She saw the contest and tagged us in a comment saying it may be something we could be interested in. It was!
You received the most votes in your city! How did you get them? I posted the link and voting reminders several times a day and tagged my fiancé so it could be seen to all of his Facebook friends as well. I also posted in Facebook groups that I am a part of our pages that share our similar interests (ex: Veteran's Clubs, Nursing student group, Cat Lovers pages, and Tattooed Bride pages). Several of our friends and family were also helpful as they shared our link regularly and requested support from their friends and family!
How did you two meet? Well, you see the thing is we met on Facebook! Thanks to a mutual friend, Dan's goofiness and me being a creeper!
It all began while Dan was still serving overseas in Afghanistan. Although his days were long and he was incredibly busy being a hero, he even found time for funny business. One day he decided to comment a simple "Hi" on about a bazillion photos and posts for a mutual friend. All of these comments came up in my newsfeed, and that handsome pic alongside the comments caught my attention. Friend request sent! Through talking on Skype and Facebook, we soon realized how perfect we would be together. I decided to ride along with some of Dan's friends to meet him at the airport the day he arrived back in Ohio following his deployment. It was nerve-racking … but so DANG awesome! Since then, we've grown together sharing many adventures, lots of laughter, and love that will never end.
Tell us your engagement story. How did it happen? We went camping for a weekend in the Poconos to run a Warrior Dash. After we got to the State Park and set up our tent site, we went on a hiking trail. Dan wanted to go on one with a view & I figured it was so that I can use his awesome fancy camera. I had no idea what he had in mind, so I was skipping around taking photos. He said he was like quietly freaking out trying to think of how to do it, like if he should kneel or what and where … but I was just all over the place. Finally, he grabbed me, wrapped himself tightly around me, and was like, "Let's just stop and enjoy the view!" There he was standing behind me, holding me, as we both looked out on the valley. Then I could feel him fumbling in his pocket … He put the box in front of me so I could see the ring with the view and whispered to me, "Will you marry me?"
I barely even looked at it. I shouted NO! (several times), closed the box and shoved it back in his pocket. He said, "Uhh… what??" I just cried something like, "Noo, nooo, nooo … is this a joke? Don't mess with me!" He said, "No, this is for real!" Then I REALLY started crying, and I asked if he meant it. He said, "Umm yes, will you marry me?" I was pretty much sobbing at that point, but I shook my head and finally said yes! Then he got the box back out, and I asked, "Well, are you gonna put it on my finger?!" So he did! It turns out it fits perfect and is a pretty amazing ring. He did a great job!
How did he choose the ring? What's it look like? My fiancé chose the ring with some help from a friend of ours that works at a small family-owned jewelry store. He said "Well, I know you a wanted some detail, so that's why I chose the older vintage kind of style. I also know you're rough on jewelry, so that's why I didn't want to get anything too big or crazy with a lot of little diamonds for you to knock out. Just the one beautiful diamond for my one beautiful love."
(Awwww on 3, everyone! 1 …2  …)
Tell us about your engagement photo experience. We had a unique engagement photo session with the awesome AMP Image Photography! They came down to Dan's family farm property in Lisbon, Ohio. Being on the farm, we had really beautiful and special scenery and were able to get real creative. We got out the big guns! Literally! They took a few action photos of us live firing with our pistols. The session concluded with some photos by the lake where both of us wore our Army Combat Uniforms.
Recently, we had the pleasure of meeting Angela & Dan when they met up with Deborah of All Occasions at our office to officially collect their prize. The result? This super cute, silly 'ole photo:
Plus, Angela & Dan sat down & selected their rental items while they were here! With a wedding color scheme of red, white and gold as well as oh-so-appropriate military details, the rentals they chose made perfect sense for their big day:
And to tie it all together, we asked the staff at All Occasions what they had to say about their lovely contest winners:
"We are so thrilled that this engaged couple won our 2014 $5,000 "Keep the Memories…Return Everything Else" Facebook Photo Contest. They did an amazing job collecting votes with a whopping 4,550 total!" shares Allison Miller, Senior Marketing Director at All Occasions Party Rental. "They were sharing, reposting and talking about the contest every day, and it surely paid off. Did you know that these two MET on Facebook? So how appropriate for them to win our Facebook photo contest to pick and choose from any of our products to help make their special day one to remember forever."
And as far as why the All Occasions team can't wait to be a part of Angela & Dan's big day …?
"Everyone here at All Occasions Party Rental is thrilled to work with this amazing military couple for their wedding day," says Allison. "Not only do we get to provide our first Cleveland couple with this gift, but we get to be a part of their marriage, ceremony, and celebration. We are proud to have formed this relationship with such an amazing couple, and we can't wait to see the wedding photos! Congratulations, Angela and Daniel!"
We couldn't have said it better ourselves! Be sure to look for Angela & Dan in the upcoming Cleveland 2014-15 magazine — as well as in a future post-wedding blog with more details about their big day!