A New Look for Our Real Weddings
If you've been browsing our Real Weddings over the past day or so, you might have noticed a  not-so-little change that occurred. If you haven't checked it out yet, allow us to enlighten you.
And then, of course, there's the …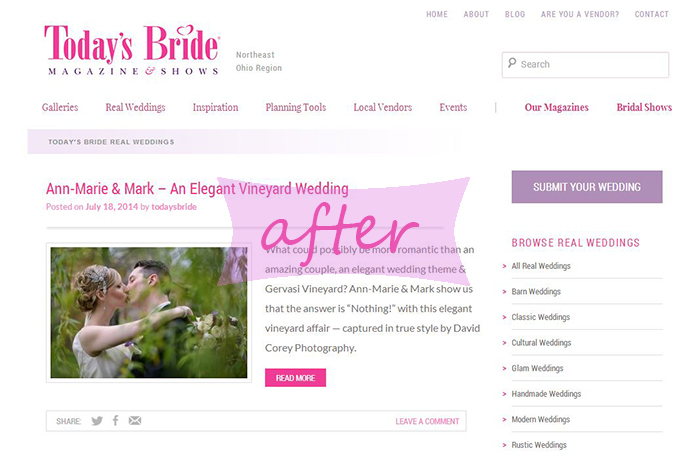 That's right: Our Real Weddings have a lovely new look going on!
In our last post, we shared with you that our new galleries had gone live & that we would be rolling out new elements of the website over the next few weeks — until we hit the big launch of the full website. We targeted the Real Weddings for our second change, and we couldn't be happier with this latest makeover.
The new layout we built — with the design expertise of Mosaic Design Group, of course — has many of the same features of the old Real Wedding blog + a couple of handy new ones. For example, we still categorize posts so you can search by photographer (i.e. If you found a photographer's work you liked, you could simply click their tagged name at the bottom of the post to view all of their Real Weddings), but we've also added a sidebar to make it easier for you to browse by popular wedding themes as well.
On the home navigation pages, you'll notice that the images are also a bit larger and there's more descriptive text to accompany each Real Wedding post. Within the posts themselves, you'll find that the images are still the same 'ole big images you love — but they're more easily pinnable and easy to scroll through an entire gallery should you happen to click on/enlarge a particular image.
Additionally, you can easily get from one post to the next without having to go back to the home page — just click on the previous or next buttons at the top of a post to get to other featured weddings.
And, oh yeah — it's now easier for you to submit your own Real Wedding to us with that little purple button at the top of each page!
There you have it, folks — our latest web launch project! So what's next in line for us? Well, you're looking at it! We're planning on rolling out the new blog in the near future, so be on the lookout for those changes as we move forward with #TBdotcomlaunch2014!