Bring Life to Your Party!
Your wedding reception is the biggest celebration of your life; you don't want to risk having an empty dance floor and no one to keep you on schedule. Hiring a Master of Ceremony (DJ/Musician) who will bring life to your party and keep the events moving will allow you to let loose and enjoy your party.
With so many outlets today providing non-stop music– Pandora, Spotify, Apple Radio–it may seem like an unnecessary expense to hire a DJ. Not hiring an entertainer, however, is one of the worst mistakes you could make when planning your wedding. Your guests may not notice if the cake is dry or if they're missing a favor, but they'll definitely notice if your music is lame. According to Bruce Steven– owner of Bruce Steven Entertainment— "if you don't have a good DJ, everyone goes home early."
One of the biggest mistakes he sees brides and grooms making is not hiring an emcee who has experience. Using a friend with a great playlist may be a cheaper option, but do you really want your wedding to be their guinea pig? Or instead, do you imagine your wedding as the party of the century? The person you hire is essentially running your entire reception, so make sure that they know what they're doing so your night runs smoothly.
Bruce also warns against using an iPod or streaming music at your reception. "I've heard horror stories," he says. "An iPod doesn't know whether your guests are dancing." Though he admits that all DJ's have their tried and true songs that they use, "sometimes it just doesn't work. You have to be able to read the crowd to know what works and what doesn't." An iPod can't think for itself, or change mid-song to something the crowd will respond to better.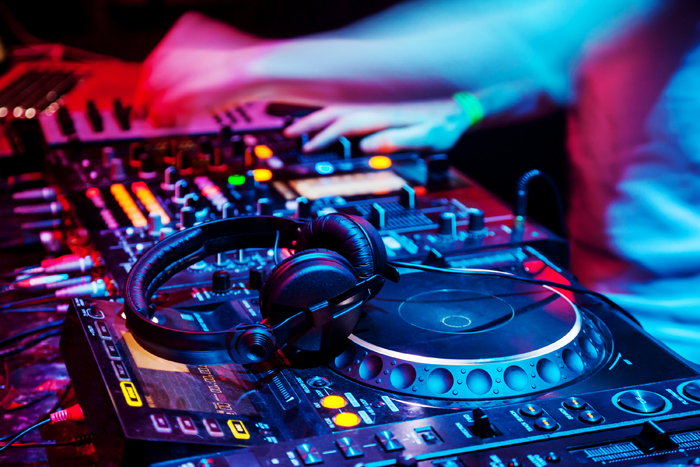 Here are 5 reasons why hiring a Master of Ceremonies is a MUST:
He or she will be able to keep the night's events flowing smoothly. From your entrance, to the cutting of the cake, to the last dance, an emcee is there to make announcements and keep the bride and groom on schedule.
They'll ensure your guests are having a great time. Your emcee will force every married couple out on the dance floor for the anniversary dance, will collect every dollar they can during the bride and groom's dollar dance, and will keep the music going all night long to keep your guests out on the dance floor.
They'll interact with your guests, giving your event an even more personal touch and allowing you to enjoy the party rather than play host. Your emcee will become part of the family, not holding back from teasing Uncle John for eating his fourth piece of cake, or praising cousin Lily for her rad dance moves. You'll have so many guests to mingle with that having another voice to make your guests feel comfortable will only benefit you.
They'll make sure your guests are paying attention to the night's activities. If you decide to have activities at your reception other than the dance floor– such as yard games like cornhole or a photo booth– your emcee will make sure that your guests are taking advantage of these so your money's not wasted. He or she will also make announcements so your guests know when it's time for the toasts, cake cutting, garter toss, bouquet toss, dollar dance, etc.
He or she can recommend song choices for activities you may not have even considered selections for. Though you may already have your entrance song and first dance picked out, have you thought about the song that will be played during the garter or bouquet toss? Do you want songs with lyrics playing during your cocktail hour and dinner or classical pieces? Your entertainer can help you make those decisions and will ensure that every detail of your reception is planned.
The most important thing an emcee does is allow the bride and groom to simply enjoy a party in their honor. "You don't want to be the Master of Ceremonies at your own wedding. You've done all the planning, now you get to reap the benefits," says Bruce. By hiring a DJ, you can relax and trust that your party is in good hands. Rather than host a reception, you'll get to enjoy the night's events and activities by dancing the night away.
When you're looking to hire an emcee, Bruce Stevens recommends meeting with the exact individual who will be working your wedding, rather than just the company. He says to look for someone who you feel confident can work with your other vendors and knows how to talk on a microphone. After you choose your entertainer (check out our local vendor list for suggestions), make sure he or she knows how to correctly pronounce everyone's names, and hammer out details such as arrival and departure time, how long it'll take for them to set up, and dress code. Check out our free Wedding Planner for more helpful questions and details to consider!