Wedding Day Attire and Accessories
Hello, brides-to-be! There are a million reasons why you should be going to our July Wedding Show, but just in case you need some more convincing, we've got some of Northeast Ohio's wedding experts opinions on why you should be there, too!
We know that it can be a bit overwhelming when you walk into a convention center and see over 50 wedding vendors there. Where should you start? What questions should you ask? What trends should you look for? Luckily for you, we got some of the July Show vendors to give you their best advice and trends they see growing!
Bridal and Groom's Attire
Your wedding gown is probably one of the first things you'll do after you get engaged. Who hasn't dreamed about what they'll wear as they binge-watch a Say Yes to the Dress marathon? Finding "the one" can be as hard as finding your prince charming! And then once you finally say yes, you have to find the perfect accessories to complement it, and dress your man, too! Finding a consultant who cares about you and your wedding day will make your life infinitely easier. "The best advice I can give is BUY LOCAL, SHOP LOCAL.  First of all, buying online is fast and super convenient!  However, what IF something goes wrong.  Who do you call?  Who cares enough to help you fix it?  An 800 number?  No…they do not care about your day.  A local store, retailer, or vendor will," says Marcy, from Expressions Bridal and Formal.
Keep an open mind when searching for your gown. When you bring in a large party to help you shop, it can be hard to keep your vision in mind, but sometimes they do know best! A David's Bridal consultant says, "Although you may have an idea of what type of dress you want for your big day, try to keep an open mind and be willing to try on other dresses or accessories the stylist may suggest. Also, have fun when trying on dresses. Your wedding is a day of celebration, and the process of finding your dress should be enjoyed as well."
Choosing who will accompany you to the bridal store is a huge decision! You don't want to hurt anyone's feelings, but you also don't want your voice and vision to get lost among the masses. Galleria Gowns advises brides to "be selective about who you ask to go shopping with you. Make it a day of fun with your besties, cousins, Mom's and grandma's." However, don't let your voice get drowned out. Stand up for what you love and what you don't care for, whether it's with a pushy consultant or an opinionated bridesmaid. "At the end of the day it is your decision, and you are the only one who knows how you feel in a particular dress.  If the dress you love and want is the one that makes you feel the prettiest than you should get it."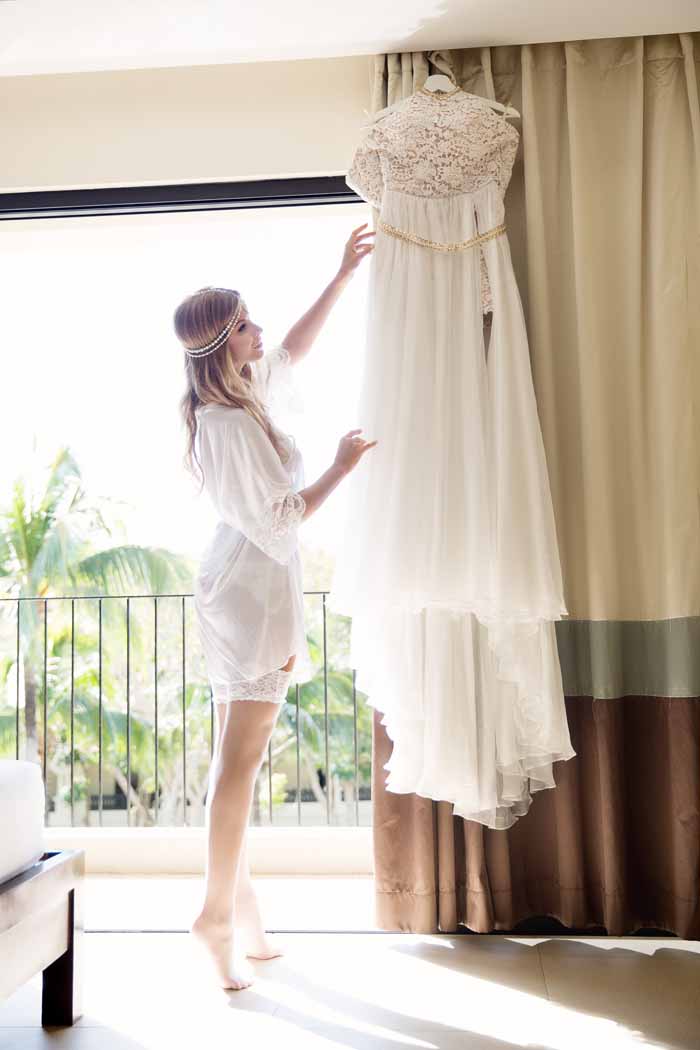 Some of the biggest trends in bridal and men's formal wear may surprise you! For menswear, suits are trumping the classic tuxedo look because, according to Expressions Bridal and Formal, "they're cooler (literally!)." They advise buying a suit over renting because, not only will the suit come in months in advance ensuring enough time to get it tailored, but "hundreds of people haven't worn it before him to get married in and you own it to be worn again and again! Suits are lighter weight and retail for just around the same price as renting a tux." Though suits are a cheaper option, be wary of prices you see online. Once they're delivered, they could be an alterations disaster. American Commodore Tuxedos still advises visiting a shop in person. "Don't shop by price. Don't shop at a discount. Don't shop by picture or catalog. Take the time to stop by the store and see first-hand the product and price." What colors are most popular this wedding season? "Gray and Navy seem to be the latest trends in men's apparel for weddings," says AC Tux.
For those brides who want a sexier silhouette for their wedding day looks, you're in luck! "Boudoir inspired gowns are having a moment right now. Barely their fabrics such as Chantilly lace and tulle adorn silhouettes that are slinky and fitted, and we are seeing the emergence of sultry details including low backs and off the shoulder necklines," according to David's Bridal. The backless dress is also in! "Whether it is a keyhole back or a decorative lace feature the Bride's can't get enough back exposure. There are so many different back designs to choose from it is sometimes impossible to choose just one dress," says Galleria Gowns. Show a little skin to feel confident and sexy for your soon-to-be hubby!
Bridesmaids
It's important to consider the bridesmaids when out shopping for their dresses. What's their budget? What's their figure like? Do they live out-of-town? Will it be easy for them to get alterations? At American Commodore Dress Shoppe, they know that "knowledge is key. Know the time frame for ordering dresses. Keep in mind the body type of your bridesmaid. This will ensure you select dresses that are complementary to your bridal party." If you notice that one of your bridesmaids seems to be uncomfortable in a gown, ask her about her budget or dress preferences. Maybe she doesn't feel comfortable showing her shoulders or would rather wear a cap sleeve than a sleeveless dress.
To please both the bride and the bridesmaids, consider mixing and matching dresses! Keeping the same color palette but using different materials, shapes, and lengths allows for each bridesmaid to show off her style and personality while keeping with the feel of the wedding day. Fashion is all about expression, so American Commodore Dress Shoppe advises brides to "Let your bridesmaids express their individuality! Add flair to your bridesmaids' dresses with a sash thrown around a plain dress or dressing your Maid of Honor in sequins!" Whatever you decide to do, make sure you have fun! Dress shopping is an excellent opportunity for all the 'maids to get to know one another and bond before the wedding day.
Accessories
Other than a veil or shoes, you may not have put much thought into what accessories you'll wear on your wedding day! Wearing jewelry that has a sentimental meaning to you will add that special touch to your wedding day – whether it's your grandmother's wedding band, "something blue" sapphire earrings you got for your sweet 16, or customizable, one-of-a-kind keepsakes like Keep Collective.
A perfect gift for a groom to buy his beautiful bride, or to present to a flower girl or bridesmaids, Keep Collective charms are meant to be designed by you! "Our belief is that everyone has a story, and it's yours to tell. Family, memories, milestones, and special occasions (like weddings), should be kept close to your heart. Wearing your Keeper is a daily reminder of those special things in your life."
Consider hosting a party – or incorporating a jewelry sale into your bridal or bachelorette parties – to pick out your stunning wedding jewelry. Chloe + Isabel can host both social parties or private styling sessions for just the bride and her party, which allows you to try on the accessories with your wedding day attire, ensuring that it will accent and complement rather than overwhelm. "All our pieces come with a lifetime guarantee," assures Chloe + Isabel, "so this is not just jewelry for a day, but jewelry that can become a family heirloom and be passed down through a family." Imagine how beautiful it would be to see your daughter walk down the aisle wearing the same necklace you wore on your wedding day! "Beautiful jewelry is always in style," says Chloe + Isabel. Add a little sparkle to your dress with dangly earrings, a delicate pendant, or an elegant hairpiece to "take any bridal style to a new level."
---
All of our contributing experts will be present to give more advice and answer any of your questions at our July 8th Show! Be sure to stop by your favorite vendors' booths to see what trends they can help you execute flawlessly!