When Choosing Your Photographer or Photo Booth…
Hello, brides-to-be! There are a million reasons why you should be going to our July Wedding Show, but just in case you need some more convincing, we've got some of Northeast Ohio's wedding experts opinions on why you should be there, too!
We know that it can be a bit overwhelming when you walk into a convention center and see over 50 wedding vendors there. Where should you start? What questions should you ask? What trends should you look for? Luckily for you, we got some of the July Show vendors to give you their best advice and trends they see growing!
Photography
The photos of your big day are priceless! You'll peruse them with care in years to come, and share them with your children and grandchildren. Though you may be inclined to ask a friend or family member to snap a few shots or intend on putting an album together from all the Instagram uploads, we advise you to look into a professional. Not only do they have the best equipment, but they have years of experience knowing what poses are the most elegant and beautiful, where the light hits best to highlight specific features, and how to make your shots look natural and candid.
The most important thing when it comes to photography is finding the right photographer. As American Commodore Wedding reminds their brides, "We capture every moment of your event, even the ones you don't see.  Our job is to create memories, bring smiles and tears for generations to comes." When meeting with possible photographers, approach it as you would a blind date. Have a pre-conceived vision of what you want, and a level of expectations. After all, you're hoping for this to turn into a long-term relationship (in a sense), so "know what you want out of it," advises Hai Bales Photography. "Take a minute and have a clear mindset for what you're looking for before you go looking. This way you don't pass something up because you think it's not what you want (but it is), or purchase something because you didn't know what you needed."
Swordfish Media Productions recommends finding a photographer that resonates with you. "Get what you want. Look at the portfolio and see if they match your vision for your wedding. If they resonate with you, then it'll probably work." Your Wedding Day memories will stay with you forever, and the photos will capture those memories! Remember, "your wedding will be one of the most emotion-filled days of your life. When booking a vendor, be sure to find someone who not only understands this but shows a similar level of enthusiasm about your day." It's also important to have someone local, according to American Commodore Wedding. "Photographers are the one vendor who will spend the entire day with you, so you want it to be someone who you not only trust but like and feel comfortable with!" Love is All You Need Photography reminds brides.
Look into different photography types – from traditional to photojournalism to artistic; there are a lot of different styles out there. Love is All You Need Photography suggests "looking over lots of albums and make sure you love their style of photography.  Ask yourself if the moments they capture speaks to you, and are they the type of pictures you would love for your wedding day?" If you're not sure what style you like, or you are drawn to a variety of styles, look for a photographer that is willing to be flexible to create exactly what you have in mind. BCR Studios by Brad combines a "unique blend of artistic, journalistic, and candid photography that offers our clients the best of all types of photography in one comprehensive package!"
When meeting with potential photographers, it's imperative to ask what all is included in their package? A lot of couples have started asking to have two shooters at their wedding, says B Frohman Imaging. "Having two photographers in your package allows for shots of both sides of the wedding party to be documented while getting ready for the wedding, a huge selection of formal shots, and moments from behind-the-scenes that could have otherwise slipped by without having double coverage from two experienced professionals who are passionate about their role in your wedding." Also, is an album or printing rights included? Getting the copyrights to the photos so that you can share them freely on your social media is important to a lot of couples, but Orchard Photography thinks it's just as important to get an album of your prints. "We all like the ease and accessibility of having our pictures on hand, but some people don't print out their pictures. Always make sure you have some products like a wedding album that you can pull out years after your wedding. It's always easier to pull out an album to share with future children, cousins, nieces, and nephews than dragging out a laptop to read a DVD or USB."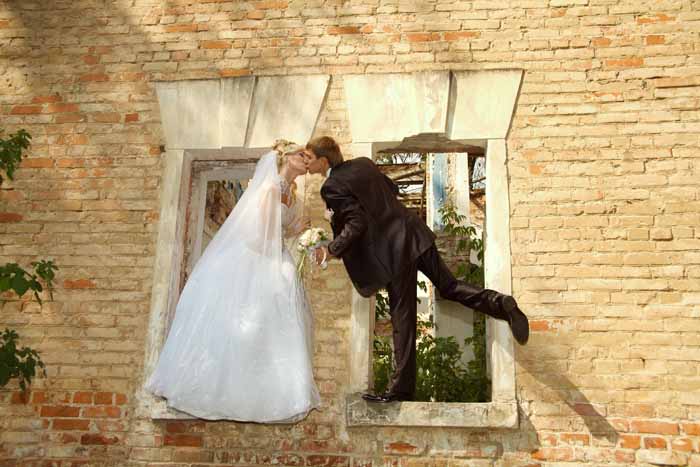 Never be afraid to ask questions when booking any vendor! Because this day is so special to you, it should be tailored to your wants and needs. "NEVER be afraid to ask questions and openly talk about your preferences and needs for your special day.  We have shot over 200 weddings over the years, and no two weddings are ever the same for how they want their day covered or what they want for their ending results," says B Frohman Imaging. What equipment will they be using? How will you access the photos after the wedding? How many shooters will there be on the day-of? From the details of the package to their personal life, no question is off limits. Getting to know your photographer is key in finding one who will match your style and enthusiasm on your wedding day. "Don't be afraid to ask them if they are married, who provided a similar service for their wedding, and how the experience inspires the service their company provides," advises JazzyMae Photography. Whatever you do, don't just choose a photographer based on price! Get to know them, their style, and why they love what they do.
There are a bunch of photography trends that pop up every few years, such as the First Look. Talk to your fiance about whether or not this trend is right for you. Do you imagine your hubby-to-be crying as you walk down the aisle? If so, a First Look may not be your best option. Do you envision to have a few quiet moments together to revel in the love you share and your special day? If so, capturing those moments forever as he sees you for the first time may be just what you want to remember when you look back on your day. Orchard Photography has also noticed that, when couples choose to incorporate DIY elements into their wedding, it usually includes the help of family or friends, which can create a closer bond and warm memories of the planning of and the events of that day. "It always warms my heart to see family and friends pitching in with time and talent to help support the bride and groom with love and generosity."
A lot of photographers offer special features, too! Hai Bales is introducing the Photo Tower for 2017 weddings! "Streamlining the concept of the bar cam (introduced a few years back), the Photo Tower allows you to automatically upload all the bar cam photos to an app, pre-hashtagged, all in one click of a button. As each photo is taken, it is simultaneously uploaded. Guests can also email the photos directly to themselves, allowing for some real-time social media sharing of your killer wedding reception!" JazzyMae provides a projector to display the ceremony pictures during the reception! "We clean images in between the cocktail hour and dinner, and project them on to a screen for the couple's first dance." For others, the imagination behind each pose and photo is what makes them unique. "At BCR, I think we specialize in keeping our style fresh, new and innovative! Our creativity is what sets us apart from others!"
Photo Booths
If you want to add a fun and interactive element to your reception, consider a photo booth! Photo Booths can add hours of fun and entertainment to your party, and will gift your guests with keepsakes of the great time they had on your day! Though smaller photo booths may be more cost-effective, inFocus Photobooths wants to remind you that they may not be as much fun. "Every time that curtain closes you hear the laughter, and if someone has 200 sets of eyes on them, they're going to be a little more reserved and not have as much fun. I can accommodate groups of 8-10 comfortably, and have had groups as high as 31 in one of the booths!"
Selfie Scene says, "You put a lot of effort, time, and money into making your day the best it can be – beautiful and seamless – and choosing something subpar negates all that. Look for something attractive, and that keeps up with technology!" Every photo booth company will advise you to always, always, always be sure to get two copies of the photos – one for the guests and one for your scrapbook. Not only do they offer brides and grooms a photo scrapbook of all the night's pictures, but it can be a great favor for your guests! Whether they're customizable or paired with frames as First Choice Photography offers, photo strips make great keepsakes!
An additional sentimental aspect that some photo booths – like Selfie Scene – the offer is video capturing! "Our photo and video station is linked directly to social media so guests can share their images immediately. The ability to leave video sentiments for you along with pictures is a great feature, as well!"
Just be sure that there is a second attendant if you decide to have a scrapbook. "I have met brides who have cried when telling me the story of them opening their ruined, beer-soaked scrapbook. The photo booth becomes a top-rated attraction during the reception- especially after dinner- and things can get very crowded and hectic. You want to make sure that there are two attendants at the wedding so that the memory scrapbook is protected from spilled drinks, water stains, and general damage that can occur when the scrap book is left at an unattended station," advises inFocus Photobooths.
---
All of our contributing experts will be present to give more advice and answer any of your questions at our July 8th Show! Be sure to stop by your favorite vendors' booths to see what trends they can help you execute flawlessly!