What to Wear Down the Aisle
It's so hard to keep up with the ever-changing trends when it comes to everyday wear, but it's even more difficult to pick out a wedding dress that will wow your guests and your fiance months before you wear it down the aisle. Don't be fooled, it's not easy for the grooms, either! Luckily for you, our wedding experts are exhibiting at the August 28th Wedding Show know all the trends and how to execute them flawlessly.
 Everyone wants to look gorgeous on their wedding day, but the hardest part of that is feeling beautiful. Sarah Yuronka of Akron's newest bridal boutique Saroli's says that it's important to find the perfect gown because "it gives you the confidence to command your day." That doesn't just apply to the brides, either. Grooms may not show it as clearly, but they get nervous, too! Finding the perfect outfit can be critical to making them feel comfortable while looking presentable.
So what's required to create that perfect wedding day look? For brides, it's all about that casual elegance. Creating a whimsical effect with "touches of soft lace, off the shoulder sleeves, intricate back detail, and layered skirts" are completely on trend according to Kathie from Doreen Leaf Designs. They've also noticed the reemergence of ball gowns! "Not in the traditional princess style" though. "These dresses are a lot more whimsical. The popular style is shifting a bit from 'rustic' to more 'garden,'" Kathie continues.
Lori Conley from David's Bridal agrees, seeing delicate touches like blooms come to life in rosettes on the skirt, subtle watercolor washes of blush, champagne, and blue, and intricate beading inspired by the 1920s art deco era creating an artistic gown. They also see brides searching for dresses that reflect their fashion sense – "This season's plunging necklines (both front and back) offer modern brides an elegant way to add some sex appeal to her look."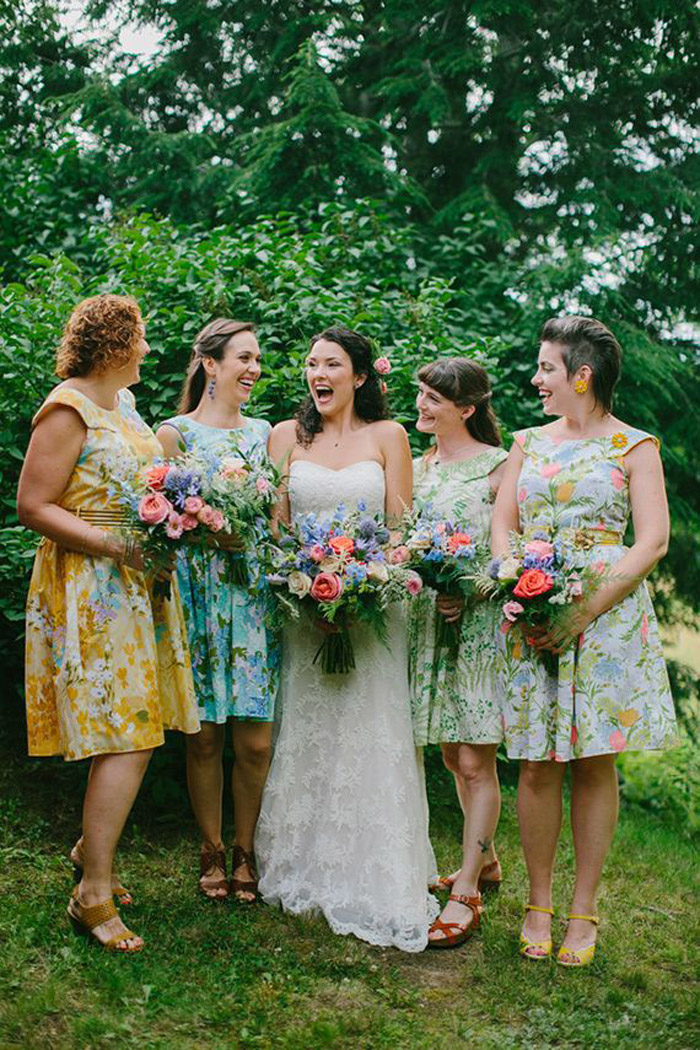 This shift can also be seen in the bridesmaids' attire. Kelly from LuLaRoe noted that their dresses are more casual and practical, yet still appropriate. They're also "no longer monochromatic," she says. Incorporating your bridesmaids' style is also a rising trend. "Add a little flair to your bridesmaid's dresses. Let your bridesmaids express their individuality by wearing different styles in coordinating colors," recommends Toni from American Commodore Dress Shoppe. Mixing patterns, textures, and colors can add a whimsical touch to your day to make it a little less formal and a little more casual and relaxed.
When it comes to dressing your groom, their selections are also becoming less formal, according to Nancy at Tuxedo Junction. "Men are looking for colors other black," she says. "Less than 50% of rental tuxes [are black]" agrees American Commodore Tuxedo. Men are leaning more towards gray this season – "platinum gray and charcoal gray" seem to be popular says both Tuxedo Junction and American Commodore Tuxedo. "Gray tuxes are still the hottest trend for 2016 and probably 2017. They seem to account 45% of all the rentals going out."  Trends for this summer seem to be even more radical, as tan and navy blue are growing in popularity.
Whether you're the bride or bridesmaid, groom or groomsmen, or even the mother-of, Saroli's advises that "the proper foundation is essential to create a stunning look on your special day." Trends are always changing, and it can be hard to keep up. But as long as you feel beautiful, your radiance will shine through on your wedding day!
Find your dress at the Pop-Up Salon by Lavender, gaze upon mannequins dressed in designer gowns, view three live fashion shows of the latest trends, and talk to wedding attire experts about creating your perfect look at the August 28th Show! Check out the list of exhibitors and buy your tickets now!