Getting to Know Lavender Bridal Salon
In 2006, Lavender Bridal Salon opened its doors in Dover. This boutique carries a handpicked selection of designer wedding gowns anywhere from $200 to $2,000, along with bridesmaid dresses.  Find out what makes Lavender's so special.
Just for fun, What was your first concert?
The Backstreet Boys Millennium tour. It's so funny because I remember in 7th grade my mom told me that if I weeded and mulched her entire flower bed she would get me that cd. I was so determined – it was a lot of work, but I wanted it so bad!
Do you have any hidden talents?
I'm learning how to cook and I'm actually pretty good at it. My husband and I subscribed to Plated, where they deliver all the ingredients to your door and give you instructions on how to make a meal. It's great because even though we've been married for 9 years, we're still finding new things and new experiences that we can have together, which is important for a marriage.
When did you open Lavender and why did you want to?
Lavender Bridal Salon was actually opened in 2006 by my now mother-in-law, Karen. She was a member of the Downtown Historical Society in Dover and a huge advocate for supporting local businesses and shopping locally. She wanted there to be an attraction, a reason that people would visit downtown Dover, so she opened Lavender Bridal Salon. Her husband had just passed away when she opened Lavender's. He was a business owner and she had always dreamed of owning a bridal salon and wanted something of her own. I started working there in college when her son – my now husband – and I were dating. I would just hang dresses on the weekends but I pretty quickly became a stylist, and I actually changed my major because of it. I was actually majoring in Education when I started working here and I changed it to business because I knew it was a good fit and that I just loved the fashion world.
Where did the name "lavender" come from?
It's funny because we get mistaken for a flower shop a lot – you would think a store named Lavender would sell lavender. And because we call our consultants stylist and the full name is Lavender Bridal Salon, a lot of people think we're a makeup and hair salon, too. But Karen's favorite color is lavender and she just thought the name sounded nice. Plus, it's a really pretty decorating palette. All of our walls are painted lavender, and there are little accents of it throughout the shop. It's a very soothing color, and I've learned that the lavender aroma is actually used to de-stress and calm. The symbolism in that is pretty perfect because that's kind of our philosophy at Lavender. We don't want brides to feel pressured or stressed. It's a very relaxed and laid-back atmosphere, so the name Lavender fits perfectly.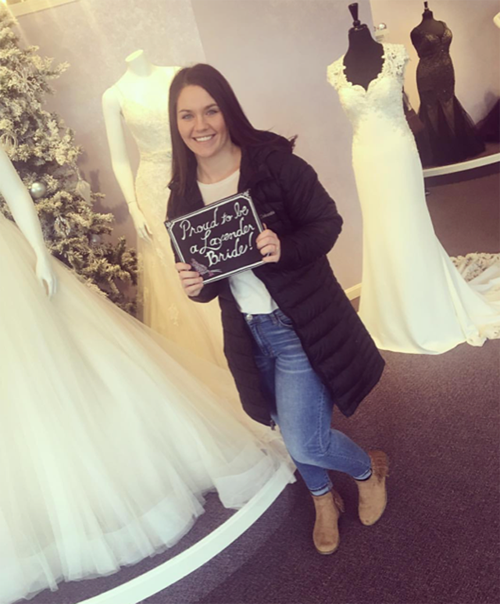 How do you make the shopping experience special for the bride?
At Lavender, you'll have a "boutique" experience. We offer a handpicked collection from our favorite designers, and we only carry a few samples of each gown. We also make the shopping experience very personalized to you. Before your appointment, we'll send a "get to know you" email with questions like "What styles are you looking for?" "Is this your first shopping trip?" "What's your budget/venue?" "How formal will your wedding be?" This allows us to get a better sense of your wedding and style so we can have an idea of what to pull before you get there. Once you arrive, you'll spend the first 10 minutes sitting with your stylist one-on-one to better explain your expectations, likes, dislikes, and to ask any questions you may have.
Our consultants are with you throughout the entire process. They'll be in the fitting room with you to help you get into the dress and find out what you like and dislike about each silhouette. Not only does it allow them to get a better idea of what you are looking for, but it allows you to feel more comfortable with them, which leads to trusting them to find your dream dress. If you come back to the shop multiple times, we try our best to ensure you always have the same consultant.
Is the "Bridal Moment" a real thing, and how do you know when you're having it?
The bridal moment is definitely real, I can say from experience. I had it! It's a very emotional moment, and the tears are real. Sometimes I'll put a dress on a bride and they'll just be like "Oh, wow, I really like this," and will start touching it and they'll get this look on their face. If I think this might be the right gown, I'll ask "What would your fiancé think?" Once you ask that question, if it is "the gown," the tears will start flowing because it becomes real. She's imagining walking down the aisle to him or her.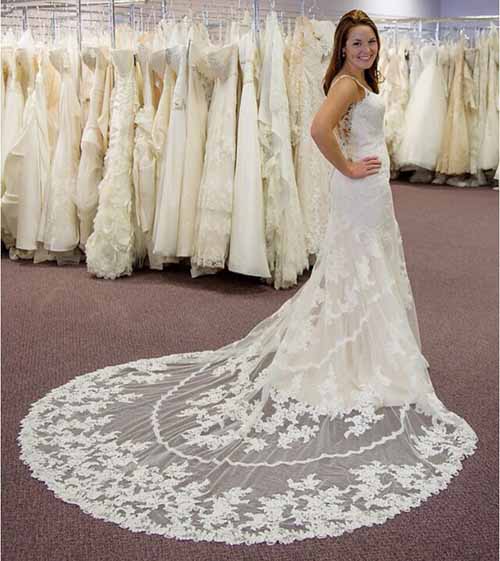 Does every bride have a bridal moment?
A lot of brides feel pressured about having that bridal moment, but only about 50% of brides get that emotional, "this is it" feeling. If you're not an emotional person or you don't get excited about dresses, don't get discouraged because you haven't had that moment. Instead, you should decide on your dress based on the opinions of those you brought with you and how comfortable it is. You most likely trust your entourage's opinions – that's why you brought them – so if they think it's the one, it might be. But make sure it's something you're comfortable in! You'll be spending 10+ hours in this one dress, dancing, sitting, standing, eating, so it's important to find a comfortable dress. I always encourage brides to take pictures of them in every dress they try on. That way, they can look back on them all and see which they think they look the best in! Your wedding photos will be documented for posterity, so you have to find that balance between comfort and beauty.
you mentioned that you had a bridal moment. can you tell us about finding your wedding dress?
My dress shopping experience is not what I would want for a bride. I was working at Lavender at the time and had just pulled a new dress for her to try on. She didn't really love it and thought it was just okay but I really liked it and had never seen it before. So after she left, I tried it on all by myself even though I wasn't engaged yet, and I really had that bridal moment, by myself in the store with my work family. So as soon as I got engaged, I knew exactly which dress I wanted, so I didn't have that experience with my mom. So I want to incorporate that with all the brides that come here, that when they have that moment to make sure it's really special. Because it does exist!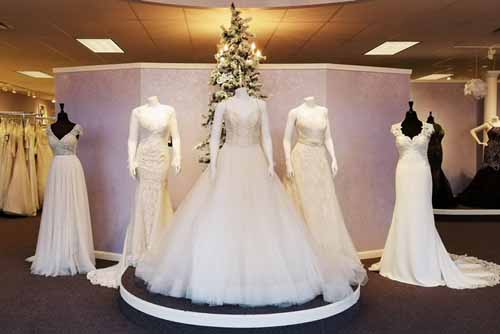 What are some of the new trends we're seeing?
Color is still trending. We're seeing a lot of champagne, light gold, and Moscato tones. We actually joke at the shop that you won't find a white wedding dress at Lavender. Lace and beading accents just look so good on ivory colors, and that's why we're seeing such an upsurge in popularity. Some other new trends are long sleeves and high necks. Brides are balancing these more modest features with side cutouts. Popular gowns have a modern approach to a vintage dress in the sense that the details are very subtle. Instead of a bling-y, silver beading, there's a lot more lattice lace and intricate, detailed beading with embroidery. A lot of brides are looking for a beach wedding dress even though they're not getting married on the beach. When a bride says she wants a beachy dress, she's actually looking for more of a boho look with soft, flowy, chiffon skirts. It's very romantic and a huge trend right now.
I highly recommend researching styles and silhouettes before your appointment. Coming in with photos of some of your favorite gowns will give us an idea of your vision. We'll look at those to see your style and similarities, but we'll also ask questions about the theme and feel of their wedding. We want to help them make sure everything makes sense. Typically once you pick a venue and your colors, then comes the gown and then everything else falls into place from there as far as the wedding style.
Don't worry too much about weight loss. So many brides have no idea what size dress to order and when to order it because they want to be smaller before their wedding. Just keep in mind that we do professional sizing and can help guide you toward picking the right size and getting alterations.
You may have a favorite dress in mind that we don't have in stock, so keep an open mind. We'll probably have something similar that you'll love just as much. I hear it all the time that a bride will come in and say, "I never expected to fall in love with this." Be flexible and trust your stylist. An open mind makes for a much more enjoyable experience.
Choose a dress that is timeless and classic. Even after 9 years of marriage, I would still choose my wedding dress over all the others that I've had in my store. It was a classic A-line gown with a fitted bodice that upheld the test of time.
We heard that you recently started stocking Plus-size gowns. Can you tell us about that?
Yes! I'm so excited about it. In the bridal industry, the sizes are always smaller than our typical size. For instance, a size 12 woman – which is like the average size – would probably wear a 16 or 18 in bridal. So we recently started carrying the Stella York line, Every Bride Every Body which carries sample sizes of 18-28, and you can order up to size 32. When a plus-size bride comes into a shop and there's nothing there that will fit her, it's discouraging! And she can't get a true idea of what the dress will look like on her wedding day. We want to be a place where brides can come in and know that we have a selection for them to find their dream dress and feel beautiful. Right now, we have about 15 dresses in these sample sizes, but we expect to have about 25-30 dresses in store by the end of February.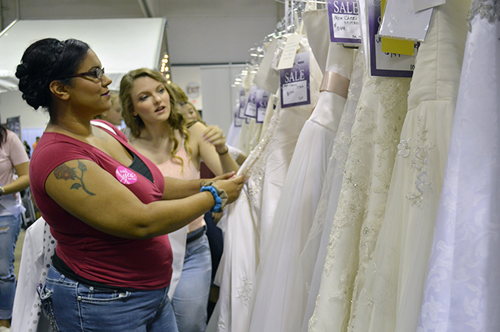 What can brides expect from the pop-up salon at today's bride shows?
I bring about 75-100 dresses to the Pop-Up Salon where brides can find their dream dress at a hugely discounted rate. Dresses are priced at up to 50% off, and no dress is more than $600! I choose which dresses to bring based on the trends – for instance, right now I'm bringing a lot of long sleeved gowns. While it's a quicker and cheaper way to shop, it's also a little more impersonal. You won't get the same one-on-one consultation that you'd get at the shop. I've found that a lot of brides miss the fact that they didn't get the whole dress shopping experience – especially if they don't have all of their loved ones with them. Like I said before, it's important to me that brides get to share this moment with their family and friends since my mom wasn't there for my bridal moment. So I invite every bride who finds her dream dress to bring it back to the store to get "jacked up" in a veil and accessories and have a big reveal with their entourage. That way, the bride gets the best of both worlds – a beautiful gown at a great price, and an emotional bridal moment with her loved ones.
---
A massive thank you to Laurel, from Lavender Bridal Salon for taking time to share so much wisdom with us! We loved getting to know more about her and this amazing bridal boutique, and we hope you did, too! Dress shopping is one of the first tasks you'll take on as you start planning your wedding, and it's important to feel prepared and comfortable. At Lavender Bridal Salon, you'll find your dream dress in a relaxed, unpressured, one-on-one shopping experience.