Real Bride Blogger, Abby – Life While Planning a Wedding
"Let's be honest, planning your wedding is not a cake walk. Real life does not stop simply because you're planning a wedding." Check back in with our Real Bride Blogger, Abby, as she doles out wedding advice for dealing with real life while planning your wedding.
WHEW! Is it just me, or have the weeks just flown by since we last spoke? So many things to talk about!
Let's start with the Today's Bride show back in early May. I hope you all made it up to the Bertram to experience it. I went with a fellow bride, and we had an absolute blast! We proudly wore our flower crowns from Nikki's Perfect Petals while we watched the fashion show, chatted it up with vendors, and tried some of the BEST cupcakes I've ever had. I can't wait for the August show at the John S. Knight Center!
There are definitely highs in the bridal experience (like going to shows, having friends and family dote over your new bling, etc.), but let's be honest: it's not a cake walk. In fact, there's a lot less cake in this process than I originally anticipated (except for the endless flow of samples at Today's Bride shows. Yum!). Real life does not stop simply because you're planning a wedding. Things will go wrong: and not just with the wedding plans.
Before Robby and I got engaged, I had these elaborate plans for wedding planning. Yes, I was PLANNING how to PLAN. I wanted to enjoy a few months of being engaged, soak in all the love, and then dive into orchestrating the details. I had a feeling that my (at the time) boyfriend was going to propose to me in Disney, which would be just about the best thing ever. Everything was going really well for me; I was graduating, applying for jobs, and feeling like a true adult.
And then I got the news that changed everything: my mom had cancer.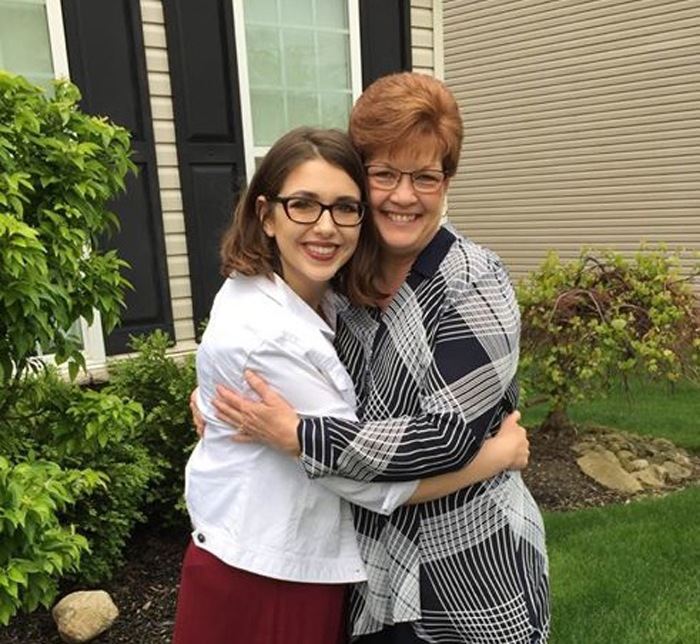 My world stopped spinning as I tried to process. We replaced vacation itineraries with surgery schedules, and my carefully laid plans flew out the window. Proposal plans were altered. Timelines changed. And all the while, I had to watch my mom prepare for what was going to be the scariest journey of her life.
Let's just say that this was not the most joyous time for anyone in my family.
I've noticed that there's this unreachable expectation in the bridal industry that you should be unquestionably happy throughout your entire engagement. Of course, getting married IS a happy occasion! However, getting married ISN'T an isolated occasion; the world keeps turning as you keep planning. Yet, a space for brides and grooms to work through real-life problems doesn't exist. No one writes "Deal With Emotional Problems" on the weekly wedding planner. I mean, dealing with negative emotions is a lot less fun than talking about picking a wedding bouquet, but it's even more necessary. I'm sure many of you are going through the same thing. From taking care of family members to mourning the loss of a loved one to struggling with finances, it's okay to feel the burden of your day-to-day life. Remember that a wedding may just be one day, but a marriage the marker of a new life with someone. Your overall well-being needs to take priority.
My mom is doing A LOT better now. Life is getting back on track. But my life is still full of highs and lows. Last month, for example, I found a full-time job that I love (YAY!), and my fiance was badly injured at work (NOT yay). Changes are happening so fast that my head is spinning. I always find moments to be grateful, though. It helps keep me sane. So, this month, drink more water. Relieve some stress. Go out and experience the beautiful weather that Ohio gets only three months out of the year. Work through what's bugging you. You got this, and everything is going to be okay.
Until next month,