It's All About You at Crowne Plaza Playhouse Square
As the name gives away, Crowne Plaza Playhouse Square is located in the heart of Downtown Cleveland. It overlooks Playhouse Square and the picturesque chandelier, making it a gorgeous venue for your wedding! But it's stunning views and accessible location aren't the only reasons you should consider Crowne Plaza. It's the perfect place for those couples who want a one-of-a-kind wedding experience!
Personal Planning
Wedding planning is a full-time job. Just ask Daneel McDaniel – she would know, since it IS her job! "Many people don't realize that Crowne Plaza Playhouse Square offers an exclusive wedding coordinator…me!" When you book with some venues, your main contact may be the general manager or the catering chef. Whereas these experts are likely very experienced and knowledgeable, they'll probably be focused on the day-to-day duties as well as upcoming events. At Crowne Plaza, Daneel says "My position is 100% solely focused on weddings, which allows me to give all my time and dedication to amazing couples like you!" And because it's a smaller, boutique hotel, their focus is 100% on the couple and their guests the entire wedding weekend.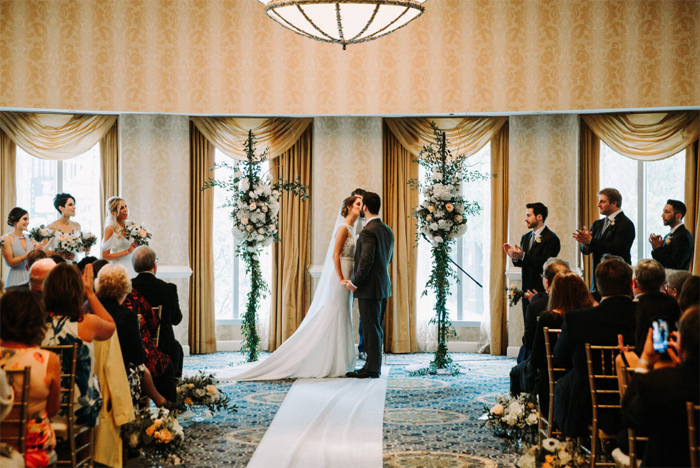 Personal Attention
Daneel's job isn't just to say she's a wedding coordinator and then sit back and answer your questions via email. She puts her words to action by getting to know you on a personal level in order to understand what's most important to you. "I always tell couples, 'It's your day, it should be your way.'" By building a relationship, she's able to understand your vision and make suggestions on what will be best for your one -of-a-kind event! "It's so important for a couple to really consider what will make their day special and fun for them, and not get too caught up in the little details, or trying to make everyone else happy," Daneel says. She'll help you figure out what details will make your wedding the most memorable and amazing day of your life.
Personal Touch
Have you ever dreamt of seeing your name in lights? Crowne Plaza Playhouse Square goes one step further and puts your face "up in lights!" "We will actually post the couple's engagement photo on the US Bank Plaza digital screen on the couples' wedding day for all arriving guests to see. It makes for such a memorable photo opportunity, and something truly unique!" And that's not the only memorable photo op there is. The iconic Cleveland Chandelier is literally steps from their front door! Whether it's day or night, this sparkling, glamorous, impressive, and gravity-defying structure will electrify your wedding photos. Not to mention, it will wow your out-of-town guests as it welcomes them to your reception!
Personnel Expertise
In Daneel's opinion, weddings should be tailor-made to fit each couple. That's why Crowne Plaza recently redesigned their menus to be 100% customizable to fit your tastes and budget! "Our Executive Chef and culinary team is amazingly talented, and they personally work with each couple during their menu design." But the food is only half of the meal! "Our new beverage manager is excited to create a hand crafted cocktail to fit each couple's taste preferences," Daneel says. "She loves creating unique drink recipes from scratch, using local and organic ingredients."
For those who want to include the popular trend of late night snacks, Crowne Plaza can accommodate that, too! "Our chef has added some 'midnight bites' as we like to call them into our late night menus. You can find popular food truck favorites like a grilled cheese trio or walking tacos!" If you decide to incorporate these crowd-pleasers into your menu, just remember to send an invite our way.
---
Crowne Plaza Playhouse Square has mastered the art of personalization. From your first visit to your grand exit, they make your wedding truly all about you! Get in touch with them today to set up a visit and start making your dream wedding a reality!