A Historic Venue with Modern Amenities – Glenmoor Country Club
If you're trying to find a beautiful, historic venue that is essentially an all-inclusive resort with incredible amenities and customer service, look no further. We sat down with Andrena and Hannah from Glenmoor Country Club, and you'll be astounded by all we found out!
Architecture & Character
If you've ever been to a wedding at Glenmoor Country Club or seen photos (if not, see some here!), you'll know that the architecture is very unique. Unlike anywhere else in Northeast Ohio, it offers a true view into the past. Step into their ballroom and you'll be stepping back in time to the 1930s…but with all of today's modern amenities!
History
"You can't build history," Glenmoor's Wedding Coordinator, Hannah, says. While unique venues are popping up all over Northeast Ohio, there are only a handful of truly historic landmarks and buildings like Glenmoor. It was first built in the 1930s, and it's architecture tells it's story. The 40-foot high ceilings stem from what was originally a seminary chapel, hence the current name of The Chapel. While there are no longer any pews or altar, the loft, wooden beams, arched windows and openings, and brick flooring all play a part in adding character to the space.
The Chapel
Genevieve Nisly Photography

Balsam & Blush Photography
The main ballroom is called The Chapel because of it's historic reputation. While the maximum number of guests is 300, don't let that turn you away if you're planning a smaller wedding. "We can accommodate anywhere from 50 to 300," Hannah says. "We are very good at making it not look empty if it's a smaller party, but if we do have a very tiny wedding we do have alternate spaces that are very nice, especially for summer weddings." For instance, you could choose to be married on the outdoor courtyard and proceed inside for the reception. You can offer a cocktail hour, photo booth, or dessert station in the gallery space. And you can take intimate, romantic photos in the loft.
A Personal Touch
Sabrina Hall Photography

Sabrina Hall Photography

Balsam & Blush Photography
While The Chapel does not need much decor as it offer it's own wow-factor, Hannah and Andrena, the Director of Sales, have seen a number of trends that make the wedding space each couples' own. While Chiavari chairs can be added to your wedding package with Glenmoor, which is a bride and groom favorite. Glenmoor can also drape fabric swags from each pillar for a more romantic aesthetic. "Recently I've noticed that a lot of people want to place vintage furniture throughout the club and it turns out really beautiful," Hannah remarks. One of her favorite ideas is having each family member bring a dish from a favorite family recipe for a cookie or dessert table. Hanging flowers from the iconic chandeliers is another couple's favorite, as is the super popular donut wall.
Amenities
One of the best parts of getting married at Glenmoor Country Club is that it's so much more than a venue! It's a golf course, spa, and hotel all in one. "Your guests will never have to leave!"
Hotel, Spa, & Golf Course
There are 52 hotel rooms within Glenmoor Country Club that your guests can book to stay at. They can also schedule spa services or play a round of golf or tennis. "It's almost like a resort," Andrena says. "The best part is, you don't have to leave throughout the night! We have everything, including food, right on the premises so your day will be a little less stressful."
Aside from those relaxing amenities, Glenmoor also has the option of a Bridal Suite. The wedding party, couple, and photographer will all get golf carts to make for easier access to the grounds for photos. And the spa, bridal suite, or lounge are the perfect areas for the bridal party to get their hair and makeup done. "That way, they don't have to worry about transportation or the weather!"
All the Fixings
Sabrina Hall Photography

Sabrina Hall Photography
When you book with Glenmoor you get: tables and chairs; catering; bar service; black, white, ivory, navy, or burgundy linens; your choice from 20 different napkin colors; centerpieces; a round of golf for the groom and groomsmen; access to the grounds for photos, the spa, the hotel, and the golf and tennis courts; as well as use of The Chapel and it's side rooms. Talk about an all-inclusive venue!
Treated Like a Member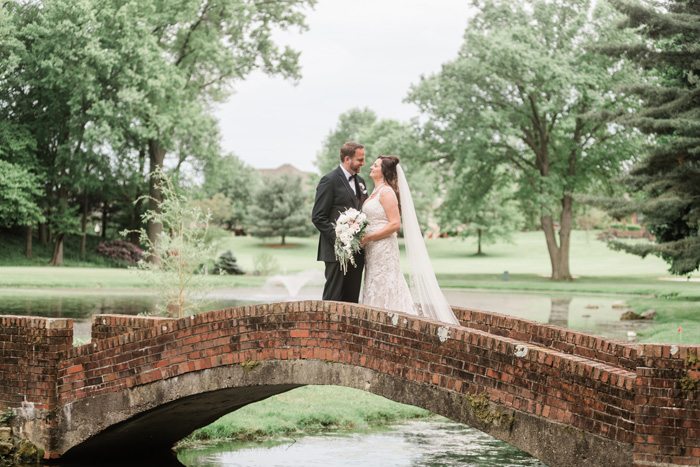 "One of the most common questions we hear is if having a sponsor is required," Hannah says. With most country clubs or golf courses, you either have to be a member to get married there or have a member "sponsor" you. Because Glenmoor is privately owned, a sponsorship isn't necessary to get married there. Though you might not technically be a member, you'll still be treated as if you are. "You will always feel important at Glenmoor."
Wedding Coordinator
At Glenmoor, you have a dedicated wedding planner from start to finish. "Our wedding coordinator is there through your tastings, rehearsals, the day of, and more." While this is your first time planning a wedding, Hannah – Glenmoor's Wedding Coordinator – has done this dozens of times. She knows what steps to take, which vendors to talk to, what trends work with the space, and can offer advice! Just check out this gem Hannah mentioned during our interview, "Finding a venue is like finding a wedding dress — if you love it, you love it. Don't double guess yourself or else you'll never be happy with your decision. If you find something you love, stop looking."
No wedding at Glenmoor Country Club is a "cookie-cutter" wedding. "We try to figure out what style the couple is looking for and try to accommodate for it, so we will cater to your needs. Each and every tour around the grounds is personalized, so no tour is ever done the same way twice."
Why Book Glenmoor Country Club?
You mean, besides the numerous amenities, gorgeous architecture, a dedicated wedding coordinator, and all-inclusive packages? "We're so unique that once you do step into The Chapel, you just fall in love instantly. Our service here is fantastic. Even if you are not members, we treat you like you're a member. We make sure that your stay here is memorable and you come back every year for your anniversary." If you want more than that, well…you're just being greedy.
Hannah and Andrena advise reaching out to them about a year to a year and a half before your wedding, especially if you're planning to marry in high demand months like May, June, September, and October. However, they can plan weddings on short notice! As long as the date is still available, they can make it happen and would love to help create your dream day. Click here to reach out for more information on your wedding day!