Wedding Invitation Trends
When planning your wedding, it's important to let your personality and style play a part in each aspect. By the time you send your invitations – about 6-8 weeks before your wedding – your theme, decor, and style should be nailed down. Therefore, your invitations should be reflective of what your guests can expect from your wedding! Consider incorporating one of these trends into your design.
Maps
This new trend is not only a cute homage to your wedding destination or hometown, but is also extremely helpful to your out-of-town guests! Mark off locations like the ceremony and reception sites, guest accommodations, and some of your favorite landmarks or sites to see! We recommend not DIY-ing these unless you have a ton of time on your hands and are super talented. Drawing and painting individual streets, landmarks, and parks on hundreds of cards – not to mention making it all to scale! – is not an easy task. Hire a professional invitation stylist who can hand-paint them or create cute digital art.
Envelope Liner
Plain white envelopes are so 2018. Spice up your wedding invitation with a sweet surprise inside the envelope. Popular designs range from florals and chevron to geometrics and watercolors. You could create a liner from one of your engagement photos, antique maps or book pages, a fun pattern, or as simple as the couples' names and wedding date!
Origami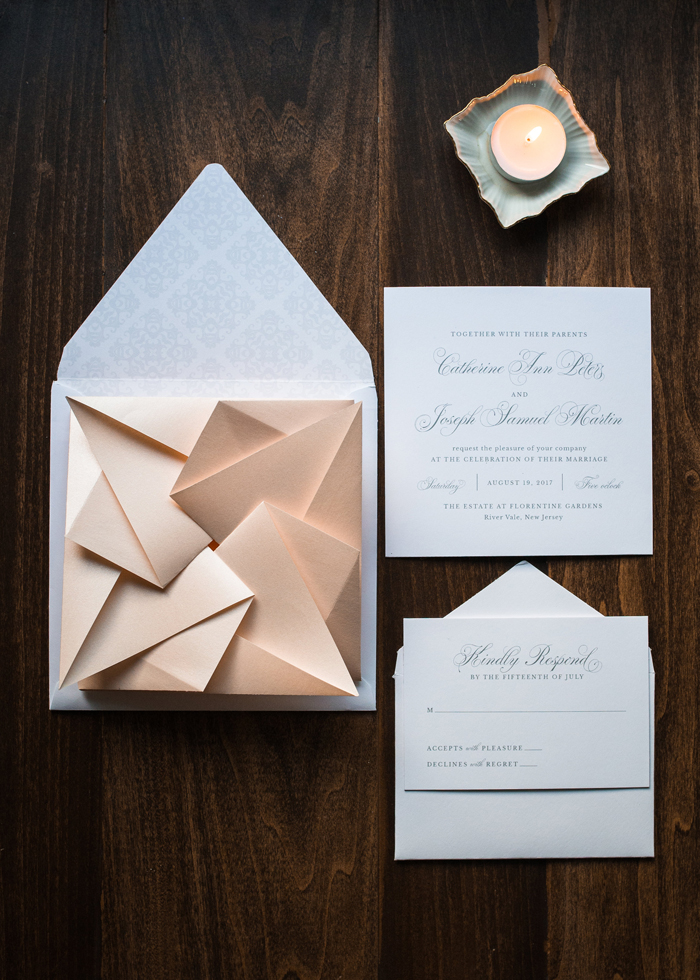 Whether you're having a playful wedding or an elegant one, the origami trend is for you! The activity of opening the invitation is fun and humorous. But the crisp, specific folds are sophisticated and classy. We can almost guarantee that your guests have never seen anything like it and will want to open it again and again!
---
Find Local INVITATION STYLISTS:
---
Torn Edges
Vintage and antique decor is emerging as popular in weddings again in 2019. Raw, organic, and imperfect accents are also more popular with the growth of sustainable weddings. The Torn Paper trend is perfect for either of these themes! This paper is less processed and can usually be created from materials other than trees, making for a more "green" parcel. However, it's rough finish is reminiscent of centuries ago, and gives the feel of lost love letters. Ask your stationery expert about torn paper options!
Calligraphy
Another dreamy and romantic trend is calligraphy. While there are many font options that simulate this classic script, there's nothing quite like handwritten. Not only is it more meaningful, but each wedding invitation is unique and one-of-a-kind as lettering and spacing may vary. Practice your calligraphy skills with our printable sheets! We highly recommend breaking this task up between your fiance, wedding party, and yourself as your hand will cramp after writing a few invites. Check out what exactly you should write with our Wording your Invitations blog.
---
Find Local INVITATION STYLISTS:
---
Trends are always changing, but we have a feeling these designs are timeless. Check out these other blogs for more Wedding Invitation tips.