Packing Tips for your Honeymoon
You're probably looking forward to relaxing on your honeymoon after the stress of planning your wedding. But one small disaster – like forgetting to pack your toothbrush or having your shampoo confiscated from your carry-on – can ruin your entire trip. Preparing for your honeymoon by using these tips and making a list will ensure a relaxing vacation.
Packing Tips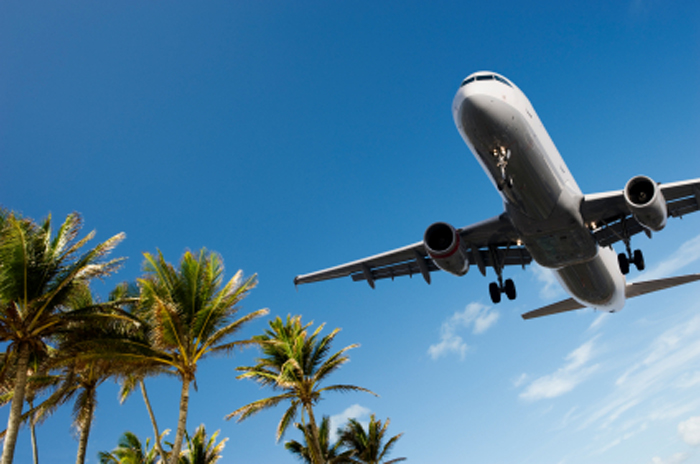 The Airport Process
If you're flying to your destination, make sure your valuables and fluids are packed in your checked luggage. "Having an 'airport surprise' with your luggage can really put a damper on the start of a milestone trip," notes Brian from AAA Agency. TSA prohibits any fluids over 3.3oz to be carried in your carry-on, but Jenn from Loveshack Vacations has another tip. "Regular-sized toiletries and cosmetics will take up a lot of space and weigh down your luggage. Purchasing sample sizes of your favorite beauty products will adhere to TSA guidelines and weigh less." Plus, once you've finished them, you can toss them rather than bringing them back home! This will give you a ton more space for souvenirs!
"Research your airline's guidelines to know how much it is to check each bag, weight limits, how large your carry-on can be, and extra fees for additional bags," Brian advises. Every airline has different restrictions, so it's important to find out beforehand. "I frequently see couples re-organizing their personal belongings among several suitcases at the airport so they can reduce the number of bags or reduce the weight," Brian warns.
Another way to ensure a pain-free airport experience is by dressing for TSA Security clearing. You'll have to unpack laptops, take off shoes, jackets, and jewelry, and are required to show ID. Prepare by having your ID easily accessible, wearing slip-off shoes, and limiting the amount of jewelry to make your process quicker. Preparing for your trip according to airline guidelines will ensure a smooth check-in process.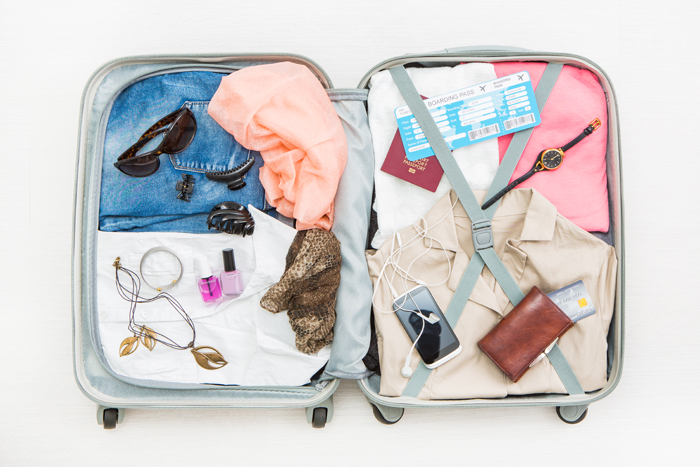 Packing your Carry-on
"Keep your passports, travel documents, medications, prescription glasses, cash, car keys, and other valuables in your carry-on bag," Jenn from Loveshack Vacation advises. "If you will be arriving at your resort or cruise ship before your room is ready, bring a bathing suit and your first evening's outfit in your carry-on. That way you can start enjoying your honeymoon without waiting around for your luggage to be delivered."
Tips to Consider
"Bring resealable bags in a variety of sizes," Jenn from Loveshack Vacations says. "Use larger ones for wet swimsuits or dirty laundry. Medium sizes can protect your electronics from water and sand, and smaller ones are perfect to pack snacks or keep loose items organized."
When packing for your getaway, you may decide to pack "his" and "her" bags. While that sounds great in theory, Phyllis from Traveling with Phyllis reminds couples to put at least one day's worth of clothes for her in "his" bag, and one day's worth of clothes for him in "her" bag. That way if your bag gets lost, your honeymoon won't be a complete disaster. You should have enough clothes to last you until your bag is found.
If you're traveling abroad, research customs or ask your travel agent for things to be aware of. For instance, if you'll be visiting Italy or France and touring old churches, women should cover their knees and shoulders. Packing a lightweight pair of tights or a shawl won't take much space and will be perfect for instances like this.
Always bring cash. Credit card companies may view out-of-town purchases as fraud and put a hold on your credit card. While they're usually quick about fixing the issue once you call, it's best to have cash on hand, just in case. Some countries prefer not to use credit cards and won't accept them for small purchases.
"Best practice when traveling, always look back at the space you are leaving to ensure that nothing has been left behind," advises Julie from Unlimited Vacations & Cruises, "This includes TSA or any security checkpoint." The last thing you want is to be sitting on the plane and realize you left your charger plugged into an outlet at the airport."
Based on destination
Going to the Beach…
It may seem obvious to pack a bathing suit, but you'd be surprised how many couples forget! Make a list of the necessary items you'll need – like sunscreen, aloe, a floppy hat, sensible walking shoes, a cover-up, flip flops to avoid the hot sand, and at least 3 bathing suits – and then supplement in other items.
"Try to bring pieces that you can mix and match or wear multiple times," says Jenn from Loveshack Vacations. "A neutral pair of pants that can be paired with several different tops, a sundress that can be worn as a beach cover-up or for a casual dinner, etc. You can also use easy-to-pack accessories, like jewelry or scarves, to change the look of an outfit for different occasions." You should bring at least one dressier outfit for a fancy dinner out and a few casual outfits. We recommend sundresses because they're lightweight, comfortable, and easy to slip on over a bathing suit.
Going to the City…
For city travels, don't bring more than one pair of heels. We understand the struggle of finding comfortable shoes that are also stylish, but unless you want to pay a fortune in taxi fare or try to figure out the local public transportation routes, you'll be walking quite a bit. Bring clothes in layers that you can mix and match together from day to day. The white t-shirt that you wore with black leggings and a cardigan on day one can serve as the foundation to a trendy leather jacket and tight jeans for your dinner out on day four. The weather can be unpredictable and temperatures will range from morning to afternoon to night, so being able to throw on a sweater or jacket over your tank when the sun sets will be a lifesaver.
Going to the Snow Capped Mountains…
Packing for snowy weather can be quite challenging, as parkas don't tend to fold nicely. Julie from Unlimited Vacations and Cruises suggests wearing your bulkiest clothing, like boots, on the plain and packing a pair of slippers in your carry on to change into on the flight. This will make more room in your suitcase for your fleece lined leggings and fuzzy socks. Unless you plan on driving, we recommend renting ski and snowboarding equipment when you arrive at the resort. Not only will it save you the fees of checking extra luggage, but you wouldn't want expensive baggage like that to get lost on your journey. Don't forget to pack sunscreen in your checked luggage, though, as the sun can be just as brutal in the winter as it is on the beach.
Going on a Road Trip…
Before you leave for a road trip, make sure your oil is changed, your gas tank is filled, you have a spare tire, and your insurance is up-to-date. The last thing you want is to get a flat tire or break down on the side of Route 66. Planning is important when it comes to road tripping, so make a list of all the sights you want to see and consult with a travel agent. He or she can tell you about cute hotels, inns, and resorts that are along the way, and can help you map out the best route to take. Bring an old-fashioned map with you for when your GPS can't get a signal and pack an extra car charger. Allotting a certain amount of cash to be spent on souvenirs and food can ensure that you'll have enough for gas and hotels.
---
Planning ahead is crucial to having an enjoyable and relaxing honeymoon. Check with your airline and travel agent to see what you need to know before traveling!