Planning your Wine Wedding
You don't have to love wine to find vineyard weddings beautiful…although it doesn't hurt! From photo ops to unique decor and color schemes to signature cocktails, there are so many options to make your wine wedding one-of-a-kind.
Wine Decor
From guest books to centerpieces to escort cards and table numbers, wine weddings have so many decor options! Paint wine bottles in your color scheme and stick a few flowers in them as centerpieces. Or, flip wine glasses upside down and put a candle on the stem. Paint the table number on a wine bottle or have the cork hold a card. Have your guests write their name or best wishes on corks that you can form into initials or sculptures. You can give small bottles of wine or engraved wine glasses as favors! Use barrels as cocktail tables, backdrops, or card boxes. The decor possibilities for a wine wedding are endless!
Shop Local DECOR RENTALS:
Wine Color Schemes
Getting married at a winery doesn't mean you have to use a deep red or purple. You can use any colors you want! But why not play up your wine wedding theme with some beautiful palettes? Luckily, maroon and purple are some super popular colors anyway, so it's easy to incorporate into your theme. Here are some of our favorites!
Wine, Emerald, and Sage – This color scheme can work for any season, but is especially beautiful around winter. The muted red highlights the rich shade of green. Add some sage leaves to lift up the hue and so your linens, decor, and flowers aren't too dark.
Burgundy and Burnt Orange – Perfect for late summer or fall, this color scheme looks like a sunset or the changing leaves. You could add mustard yellow to it to add some brightness and diversity, or a shade of nude to make these dramatic colors pop all on their own.
Maroon, Navy, and Gold – While this color scheme could come across as patriotic, if it's done right, you can make this palette regal and elegant. Navy suits are on-trend this year. Add a maroon tie or pocket square or feature red flowers on a navy tablecloth.
Marsala and Blush – This has been one of the most popular color schemes since 2017, and we don't see it going anywhere. It's romantic and ethereal and dreamy – perfect for a wedding! While this palette can be a bit feminine, it's beautiful for a spring wedding.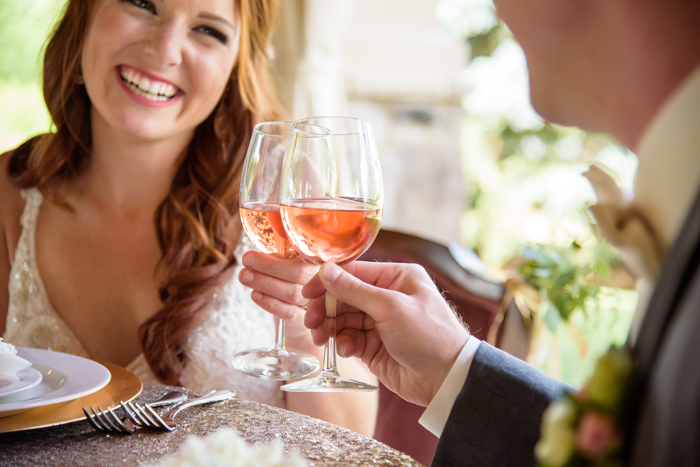 If you're having a wine wedding, you absolutely MUST serve wine. It's not an option. But if you want to spice things up a bit, consider offering a signature wine cocktail! You can feature the winery's favorite wines in some of these delicious crowd-favorites.
Summer Sangria – There are so many flavors to play with! Try peach, watermelon, green apple, pomegranate, pineapple and passion fruit, raspberry lemonade, or cranberry and orange with either white or red wine.
Moscato Ginger Iced Tea – One bottle of Moscato, 2.5 cups of sweet tea, and ginger syrup create this crowd-favorite summer cocktail.
White Wine Mojito – The simplicity of this cocktail makes it delicious and easy to make your own. Combine white wine and club soda with your favorite flavors like agave, pears, and lime.
Rosé Raspberry Punch – Rosé is the perfect drink for any season. Add cranberries for winter, apples for fall, strawberries or watermelon for summer, and – our favorite – raspberries for spring! Add a splash of flavored vodka for an even stronger flavor.
Frozen Slushies – Combine your favorite wine with a complimentary fruit (frozen is best), and ice. Chill and enjoy!
Pomegranate Spritzer – To create a spritzer, you simply need some bubbles. Go with a sparkling wine like Prosecco, club soda, or Sprite. Then add your favorite wine and pomegranate juice, then pomegranate seeds for garnish!
---
Check out some of these wineries to host your engagement party, rehearsal dinner, or wine wedding!