Summer Linen Trends
There's a reason why summer is such a popular season for weddings. With the sunshine, blue skies, and blooming flowers, it's hard not to be happy. Why not celebrate the happiest day of your life during one of the happiest seasons? If you're having a summer wedding, play with fun colors, patterns, and textures to make it unique. Check out some of our favorite linen trends for your table settings!
Fun Patterns
Polka dots, stripes, chevron, or floral, patterned linens will definitely make a statement. Because patterns and prints can be somewhat loud, keep everything else simple. Another way to incorporate prints without being too overwhelming is by using muted or pastel colors – like white and gold stripes or white on white polka dots – or adding an overlay to mute the pattern. You could also alternate solid linens with patterned linens!
Nautical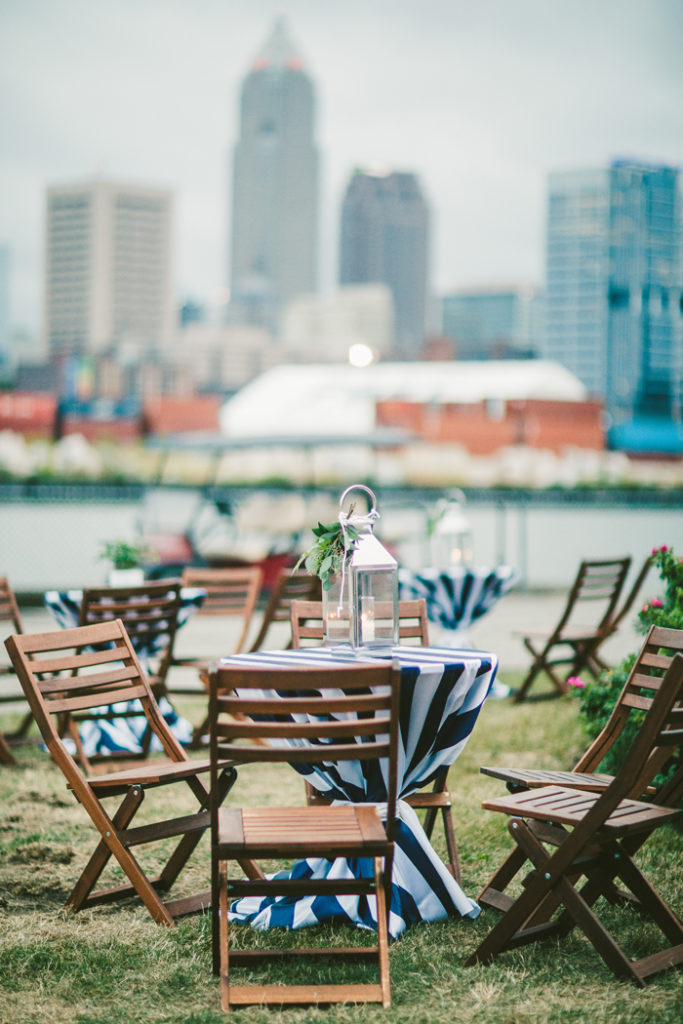 If you're getting married on Lake Erie, it is frowned upon to NOT have a nautical themed wedding. We're just kidding, of course, but if there was ever a time to have a nautical wedding, it's in the summer on the water! Pair blue and white – like a white tablecloth with navy blue napkins or striped tablecloths. Add accents of wood and gold to add different textures and variety.
Add Some Texture
With blooming flowers, full trees, and soft grass, there's no such thing as "clean lines" in the summer. While stiff, solid linens may be a nice contrast to the dimensions of an outdoor wedding, try imitating this beauty with some texture of your own! Textured linen options include rosette, crinkle, sequined, pintuck, or petals. Want to try this trend but a little afraid of being too dramatic? Try a table runner or drape an overlay to add just a bit of texture.
Find Local RENTAL COMPANIES:
Metallics
Metallics came into fashion a few years back and haven't gone anywhere since. They are still so popular because they instantly brighten up a space and make any venue look more chic and glamorous. Gold is the most popular, but you can get sequins in a variety of colors to match your scheme! Not only can these linen trends be overwhelming, but they're also more expensive than polyester. We recommend using them just for accent tables, cocktail tables, as runners, or overlays.
Subtle Prints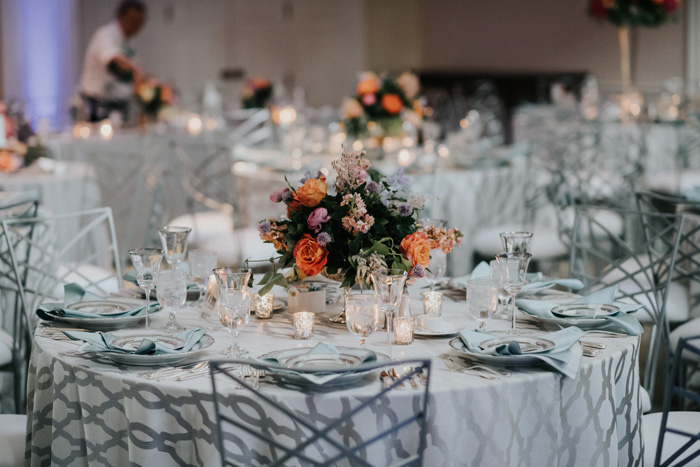 Whereas you should keep the table settings, centerpieces, and chairs simple with a loud print, you have more freedom with a subtle print. They're just as eye-catching, but you can have a more textured, colorful centerpiece, chargers, or napkins. Typically, subtle prints are nearly monochromatic. For instance, white embroidered vines on a cream cloth, or silver stripes on gray. You can turn a bold print into a subtle print by adding a sheer overlay to mute its colors.
Pastels
Typically, we think of using pastels in spring. But they're also the perfect backdrop for a summer table! The best part of summer weddings are the vibrant colors that are used. Having a pastel blue, blush pink, or pale yellow tablecloth will make your colorful napkins or centerpieces look even more vibrant. An added bonus is that pastels never go out of style! The timeless look will still be just as elegant looking back on your photos 20 years from now.
Find Local DECOR COMPANIES:
Mexican Homage
If you have Mexican or Latinx heritage, pay homage to it with some cultural linens! Using a bright, Mexican fabric will set the whole scene and turn your wedding into a fiesta! It's especially sentimental if the cloth is handmade. Use this fabric on the head table, cake table, or gift table for a pop of color that will make this fabric the focus of the wedding.
Runners on Cool Tables
While we love these linen trends, there are some pretty cool tables you can rent these days. Farm tables, ghost acrylic, concrete, or marble tables are super stylish and trendy. One trend we see this summer is including runners on top of these. White chiffon makes a farm or marble table more romantic and soft. Or, add a fun color to an acrylic table. Want to incorporate the new moss trend? Try a moss runner on a concrete table to play off the elements. Whatever you do with linens, just have fun and get creative!