Wedding Cake FAQs
While you should be open-minded when meeting with bakeries, you shouldn't be unprepared. Here are answers to your most pressing wedding cake questions!
When should I start looking?
About 8 months before your wedding, you should start researching local cake shops and perusing cake designs online and in bridal magazines. Be sure to check out our cake lookbook for 100+ pages of new trends and designs! About 6 months out, you should book a tasting at a few different bakeries. Rito's Italian Bakery advises couples to place their cake order 4-6 months before your wedding date. However, it's never too early! "We currently have orders that have been placed for weddings up to 2 years from now."
How much should I expect to spend?
Different bakeries come up with their prices in different ways. You'll find pricing by the slice, by the tier, or based on the design. For instance, Rito's charges by the tier size. Reeves Cake Shop has a starting price for basic flavors and decorating styles. Both shops have additional fees for cake flavors, icings, designs, and labor. For a basic estimate, calculate your budget by slice. Multiply your number of guests by anywhere from $2-$8 per slice, just so you have an idea of what to expect.
Keep in mind though, that if you find a design online that you love, it may add some dollars to your price tag. Cakes with handpainting, sugar flowers, geodes, or detail work will cost more because more product and/or time goes into creating them.
Speak the lingo! Check out our Cake Glossary to look up wedding cake terms you don't know.
How do I know how much cake to get for the number of guests?
Typically, you should estimate that each guest will eat 1.5 servings of cake. However, that number may change based on whether your not you offer other dessert options. A 6-inch tier serves about 10 guests while a 10-inch tier has about 35 servings. When making an appointment with your bakery, have an idea of your guest list as well as designs in mind. Rito's Italian Bakery warns, "Couples often have a cake in mind that they've seen somewhere and want to replicate. But they do not realize that the number of servings may not translate to the style of cake they desire." A good consultant will be able to take your number of guests and your ideal cake to come up with a design you love.
What are the most popular cake and icing flavors?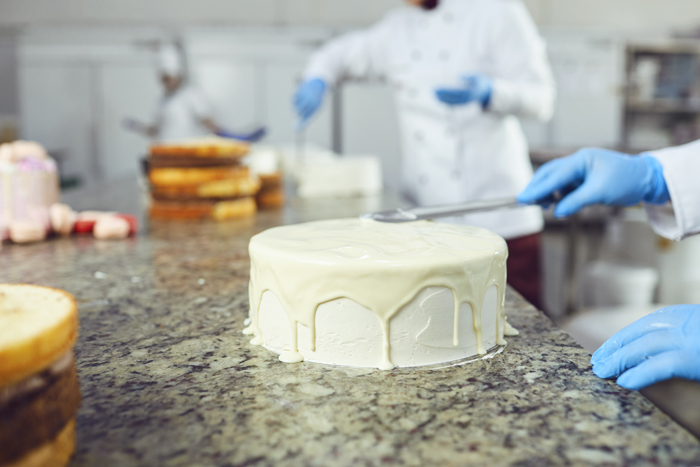 Reeves Cake Shop claims that, though fondant was once the go-to icing for wedding cakes, now buttercream is far more popular. "Most people do no like the texture of the fondant, but for some designs the fondant is necessary," they add. "We have found that icing a cake in buttercream and adding fondant accents – like striping, dots, bows, and ribbons – is very poplar."
At Rito's, "Our sweet white icing is the most popular. This icing type works best for stacking tiers and does not require refrigeration. However, extremely warm temperatures can have an adverse impact on any cake." Similarly, Reeves says their whip creme icing is non-dairy and does not need to be refrigerated while offering a great taste. Though Reeves advises sticking to one type of icing, both Rito's and Reeves agree that you can mix and match cake flavors. "Be sure both the bride and groom agree on the flavor and style of the wedding cake so no one is disappointed on the big day," Reeves says.
What items do I need to buy or rent? Are there any fees I need to consider?
Be sure to ask about delivery and cake cutting services. Could you imagine having to pick up your cake the morning of your wedding only to hit one of Ohio's famous potholes and ruin it? You should also ask if they rent accessories like a topper or cutting and serving utensils. Finally, ask about preserving the top tier of the cake. Traditionally, the top tier of your wedding cake is kept frozen and eaten on your first anniversary. Some cake shops will provide this service, so be sure to ask if it's part of the package or an extra fee.
---
If you need more guidance, ask the experts for advice on what to choose based on your cake design and venue. And be sure to serve the cake right after dinner. This will allow your guests who can't stay too late to enjoy a slice, and save you from having too many leftovers!
Watch this video as Abby & Taylor head to West Side Bakery to talk all things cake. From trends and flavors to tastings and final details, the experts at West Side Bakery tell us everything we need to know about scheduling your cake tasting and buying a wedding cake.