A Basic Beauty Regime: For Brides on a Budget
In between booking venues, choosing your formal invitations, figuring out how to change your last name and selecting your signature reception drink, there's little time to focus on beauty and preparing your features for the big day.
Along with time, funds may be tight as you're perfecting decor and little details! Whether you're obsessing over a dramatic makeup look or plan to go light and neutral, all brides should set aside a little "me" time to stay healthy and ensure fabulous photos. With our help, you can multi-task! Check out our low-maintenance, low-cost beauty tips for brides on the go below:
Eyes
You know that drinking lemon water is good for burning fat and ridding toxins, right? Well did you know it can also help eliminate under eye circles? The week before your big day, swap out an afternoon iced-tea for a glass of citrus-infused water (rind included) to begin clearing up those dark, puffy under eye circles.
It's not completely necessary to purchase false eyelashes for the big day. Every day, at least 2-3 months before the wedding, brush your lashes with a small amount of coconut oil to maximize growth. Add this to your nightly beauty regime, as the oil won't bother your eyes when they're shut, and you're busy dreaming of your groom's reaction as you walk down the aisle. Soon enough, you'll see longer lashes that make your eyes pop!
Lips
Especially after winter, it's important to rid your lips of flaky skin. Before you and your fiance sit down to talk seating arrangements, blend a mixture of coconut oil and brown sugar in a circular motion onto your pout. Let sit for 15 minutes before rinsing off. The sugar exfoliates, and the oil rehydrates, perfecting your pucker for the kiss following your "I do's!"
 Matte lipstick is trending, and while the smudge-proof formula is perfect for a long day, it highlights any and every crack in your lips. A super simple rehydration technique is steeping a green tea bag in warm water for 10 minutes and holding it to your lips for 5. Do this the morning of your wedding, after you've brunched with the bridesmaids, to ensure a flawless smile!
Face
You don't have to try and find the time (and money) to hit the spa the week before your wedding (who wants charcoal smeared across your face, anyway?) You're already booked for a DIY facial in your kitchen! Before you browse the cakes at your local bakery, grab some avocado, honey, and you guessed it – coconut oil. Mix the ingredients well, leave on for 15 minutes and rinse off to reveal your new glow! For this moisturizing mask, we recommend trying it once a month leading up to your wedding day for the ultimate glow.
While wedding planning can be stressful, we don't want any worry wrinkles sticking out in your wedding photos! Create a preventive mask with 1/2 teaspoon lemon juice, one whisked egg and 1/2 teaspoon, raw honey. Mix and apply the mask for 30 minutes while you finalize your bridal party's itinerary. Rinse off and reveal tighter, filled skin!
Stress also induces breakouts, and that's

THE

worst! Oatmeal has anti-inflammatory properties which reduce redness and itchiness. Mix it with two teaspoons of honey, plain yogurt, and olive oil. Give your skin 5 minutes to absorb the paste's healing techniques – go ahead & confirm your hair and nail appointments mid-oatmeal mask! Rinse off with a hot wash rag to seal in the benefits and minimize your chances of breaking out.
Even if it's just a few minutes every day, all brides should take some time out of their jam-packed schedules to focus on themselves, their health and beauty. During this time, also relish in the excitement of planning and preparing for your big day. Grab some coconut oil and get excited, you're bound to shine with beauty on your big day!
For more bridal beauty inspiration:
Makeup Tips for Your Wedding Day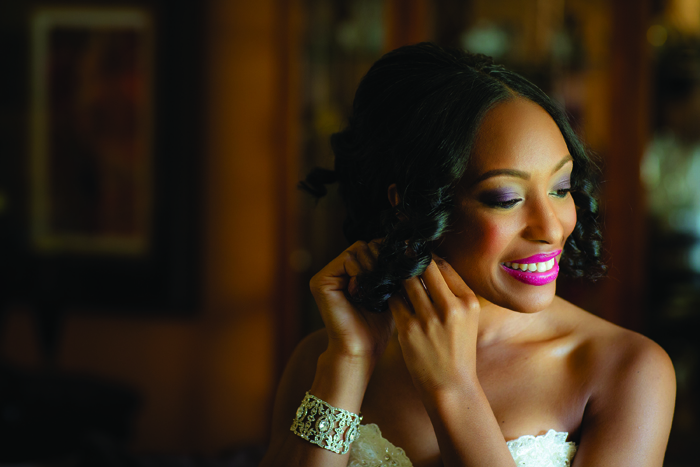 Bridal Makeup Inspiration Board