You Went to a Bridal Show– What's Next?
So you went to our Bridal Show, you ate too many cake samples, fell in love with too many wedding gowns, and met some pretty amazing people. How can you use the information you learned and the contacts you made to your advantage?
Follow these simple steps to help you sort through the chaos of knowledge floating around in your lovely pink tote.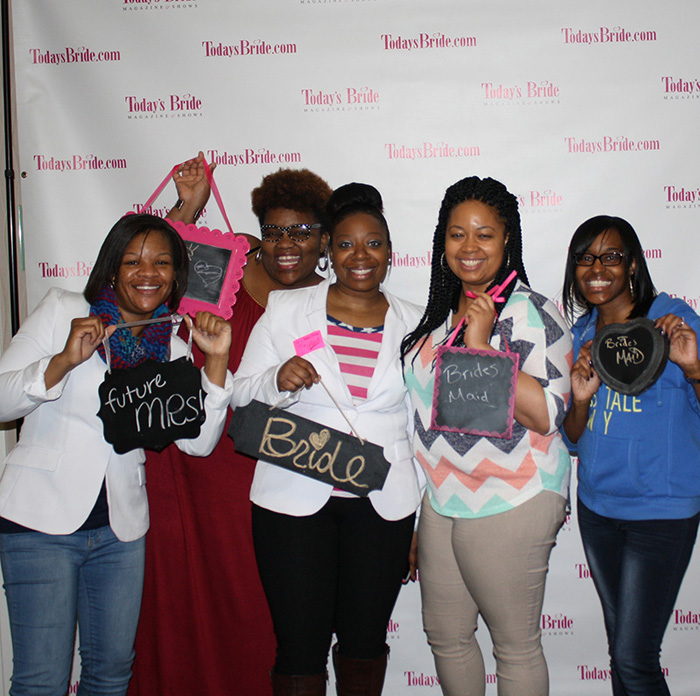 1. Categorize and Organize If you didn't bring any folders with you, your first step is to dump out the contents of your tote. Business cards, information packets, brochures, pens, flyers, all of it! Organize one stack for potential venues, one stack for DJs and Musicians you spoke to, one stack for photographers and videographers you really liked, etc. If you remember one vendor you loved but were so caught up in the excitement that you forgot to grab a card or brochure, don't fret! Here's a list of all of our local vendors.
2. Pros and Cons Once you've organized your tornado of papers, create a pros and cons list of what you liked about them, what specials they offered, what all is included in their services, and what left you feeling uncertain. Do this for each vendor in each stack and use the Wedding Planner in the back of your copy of Today's Bride to organize this information. If you need another copy, request one here!
3. Compare At the end of your pros and cons list, you should have a pretty good idea of what features are important to you and what you're looking for in a vendor. Now, compare common vendors– photographers to photographers, florists to florists, and likewise. Use your contacts for this! Find their webpage and do your own research, read their testimonials and reviews, browse photo galleries and videos. Remember the pink Discount Card we handed you at check-in? Now's a great time to use it! With over 80 preferred vendors accepting this card (which gives you 10% off of your order up to $100), both you and your wallet will be happy. Check which vendors you love are on our Discount Card Vendor List.
4. Contact them That being said, GET IN CONTACT WITH THEM! Don't let a tree be wasted– put those contacts and brochures to good use. The Bridal Show does you no good if you don't take advantage of it's benefits, so get to know the vendors you like best. From your pros and cons list, research, reviews, and emails, pick your top two or three candidates and get in contact with the person you spoke to at the show, and don't be afraid to ask questions! These experts do what they do because they WANT to help you, so don't be afraid to ask for advice, either. If you don't know what to ask, this is another great time to reference your Wedding Planner. Remember: this is your wedding; they will be working for you, so don't feel silly asking any questions or making sure everything is in writing.
5. Make a Decision If you're like me, just the idea of making a decision this big gives you anxiety and beads of sweat start to run down your face. When it comes time to make this decision, though, don't sweat it. You've done your research, you've made the comparisons, and after talking to them for the past few weeks or months you should feel more than comfortable booking your choice. If you're still unsure, go with your gut– it's rarely wrong. Who do you feel more comfortable getting in contact with? Who's website or photo gallery gets you excited? If worse comes to worse and your anxiety gets the best of you, flip a coin. When it's in midair, you'll find that you're hoping it ends up being one vendor or the other, and then you'll know who your choice is.
6. File It Away Whew! You can check that one of your list. Hopefully you have a bridal binder where you keep all of your important documents and check lists, so now you can just add this contract to your paperwork, and move on to the next one. Remember: NEVER give money to a vendor without having a contract first! Make sure you get everything in writing and have a way to contact them.
Bridal Shows are a bride's best friend if you take advantage of all of the opportunities they present to you. Don't collect flyers and just throw them away; vendors are there to make your lives easier, so take advantage of those contacts and let them take some of the weight off of your shoulders. Don't be afraid to contact them– even if they don't remember you, they still want to do everything they can to help you make your day special, so don't be afraid to ask them questions you didn't think of at the show!
Check out our Gallery of the April Bridal Show! Visit us in July at the Cleveland Marriott East for even more wedding planning tips! Join Today's Bride here!