Boudoir Q+A with B Frohman Imaging + Design
Boudoir photo shoots are still a taboo, misunderstood idea. We spoke with boudoir photographer B Frohman Imaging + Design to find out what the deal with Boudoir shoots is and answer the age old question, to do or not to do?
What is a Boudoir shoot?
Boudoir is a photography style meant to highlight the female form in a sensual, intimate way. These photos can be taken for a variety of reasons. Pose for a gift for your partner, to celebrate a milestone, to step outside of your comfort zone, or just to feel beautiful in your own skin.
Why would/should someone do a boudoir shoot?  
I have done sessions for a plethora of reasons.  These sessions are often done by brides-to-be to create unique wedding day gifts for their fiancé. These sessions are also incredibly empowering for our clients and leaves them with confidence for months to follow. My team has also worked with clients celebrating a birthday, weight loss, surviving a challenging situation, or who just want to feel good. I strive to create an environment where our clients feel supported, strong, sexy, and beautiful – no matter what your reason!
How long does a typical shoot last?  
B Frohman Imaging + Design offers 60 or 90 minutes sessions. This depends on how many images you want and how many different outfits you're planning. We also offer on-site hair and makeup so you step in front of the camera looking and feeling flawless. Hair and makeup takes roughly an hour so the typical amount of time spent in the studio is usually around two hours in total.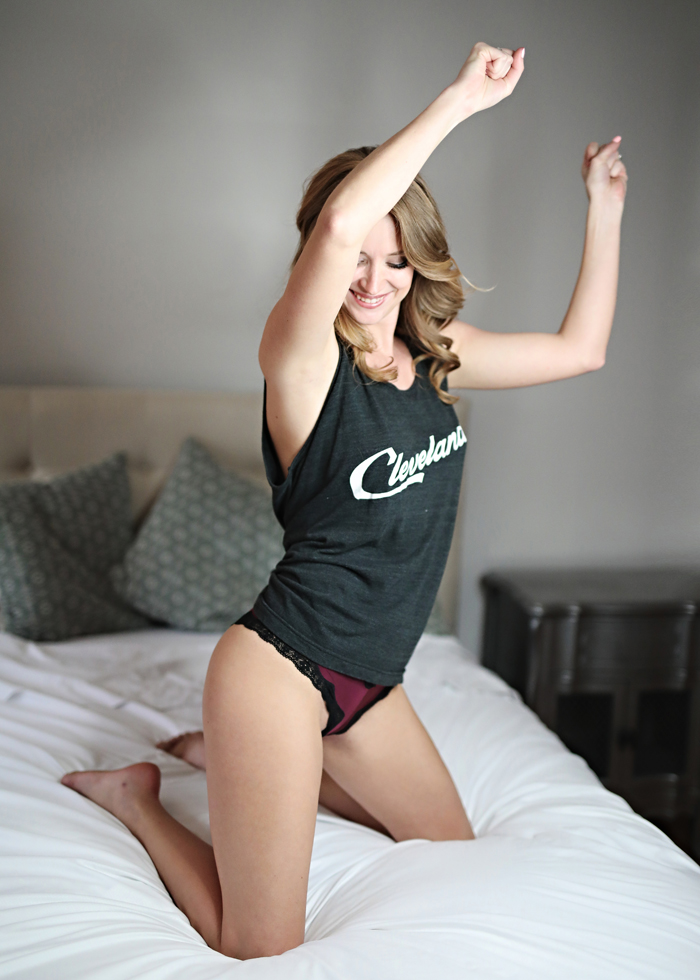 How can a bride prepare for a shoot? 
Think about the "vibe" you want. Do you like a more sultry and seductive style? Sweet and innocent? If you are doing a session as a gift, is there a particular way you would like to be featured for your partner? Have fun shopping and assembling a line-up of outfits that highlight your personality, compliment your features, and make you feel sexy and confident. Make sure you have shoes, jewelry, thigh highs, and any sentimental items you'd like to include. It's completely normal to pack so much that you look like you're moving into the studio. If you are going to get a spray tan, have your hair dyed, or get anything waxed, do so several days before your session so any residual dyes or redness can fade.
What does a bride wear?
Your boudoir pictures are all about being gorgeous, sexy, YOU. Wear what makes you feel sexy! Consider ahead of time if there's a certain theme that you would like to incorporate. I have worked with everything from sports, paint, video games, hunting, Star Wars, Harry Potter, pin up, leather jackets, and music. You may even want to raid your partners wardrobe to steal their favorite sweatshirt, a button down and tie, or work attire. Automotive, chef, military, police officer, fire fighter – you name it, we've seen it and made it sexy! Many brides will bring their "something blue," veil, or jewelry that they plan on wearing on their wedding day.  Bring whatever makes you feel amazing and adds personalization!
What if they're self-conscious about their bodies? 
Clients frequently come into the studio with concerns about how certain areas of their body are going to photograph. We address any areas of concern you have. We pose you in ways that will highlight your favorite features while also concealing areas that you aren't as confident about. Posing for boudoir feels a lot like yoga. We'll move, arch, and bend you to add roundness to your butt and chest while flattening your tummy or showing off your legs.
We recognize that boudoir can be intimidating. Our all-female staff will focus on making your experience empowering, comfortable, and fun!  The truth is, we all have concerns about stepping out of our comfort zones. With a trusted professional, all your doubts and concerns can be left at the door. My team highlights your unique personality and interests so you can feel like the best version of you! Our clients walk away from this experience feeling more confident and sexier than ever. Every woman deserves to feel excited about her sensual side and let her confidence shine.
What is typically included in a package and what's the average price?
We have a variety of packages available depending on session length, styling services, outfit selections, number of images, and included prints. You can place orders for gift sets, albums, canvas/metal enlargements, or digital collections. The investment can run anywhere from $500-$2000 for hair and makeup, the session itself, and your keepsake choices. We offer payment plans to make sure that clients get everything they want from the experience.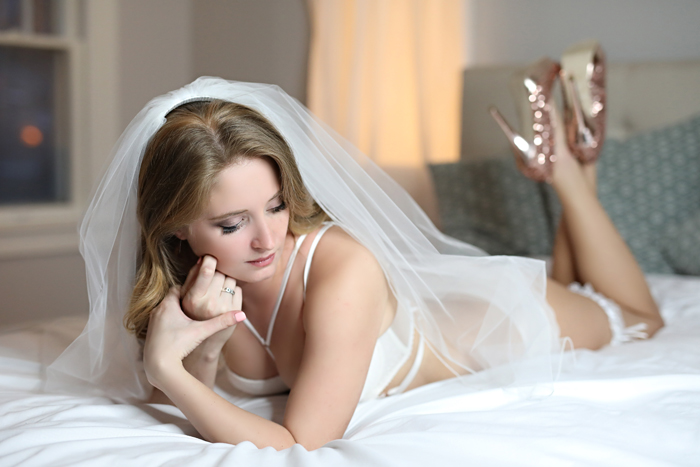 Anything else you want brides to know?
These shoots aren't only for size-2 models. It's for anyone, regardless of size, skin color, gender, or sexuality. A boudoir shoot will leave you feeling self-assured, fearless, and invincible. Every type of person is welcome at my studio and you do not have to look a certain way to look beautiful on camera.
---
After having boudoir photos taken, you'll feel beautiful, empowered, sexy, and confident. All the things you want to feel on your wedding day! Though these photos are often a gift for your partner, they're even more so a gift for YOU! They'll make you feel gorgeous, whether you're about to say "I Do," are celebrating a milestone, want to step out of your comfort zone, or try something new.