Marissa & Nick – A Wedding Full of Natural Beauty at The Club at Hillbrook
Marissa & Nick's wedding may just be practically every girl's dream! Full of smiles, love & romance, a custom wedding dress (gasp!) and simple elegance done very, very well, this Real Wedding from Carol Malick Photography is truly a masterpiece just waiting to be admired.
 Wedding Theme: Classic Italian Wedding Colors: Ivory with hints of green
Before you completely immerse yourself in the beautiful abyss that is this wedding, let us fill you in on the back-story here. We actually know Marissa — she works for Carol Malick, one of our featured local photographers who is certainly no stranger to our Real Wedding blog. Marissa is a total sweetheart, and we're so ecstatic that these radiant photos captured her for the doll that she is. It was all too natural for Carol to be present & capturing Marissa's day … and speaking of natural, will you just get a look at all of this natural light below?! Gorg.
From the bride: "There were a few things that stand out as making our wedding day particularly special. For starters, I married Nick, the love of my life and my best friend! The bridesmaids also wore my Great Grandma's earrings. We were very fortunate that all four sets of our grandparents attended … plus, we had beautiful weather with absolutely no humidity!"
From the bride: "We made & pressed our own homemade wine. The bottles were labeled with our own unique labels, and we served it at the reception."
Advice from her: "Less is more."
Advice from him: "The wedding day is going to come and go faster than you can imagine. Enjoy your wedding planning and, most importantly, enjoy your time with each other. Your wedding is just one day; your relationship is forever."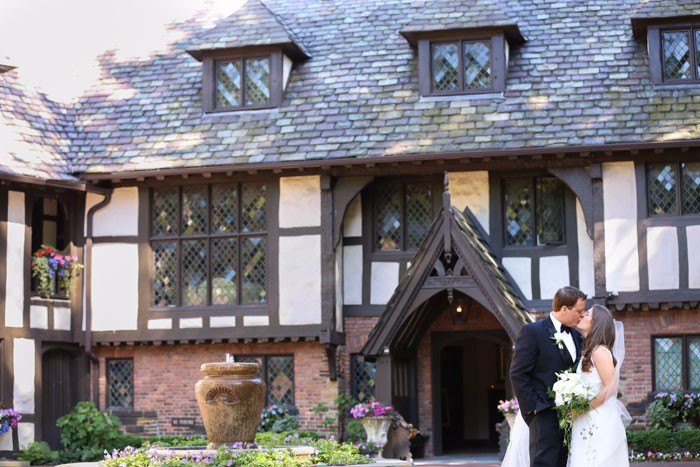 Get Their Look
Beauty: Maquillaqe by Beth (make-up) / Amanda Tustin Designs (hair) Bridal Gown: Fyodor Atelier Bridesmaids' Gowns: Something White Bridal Boutique Cake/Bakery: Angelo's Nido Italia / Guarino's / Sidari's Ceremony Location: Church of the Resurrections Ceremony Musicians: Mario Fioretti / Michelle Romary Florist: Gift of Hands Invitations: Kimberly FitzSimons Photography: Carol Malick Photography Reception Location: The Club at Hillbrook Reception Entertainment: Nick and Bill Videographer: Perfect Day Films Wedding Planner/Coordinator: Bride's mother