Surprise Wedding
Modern couples love the idea of ditching tradition and doing things their way. What better way to do that than throwing a surprise wedding?
Surprise weddings are such a fun idea and can turn into quite the party! But there are a few things you need to be aware of if you're considering having one.
1. include your wedding party and parents in the secret
Do you really expect to be able to keep a secret this big from your closest friends and family? Rather than worrying about spilling the beans, let them in on the secret. They can help you execute it flawlessly! Because they know this is coming, they can direct guests to their seats or pass out confetti or bubbles as you make your way back down the aisle. This will also avoid any hurt feelings that they weren't included in the biggest moment of your life.
We recommend having a small wedding party when throwing a surprise wedding. Keep it to two or three bridesmaids.
Trust us on this one. Planning an ordinary wedding is difficult and overwhelming. Planning a surprise wedding by yourself may make your head implode. Having a point-person to coordinate with the vendors and make sure they're all there on time and know to keep quiet is key. You may have a vendor dressed as a party-goer and mingling with other guests before going to officiate or play music. It would ruin the entire surprise if your guests walked in on a DJ setting up his spin table or a florist carrying in bouquets. Orchestrating an event like this, making sure each vendor is playing their part, and ensuring everything is going perfectly the day of will ruin your experience.
3. plan a decoy party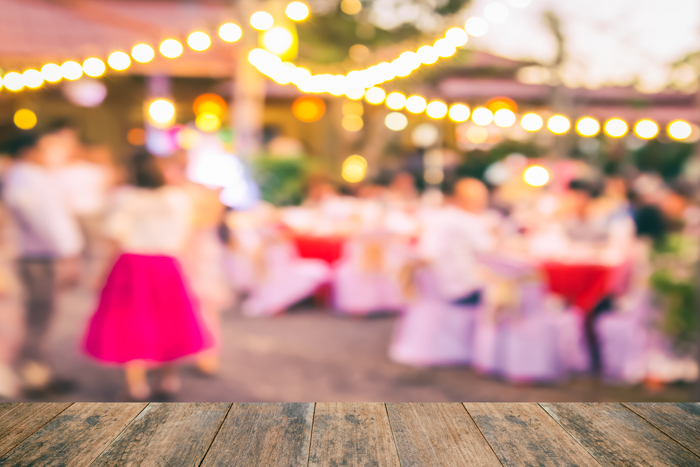 There has to be a reason to get your guests there. Having a Labor Day cookout, Fourth of July celebration (with fireworks…how romantic!), or a New Years Eve masquerade is the perfect occasion to hosting an event. However, be aware that if you do choose a holiday, some of your guests may not be able to be present due to other obligations. The engagement party has become the most popular event to throw a surprise wedding.
There are two types of surprise weddings. The first, your guests believe they're showing up to a party only to find a wedding ceremony set-up with signage, seating, an arch, the whole nine-yards. The other way is to have a flash-mob wedding. With this style, your guests will be mingling, laughing, enjoying the party, when all of the sudden The Wedding March starts to play. The groom and officiant head to a designated spot and the groomsmen can move the seating to form an aisle for the bride. Your guests won't know what's going on, but when you emerge in a wedding dress, they'll get the idea. Let the waterworks begin.
4. know that you won't get gifts
If you decide to throw a surprise wedding, you most likely won't receive gifts, and you won't get to register. The one exception is if you invite guests to an "engagement party." This may be ideal if you and your fiance already live with each other and don't need new dishes or pots and pans. If you have been dreaming of getting a nice set of sheets or matching towel set since you moved out for college, you should consider skipping the surprise wedding.
5. you also may not have a bridal shower
Unless you have been telling everyone a fake wedding date, you won't get to have a bridal shower, either. Again, if you have everything you need to create a home, this isn't a big deal! However, the memories that come with seeing old friends and long-distance family members and playing cute games may be something you regret later.
6. you won't have to deal with outsiders' opinions
A surprise wedding means there will be no unwelcome opinions or advice and no invasive personal questions. No one will ask you if you plan on losing that extra 10 pounds for the wedding or tell you that you absolutely cannot eliminate the bouquet toss. This day will be entirely your own and every detail will be what YOU want. You won't be pressured by outsiders or forced to smile when they offer their opinions that you most certainly didn't ask for.
7. hire a photographer to capture the reactions
If you weren't planning on hiring a professional photographer for this, please reconsider. Only someone with a good eye, years of experience, and professional equipment can properly capture this epic moment. There will be gasping, crying, shrieking, laughing, bewilderment – the entire array of emotions! A professional and skilled photographer will be able to capture all of these reactions on film so you can relive it over and over again.
8. things won't go exactly as planned
If you are an A-Type personality, it's probably best to stay away from surprise weddings. Things won't go exactly the way you imagine them to be. Plans will be changed and the schedule will be adjusted at the last minute. When has a surprise ever gone the way it was supposed to? If you don't mind going with the flow and aren't big on tradition – you just want to marry your soulmate – then this could be a great way for you say "I Do!" But if you like planning in advance and hate last-minute changes, your wedding will turn into a nightmare rather than a dream.
---
Keep in mind that there will be some backlash. Some people may feel hurt that they didn't know or weren't included in the planning. Surprise weddings are typically a smaller event of 50-100 people. Friends who didn't make the guest list cut may be offended they weren't invited. However, if the surprise is pulled off correctly, it will be something you and your guests never forget.