Answers to the Wedding Planning Questions You're Stressing Over
Every bride has worries about wedding planning; it's one of the most important days of their lives! While there are lots of things to over think and get anxious about, that doesn't mean you should. Take a few minutes to read through this list of common worries and solutions. By the end of it, you will have clear thoughts and can get back to enjoying the moment!
Money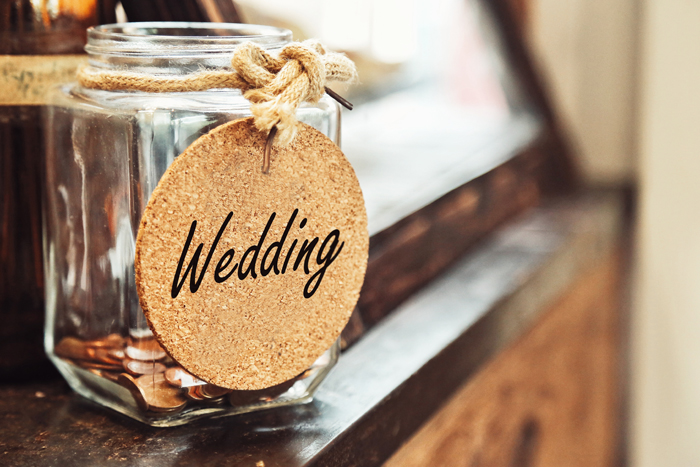 Question: Who pays for what? 
If your parents, your partner's parents, or family friends have offered to help cover some of the costs of the wedding, don't be too proud to take the help. Often they want to help you have the wedding you want. Discuss with them what you want and have a discussion on what they feel comfortable with paying.
Question: How can I save money?
Consider getting married on a Friday or Sunday instead of Saturday. Saturday is the most popular day for weddings, so venues will often have these days at a high price than other days. If you have your heart set on a Saturday, think about a winter wedding. Because weddings aren't popular from November-February, vendors lower their prices to book more.
Download our budget printables:
The Guest List
Question: Who should I invite? 
The soon-to-be-married couple usually tackles the guest list first. With the expectation to invite everyone, it is good to sit down and discuss who is most important and has to be at the celebration. This list could include parents, siblings, and very close friends. Decide who you would hate not to see there and who you be fine seeing after the wedding. If you haven't seen someone in years, maybe they can be left off the list.
From there, ask both sets of parents for a list of who they'd like to invite. It will take some discussion and compromises to combine all three lists into one master list, but ultimately it's the couple's decision.
Question: Do I have to invite my colleagues? 
You do not have to invite anyone to the wedding. It is your day and it is your choice who does and does not get an invite. Though, it can be hard to justify that to those who want to celebrate with you. If someone asks why they were not invited, you can tell them about the limited amount of people allowed by the venue or the costs of adding more people to the guest list. If that person cares about you, they will understand. You can take time to visit these people after the honeymoon and bring pictures from the wedding. This way they don't feel left out!
Question: The RVSP date has passed, and some people haven't responded. Should I assume they don't want to come?
Once the invitations are out, it's a waiting game to see who will RVSP. If the RSVP date passes and you still have not heard from everyone, don't panic! Sometimes people thought they sent the card in or they assumed you already knew they were coming. Take some time out and call those who did not respond to confirm whether they are coming or not. In the end, if you still do not have a yes or no, assume yes. Better to have too many seats than not enough!
The Food and drinks
Question: What if my guests have food allergies or preferences?
Everyone has different dietary needs. If you are worried about someone not being able to eat, remember there are options when it comes to catering. The standard meal is two types of meat, traditionally beef and chicken, with one non-meat option. This gives variety without having to worry about spending lots of money on tons of different options.
You could also decide to have a buffet. This offers multiple options and gives your guests the opportunity to choose what they want to eat. There is no way to predict everyone's dietary needs, but there are ways to please everyone. Always include a vegetarian and kid's option on your menu, and consider including a spot on your RSVP for guests to choose their meal.
Take our quiz to find out which type of dinner serve you should have!
Question: How much alcohol should I serve?
Typically, a wedding bar is made up of 30% liquor, 20% beer, and 50% wine. These numbers may need to be adjusted based on your preferences. Download our Spreadsheet to calculate how much alcohol you should serve.
Keep your guests safe by stopping alcohol service an hour before the reception ends. You may also want to offer some appetizers, so your guests have more than just cake and alcohol in their stomachs. Another precaution to take is getting guest accommodations. This way your guests from out-of-town don't have to drive while buzzed and can stay safe.
the perfect day
Question: How can I have the perfect wedding day? 
Odds are, something will go wrong on your wedding day. This doesn't mean it can't be amazing! Often, music won't queue correctly, or a bridesmaid will forget to get her nails done. Don't sweat the small stuff. There is no way to guarantee that everything will be perfect. Mishaps bring memories to the wedding that wouldn't be possible if everything was perfect. If something happens, like a groomsman falling or the flower girl forgetting the flowers, laugh. Take joy in all parts of your wedding because the mistakes are what make it your day.
If you're still feeling anxious, hire a wedding planner. They'll recommend vendors, coordinate deliveries and payments, and will handle any crises that arise on your wedding day. That way all you have to focus on is getting married!
Find Local wedding planners:
---
Hopefully, this list helped clear your mind. Use these tips to your advantage and get back to thinking about the joys that are about to come!