Lighting & A/V Glossary and Misconceptions
After 20+ years in business, Rock The House Entertainment has seen and done it all. They're fluent in A/V lingo, but are you? Check out the list of words and phrases to know, plus common misconceptions engaged couples have.
Lighting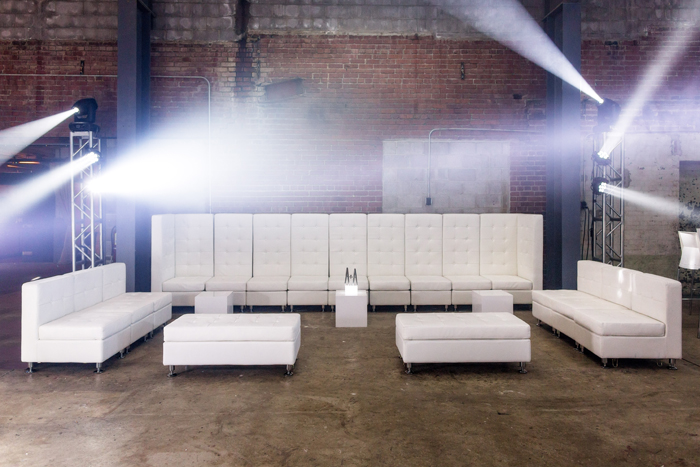 Gobo – A gobo is a dark plate that is placed in front of a light source to create shapes, like a stencil. The light will only seep through the holes and cutouts in the plate, showcasing things like monograms, designs, or thematic elements.
Pinspotting (also known as spotlighting) – These are lights that are typically attached to the ceiling or overhead structures. They are then pointed at specific items to highlight them. If your wedding space is dimly lit, consider pinspotting your centerpieces, signage, the head table, or signature floral arrangements to allow them to stand out.
Uplighting – Just like it sounds, uplights direct light upward. They create ambiance when placed around the perimeter of the room or against pillars. Because they're typically wireless and cable-free, these lights are unobtrusive and easily hidden.
Static vs. Dynamic Lighting – Static lights are what you see in most buildings. They turn on and off and may have a dimmer. Dynamic lights can change, pulse, move, rotate color, and fade in intensity. The energy and diversity found in dynamic lighting is perfect for your dance floor, as it's interactive and can change based on the rhythm and style of music.
Color Washing – Color washing lights literally cover a room in color. While you may not want your entire reception space to be radiating blue or yellow light, an experienced lighting professional, like those at Rock The House Entertainment, can create a romantic, warm, cool, modern, or nightclub-like effect with color washing. You could even paint the room in the colors of your wedding!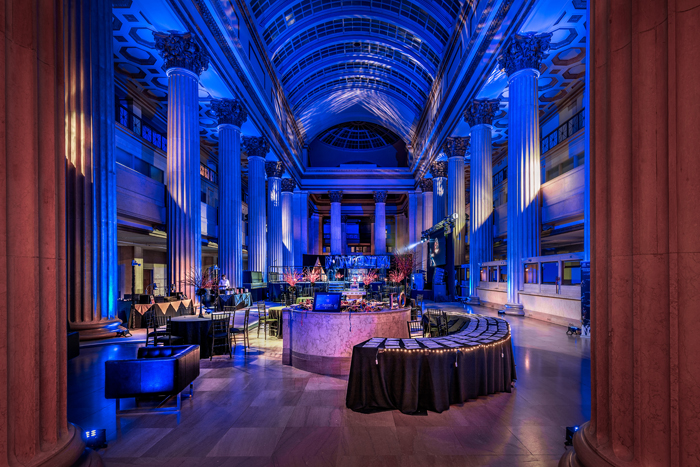 My venue already has lighting, so I don't need it.
While it's true that every building most likely provides some sort of lighting, proper lighting design sets the mood for your wedding. You don't want to look washed out in your wedding photos because you relied on only the flourescent lights provided. Likewise, using flash or receiving dark photos because your light was too dim can ruin memories of the day. Proper lighting evokes emotion, sets the tone, and ensures everyone can see properly without having to deal with too bright or unflattering overhead venue lights.
Audio Glossary & Misconceptions
Distributed audio – Distributed audio is equal opportunity audio. Rock The House Entertainment wants everyone to be able to enjoy the sound! Therefore, they place multiple speakers throughout a venue to provide even coverage of sound. This ensures that Great Aunt Mabel in the back can still hear the Best Man speech but the Baby Boomers won't tell the DJ to "turn that noise down."
Ceremony Sound is the same as Cocktail Sound is the same as Reception Sound
To quote Dwight Schrute, "False." The speakers and equipment that come with a DJ are specifically chosen to ensure excellent sound for the reception and dance floor space. The audio required for an outdoor space is drastically different from that necessary for indoor venues. Likewise, churches have different acoustics than banquet halls. If the different stages of a wedding day are taking place in different locations or even different "zones" of the same venue, you'll want to ensure you have the right audio setup for each unique space.
Ceremony Sound – When deciding what kind of sound is necessary, it's important to know what it will be used for. At your ceremony, you'll want your guests to be able to hear your procession music, your vows, readings, etc.
Cocktail Hour Sound – The music at the cocktail hour should allow guests to be able to mingle and chat without having to strain to hear. It should be mellow, easy-listening. However, cocktail hour is usually in a different location than both the ceremony and reception (like a patio or lawn). Therefore, you will need speakers with an AUX plug-in for music.
Reception Sound – At the reception, there will be speeches, announcements, and lots of music. You'll want to be able to talk and hear each other during events like the cake cutting and bouquet toss, though there should be music in the background. You will also need microphones for the toasts and speeches. Then, you'll want clear, distributed audio to dance the night away.
---
Should you have a live band or DJ at your wedding reception? Find out here!
---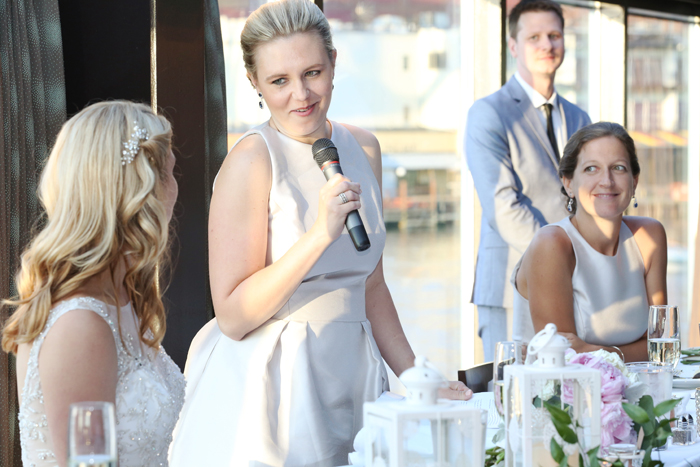 Wired vs. Wireless Microphones
You and your vendor should ask yourself the following questions when deciding what kind of microphones you need:
1) For what will the mic be used?
2) Can it stay in one place or does it need to move with a person?
For things such as ceremony readings, vows, and Officiant blessings, the microphone will most likely be stationary. Therefore, you can probably go with wired mics on mic stands. But if there needs to be movement or you don't want chords/mic stand visible – perfect for toasts and MC announcements – wireless or lavalier mics might be the way to go. Here's a brief breakdown:
Headset – This look will have you feeling like Britney Spears and loving every moment. It's hands-free, but may not be the look you want on your wedding day.
Lavalier – A lavalier mic is usually clipped to a shirt collar and is often used for on-screen interviews. While it could easily be hidden by your veil or hair, the battery pack and wires aren't as discreet and can ruin the silhouette of your dress.
Handheld – Available both wired or wireless, and handheld microphone is the most common options for wedding audio. If you plan on having a lot of speakers – for instance, the Officiant, reader, singer, bride, and groom at the ceremony – you might want to go with wireless so you don't have to worry about tripping or getting tangled in the cord.
NOTE: Another important consideration regarding audio capture is whether your videographer will need the audio for your wedding video. If so, ensure clear audio by hiring a ceremony audio technician. They can capture the audio off the board and give it to the videographer to ensure it's high quality.
Visual/Decor
Projection or Video Display – Slideshow presentations and video "speeches" are becoming more and more common. Even if a venue has a projector and screen, their coordinator may not be trained on how to troubleshoot common audio-visual issues. Hiring an experienced A/V company to handle it will ensure things go smoothly.
Special Effects/Wow-Factor Elements – Special effects are perfect for both introverts and extroverts. As an introvert, bursting confetti cannons or Co2 jets will draw the eye and amaze guests. You can rest easy knowing that not EVERY eye is on you. As a diva-licious extrovert, you want to be as extra as you can get. The more drama the better. Just imagine "dancing on cloud" for your first dance or striking a silhouette pose in a lighting haze. Special effects like these enhance the emotional experience of a live event.
Drapery – Just like no home is complete without curtains, your reception space may not be wedding-ready without drapery. Drapery can cover less-than-gorgeous venue spaces or be used as a backdrop for a photo booth area or behind your cake table. You can even impress your guests from the very start by tying fabric back from the entrance.
Ceiling Treatments – A popular growing trend is having hanging features to draw your guests' eyes upward. An easy way to do that is with a drapery ceiling treatment! This fabric is a bit lighter than regular drapery and creates a dreamy, romantic, ethereal atmosphere in your reception space.
This information has been provided by Rock The House Entertainment. Contact them for more information on lighting and audio visuals for your wedding!