Live Band vs. DJ – Which is the Best Choice for Your Wedding?
Music makes the world go 'round. Therefore, it's no stretch to say that it can also make or break your wedding reception! It's so important to choose the right performer. But should you choose a live band or a DJ?
Like with every wedding planning decision, there are a lot of details to weigh before making a choice. You cannot go wrong either way when you book with Rock The House Entertainment. However, there are some things you should consider when choosing between a live band or DJ/MC.
Should I Book a Live Band for my Wedding?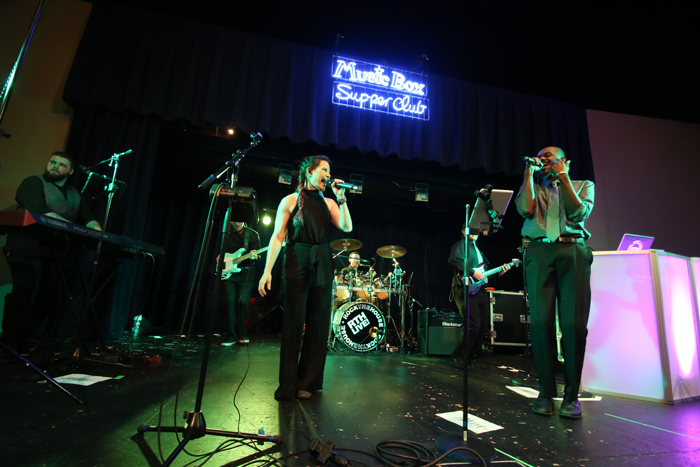 Why we love them
Booking a live band is like having a private concert just for your wedding! Every performance is different and unique. Your wedding will be a one-of-a-kind event. It can never be duplicated! Even if some of your guests don't like to dance, they'll enjoy watching the band play.
With other bands, it's hard to make requests on-the-spot, as they may not know the song. With Rock The House LIVE!, the band prepares according to what the couple wants. If you prefer top 40 songs, they'll be sure to know all the latest hits. If you want Motown played during dinner, they can do that, too!
Live bands are a must if you or your fiancé are music buffs or love live music. If your first date was a concert or you have a special song, a live band at your wedding would be a sentimental touch.
What to consider
If you are considering a band, make sure your venue has room! You'll want enough space that they can set up, have room to play, and leave space for a dance floor! Rock The House LIVE! can play just about anywhere! Regardless of the size of the space or number of guests, they can play to a group of 50 or 500.
Check with your venue to see if there are any equipment restrictions. You should also ask your band whether they bring their own equipment or if you're required to provide anything. RTH LIVE! comes with an audio engineer to ensure great sound in the space with no feedback.
Should I hire a DJ/MC for my wedding?
A seamless reception
When you book DJ services with Rock The House, you always get a two person team to work your wedding. A professional DJ is dedicated to playing the best music. Meanwhile, the host/MC makes announcements and interacts with your guests. Host/MCs will also manage the flow of your wedding. You may be greeting your guests or dancing so much that you forget to toss your bouquet or cut the cake! A Host/MC will keep you on track without disrupting the flow of music.
DJs don't need as many breaks as a live band does. If a DJ does have to step out, they can play pre-selected music. They can also seamlessly switch songs in the middle if they notice the crowd isn't feeling it.
Variety of playlists
While they're great at taking requests, you may end up with a genre playing that isn't your favorite. That's why it's important to discuss your "must-play" and "do-not-play" lists. Luckily, Rock The House knows how to handle situations like this. While they do their best to honor all requests, their priority is the couple.
A DJs infinite and diverse library means you don't have to stick with just one genre. You can have it all! Play Frank Sinatra and Elvis during the cocktail hour, upbeat jazz during dinner, and 80s hits for the dance floor. DJs take up minimal space and can fit at just about any venue!
---
There are pros and cons to which performer you should choose to play your reception music. When considering your venue space and musical preferences, the choice may be clear! But if you still can't decide, Rock The House Entertainment provides a combo package that includes the band, DJ, and host/MC for the best of both worlds!
This content is sponsored by Rock The House Entertainment. They provide DJs & MCs, live music, lighting, and photo booths. Find out more by visiting their profile!