What to Consider When Booking a Photo Booth
Photo booths can be found at concerts, festivals, fairs, carnivals, and more. Basically, if there's a place that you want to capture memories of spending a fun day with your friends or family, there's a photo booth! So why wouldn't there be one at your wedding?! We found out everything you need to know about considering, choosing, and renting a photo booth.
Types of Photo Booths
Enclosed Kiosks
Open air or closed booth, custom vinyls or green screen, there are a ton of options when it comes to choosing a photo booth. So how do you decide? "It definitely depends on the size of the wedding and the venue," Bianca from TapSnap Photo Entertainment says. "I absolutely recommend a closed booth over an open style," James from inFocus Photobooths says. "The guests tend to be so much more creative in a closed booth. They're not worried about how silly they might look; having everyone watch what you're doing can really stop some people for being super silly."
Open-Air Lounges
However, larger screens can be just as fun! "Guests love to interact with the larger screen and it's perfect for taking bigger group shots. Adding a green screen or sequin backdrop allows for the guests to choose from more photo options, and each photo booth model is fully customizable so we can create a truly unique look for each event," Bianca adds.
GIF & Video Booths
There are also new technologies that have changed the classic photo booth kiosk from the middle of the mall. You can now have your guests take video messages and moving GIF images! "We love to get guests moving with animated GIFs and our Snapback feature (where guests can create a looping video)," TapSnap says. "However sharp, high quality photos taken against a sequin or printed backdrop are a classic crowd pleaser. We always suggesting offering as many options as possible as each guest will have their own favorite feature." While these options are perfect for instantly posting to social media, they cannot be printed into a memory album.
inFocus also warns that they take much longer than the average of 40-60 seconds that classic booths take. "The more choices the guests have, the more time it takes in the booth. The new mirror booths, can actually keep one couple in the booth for up to 8 minutes, which will unfortunately send some guests back to the dance floor or the bar, never to return."
Props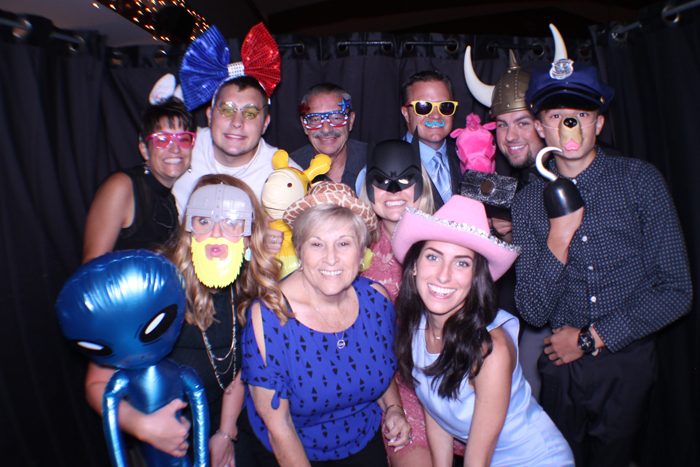 Imagine your guests posing it up with wigs, feather boas, goofy hats, masks, or life size cutouts of the newlyweds! James says the most popular props are "themed sunglasses, super heroes, Disney characters, mustaches…the list is endless! Adult themed signs and props are also a huge hit with the bridal party! The imagination we see is just amazing."
While the traditional props are a classic, crowd-favorite, there's a new way to incorporate props, too! "Guests also love to add digital props and animations to their photos using our touchscreen technology. Then, they can share their photos directly to social media," Bianca from TapSnap adds.
Posing
When it comes to posing, it can be a little difficult in closed booths because of the limited space. But open-air booths allow you to pose in any way you can imagine! Strike the epic Charlie's Angels pose with your bridal party, share a hug with your mom or dad, or have the groom hold the bride as if walking over the threshold!
Receiving your Photos
"We like to suggest keeping a guest book next to the photo booth. We can print an extra copy of each photo and place it in the book, and then guests can write a note next to their picture. This makes for a great (and affordable) keepsake for the wedding couple!" TapSnap says. "The best part of my night is presenting the bride and groom with a gorgeous memory book filled with messages, memories, and good wishes from their guests," James from inFocus recalls.
inFocus Photobooths also provides a flash drive of around 400-600 digital images. Just imagine sitting down after your wedding with a bottle of wine, reading through the memories, and then looking at all the pictures. "If someone spits their drink out or sheds a tear, I feel I have done my job."