Guest List & Invitations: Problems and Solutions
You, your fiancé, and both sets of parents should sit down to start compiling a guest list about 12 months before your wedding date and finalize it around 6-7 months out. Comprising a guest list is the number one thing couples fight about when planning their wedding, so if you start to argue, check out these questions and answers for a solution.
Who should get a plus-one?
When it comes to navigating the difficult "plus one" situation, remember a plus one is a must for anyone who is married, engaged, or in a long-term relationship. It's also considerate to extend a plus one to a single friend who won't have any other friends attending the wedding.
For more detailed guidelines on plus-ones, check out this blog!
How do I make it clear I don't want children at the wedding?
When it comes to inviting children, you should never put "No Children" or "Adult Reception Only" on a wedding invitation. Instead, pre-write the invited guests' names on their RSVP card so they'll know exactly who is invited. Or, put a line beneath their name on the RSVP card with __/2 so they know that two people are invited and can fill in how many will be there.
Here are more dos and don'ts when it comes to invitation etiquette.
---
Find Local INVITATIONS & STATIONERY VENDORS:
---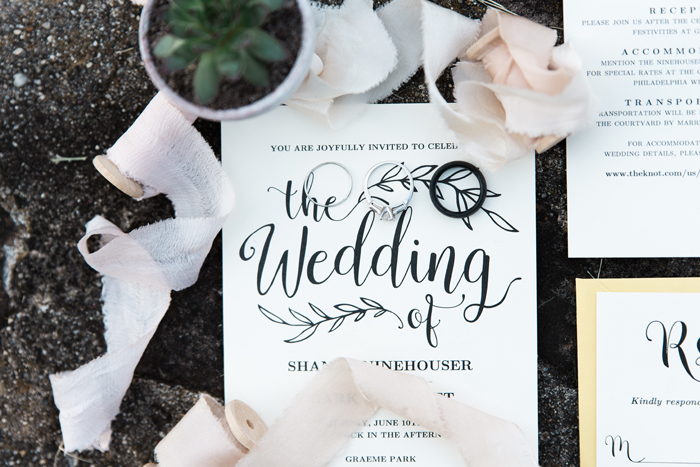 What do I do if our list starts to get too long?
It's helpful to have an "A list" and "B list" (although you should never inform your guests of their status!) Send your first round of save-the-dates to your "A list" only and as those guests inform you they can't make it, extend a save-the-date to a "B list" guest. Take our quiz to find out who should make your guest list!
What if someone doesn't RSVP by the date on the invitation?
One of the most frustrating things you can encounter on this wedding planning journey is when someone doesn't RSVP. Whoever's list the person falls under – i.e. your parent's, yours, your fiancé's, or your fiancé's parents – should be the party responsible for calling them. Texting is a faux pas when it comes to asking for RSVPs, but it really depends on your relationship with that person. If it's a friend, you can probably text. Someone from work, family, or family friends should be asked in person or via phone call.
---
The entire wedding process is overwhelming, which often rears it's head as frustration. Don't take it out on your fiancé! Rely on experts to do the hard part and provide advice so all you feel is excitement for your wedding day!