Wedding Signs, Sealed, & Delivered
From street names to restaurant menus to promo banners and home decor, signs are a huge part of our lives. We rely on them to get us where we need to be and tell us what we need to know. Your wedding day is not different! Signs are to a wedding like curtains are to a home. They complete the space! You need signs to not only convey info to your guests but to turn your venue into a wedding.
The Importance of Signs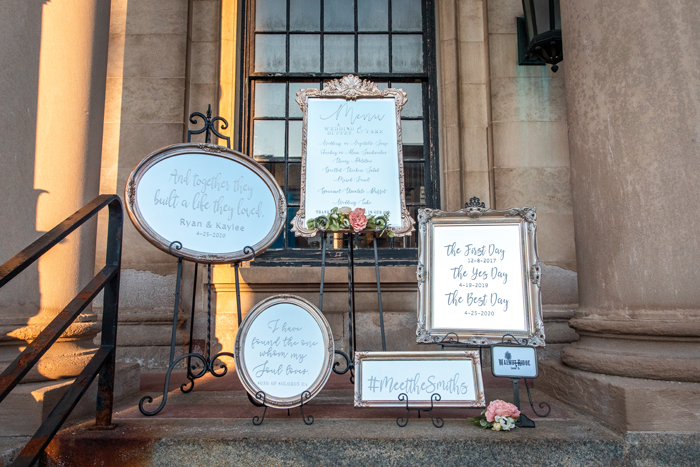 The wedding day may be all about the happy couple, but a good wedding ensures that all the guests have the best time, too. It's all about creating a memorable experience! Wedding Signs are important because your guests most likely have never been to this venue before. Like many of us, they'll probably feel uncomfortable and nervous walking into a new place having no idea where to go or what to expect. Which door do they use? Where should they sit? Where should they put their gift? What time does the cocktail hour begin and what will be available to order? Properly placed signs answer all these questions and put your guests' anxieties to rest, allowing them to enjoy the wedding, stay longer at the reception, and look back on their memories fondly!
D-I-Why
When it comes to any aspect of the wedding, we are huge advocates of skipping the DIY. Not only is a wedding the most formal, significant, and meaningful event you will attend in your life, but planning one is a huge burden to take on! You have to research vendors, schedule appointments, choose and cultivate a style or theme, manage your family's expectations and drama, track RSVPs…the list never ends! It is a full-time job (literally, just ask a professional Wedding Planner). Along with all these wedding tasks, you have everyday life to attend to. You do not need to add yet another project to your list only to end up hating the results and referring to a professional anyway.
Check out this blog: Rethinking your DIY Wedding Decor
Hiring a Professional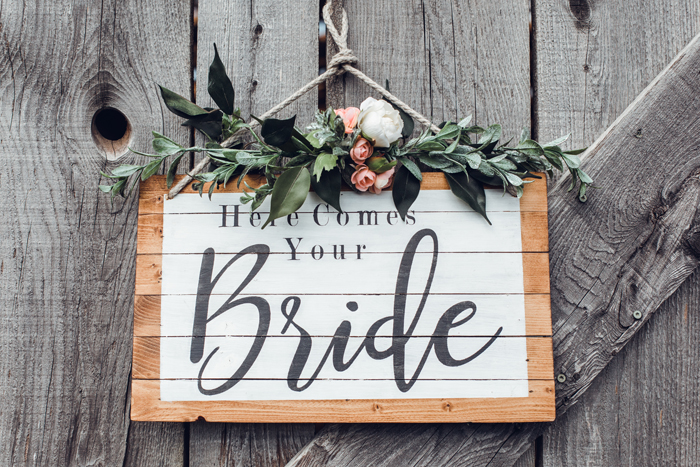 Not only will working with a professional help your stress-levels, but it will save you money! While sign specialists can create custom signs for your wedding, they also have a collection of rentals – like "Sign our Guestbook," "Gifts," and table numbers – offered at a much lower rate! After your wedding, you can simply return them rather than storing them in your attic or going through the hassle of trying to re-sell them for half the cost you paid.
A professional also knows all the wedding signs you will need that you may have forgotten about, like reserved seating at the ceremony or directions to the bathrooms! Plus, they'll have the extra details like easels, pedestals, and frames you may need.
Our Favorite Trends
Besides giving direction and guidance, wedding signs should reflect the style and theme of the day. Embellished, gold frames, antique and ornate mirrors, reclaimed wood, and acrylic are all popular materials to use for your signs. Slate, three-dimensional cut-outs, and etched metal are on-the-rise, replacing chalkboard signs for a more industrial look that can work in many settings! Opting for a custom sign that can hang in your home forever is also a popular trend this wedding season. Consider getting the lyrics from your first dance, a quote from your favorite movie or book, a scripture passage or excerpt from your vows, printed on canvas. Or showcase maps or dates of your first date, proposal, and wedding day! The options for a personalized sign are endless. Ask your wedding sign specialist for ideas and suggestions on how you can make your sign truly one-of-a-kind.
---
Thanks to Walnut Ridge Leather Co. for lending their sign expertise!