Lighting Options for your Reception
Wedding lighting is not just about illuminating a room. The lighting design you choose will shape your event and set the right tone like no other element there.
Fluorescent lights aren't flattering to anyone. If you want wedding photos that don't wash you out, you'll want to incorporate some atmospheric lighting. Wedding lighting isn't just for indoor venues, though. No matter what season you get married, the sun is likely to set before you're done celebrating. You'll need lighting to keep the party going, but something that fits with the overall theme of your wedding.
---
Find Local LIGHTING EXPERTS:
---
Chandeliers
Chandeliers can add an air of class and elegance to any venue. You can hang them from a wooden beam in a barn or from the peak of a tent. Maybe your ballroom venue already has a few! Wrap some fabric around the base to cover up any unsightly chains or cords. You can also drape fabric, greenery, flowers, or crystals from the chandelier. If chandeliers aren't a part of your venue space, you can collect chandeliers of different sizes, metals, bulbs, and styles to create a bohemian, eclectic space.
Candles
Candles are the ultimate "mood lighting." The flickering flame creates a warm, cozy, romantic ambiance. Combine shapes, sizes, and heights for a centerpiece, use them to light up your cake table, or place them along the aisle of your ceremony! You can even fill a vase with water and let tea candles or small votives float inside. Try to find candles that are fragrance-free, or you may create an overwhelmingly perfumed environment.
A cute and original unity custom can be creating your own candle. Instead of taking flames from two separate candles and merging them onto one wick, you can each pour wax into a glass vase to create your own candle! You can light it on each anniversary, remembering together the day that you made it.
Lanterns
Lanterns are a very versatile decor and lighting feature to a wedding! You can replicate this photo by hanging antique lanterns at different levels to create an enchanting ceiling display and draw the eye upward. Or, you can line the path to your venue with vintage or paper lanterns to guide the way. Hang round paper lanterns from a tree or arch behind you while you say your I Dos. You can even have a helium paper lantern release at your reception departure. This can be a beautiful nod to any loved ones you've lost. Perfect for classic, modern, outdoor, indoor, formal, and informal weddings, with lanterns, you can't go wrong.
---
Find Local LIGHTING EXPERTS:
---
Bistro Lighting
Bistro lighting – also known as twinkly lights or fairy lights – aren't just for Christmas anymore! While you can use the traditional small bulbs, some strands come with clear or frosted globes, or even modern Edison bulbs. String them above your venue space or dance floor. Hang them from your table or wall and cover with fabric for a muted backdrop. Wrap them around trees or pillars. Not only are they gorgeous, but they really do bring a lot of light to an otherwise dim space by casting a warm glow. Plus, it will make you feel like you're dancing under the stars. The possibilities are endless!
Edison Bulbs
An Edison light bulb is transparent, with visible winding filaments. They may be uniquely-shaped or have a sepia, antique-like tint to the glass. They're raw, industrial look is wildly popular right now in both weddings and home design. Often paired with rustic, reclaimed wood or geometric metal cages, these bulbs are best left unadorned. Hang one individual bulb or bundle them together. You can even use them as centerpieces on a wooden plank or inside a lantern or geometric shape. The antique, sepia-like tone will cast an inviting and warm hue at your reception.
LED Dance Floor 
If you want to really bring some life to your reception, add an LED dance floor! These floors work best in a darkly lit room and can turn any venue into a nightclub! Guaranteed to keep guests dancing all night long, these lights can pulse, create patterns, and even become interactive with your guests' movements. Who needs a starlit sky when you can dance on the stars, instead?!
Learn more about lighting in this blog!
Gobo Lights
Gobo lights are stencils put over a spotlight to create a pattern. They can be projected onto floors, walls, ceilings, or even fabric! Create a custom monogram of your name to light up the wall behind the head table or project a design onto the dance floor! These spotlights can move around, creating a dynamic and enchanting pattern at your ceremony or reception. The only downfall is that these patterns will be projected on people, too, disrupting the look and ruining your attire in photos.
Uplighting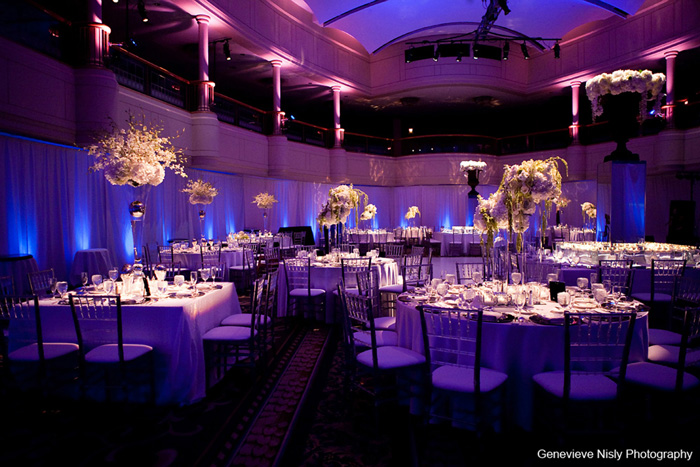 Uplighting is one of the most common ways to light up a venue. Just as they sound, these lights are directed upward, highlighting walls, pillars, cakes, centerpieces, and more. You can even place them under tablecloths, curtains, and drapery to add a colorful glow. These lights come in a variety of colors, so you can choose a look that complement your color scheme or venue.
---
You may have been planning on just using the lighting already available at your venue. But lighting is such a key feature to creating the atmosphere and environment you want for your wedding. Use these ideas to come up with a plan to light up your wedding night! You should also consult with an expert to get their ideas of what works best and check out our Pinterest board for even more inspiration!