4 Tips for Wedding Planning Organization
Did you just recently get engaged and want to set up a system before you start planning? Or are you halfway through your wedding plans and realize you need to organize your life? The last thing you want is to lose a contract or a receipt. These 4 organization tips will have you planning like a pro.
No question, wedding planning can be overwhelming. Why do you think some professionals have made it their full-time job?! There are a lot of details that go into making an event like this. Our tips will help you keep track of your spendings, to-do list, and communications so nothing slips through the cracks.
1. Create a Wedding Binder
As great as apps and online features are, sometimes it's nice to just go old school. Having a physical copy of your to-do lists, inspiration, vendor research, contracts, etc. not only means nothing gets lost in the interweb. It also means that you'll have a nice memento to look back on your time planning! Just imagine flipping through the pages with your niece or daughter as she plans her special day.
Get tips on creating the perfect Wedding Binder!
When you combine everything into one binder, you'll know where everything is. If your fiance asks whether or not alterations were included in his tux purchase, you can easily access the agreement. If you forget what color napkins you selected as you're looking at chair sashes, you won't have to dig around to find it. All your information is kept in one handy-dandy binder.
Printables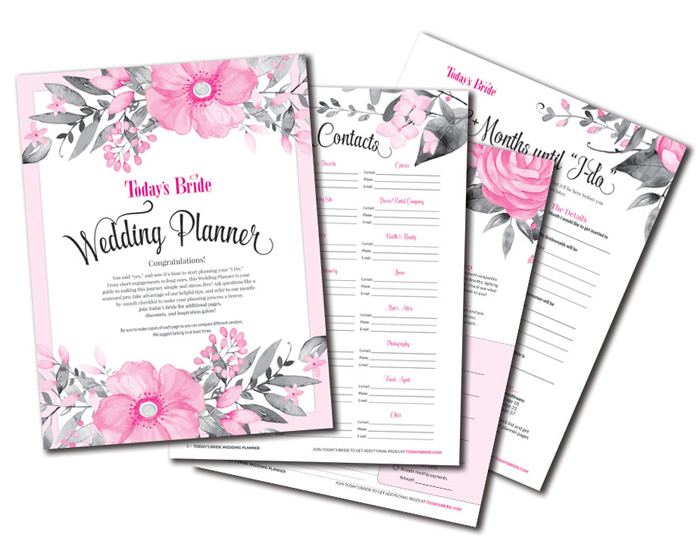 Pro Tip: Download our Printables! They're free, functional, and fabulous! Their pretty design is timeless, but the content on each page is what makes them so great. Questions you should ask each vendor, timelines, budget trackers, contact sheets, and more are all available to download for free! Just click here.
2. Use Spreadsheets
Spreadsheets are a wonderful gift to us all. Enter formulas to automatically calculate your budget. Keep track of your guest list and who has RSVPd. And with Google Sheets, you can share bridal shower ideas and more! Plus, if you delegate any tasks to your family or friends, you can keep track of what's getting done with online checklists!
Download our Excel Spreadsheet Wedding Planner!
3. Make a Wedding Email
There are so many benefits to having an email dedicated solely to your wedding communications. First, once you tie the knot, you won't have to unsubscribe from all the newsletters, advice columns, and vendor lists you've been getting. You can simply deactivate or sign out of that address. Second, you won't have to dig through dozens of Bath & Body Works coupons or Skimm updates to find that DJ you were emailing. Third, you can create folders within your inbox to easily sort through your emails! Have one folder for contracts, one for budget, one for helpful blogs, one for appointments, one for invoices, etc. Or, separate them by vendor so all your Photography emails are in one place and all your Catering emails are in another.
Check out other tips and benefits to having a wedding email here!
4. Have a Wedding Calendar
Buy a personal planner or year-long calendar that doesn't have anything except wedding related events. Keep track of when payments are due, upcoming appointments, hair and makeup trials, goals, reminders, and set deadlines for tasks. You can even color coordinate them based on vendor. Again, if you have a Google Calendar, you can share it with others so your fiancé or bridesmaids never show up late or forget an appointment!
---
Organization is the key to staying sane while wedding planning. It may seem like a lot of work to set up a system, but trust us, you'll appreciate it in the long run. So get out your colored pens, Today's Bride magazines, and a large cup of coffee, and take it one task at a time.