Having Yard Games at your Wedding Reception
Whether you're having a backyard get-together, casual barn party, or a more traditional ballroom reception, consider adding a twist with fun, crowd-favorite yard games!
Why You Should Have Yard Games
Typically, the most popular activity at a wedding reception is dancing. Having a great time grooving to your favorite hits has become expected and anticipated as soon as a guest receives their invite. However, not everyone likes to dance. If you want your guests to enjoy themselves on and off the dance floor, you could consider offering other activities, like yard games!
"Having giant games or yard games present at your wedding adds a unique and, oftentimes, unexpected touch," says Rock The House Entertainment Marketing Manager, Stephanie Rose. But just because they're called "yard games" doesn't mean they're only an option for outdoor weddings. "It's an affordable element of fun that can be easily added to a cocktail hour and/or reception. Bonus, it's the perfect activity to have present if you have guests who don't drink, children, or just need a break from the dance floor!
Will it distract from the dance floor?
Offering these games will keep your guests who aren't fans of dancing and the kids entertained, but it may attract other guests, too! Who doesn't love a good game of bean bag toss, giant Connect 4, or bocce ball? You may be worried that these games will distract guests from having a good time on the dance floor, but Stephanie says that doesn't have to be the case. It's all about the timing and having a great DJ/MC! "If dancing is a top priority, then games can be made available only during the cocktail hour portion of the night. Plus, a solid MC will command the room with the microphone and let guests know when you'll be cutting the cake and doing the bouquet toss so they don't miss those important moments."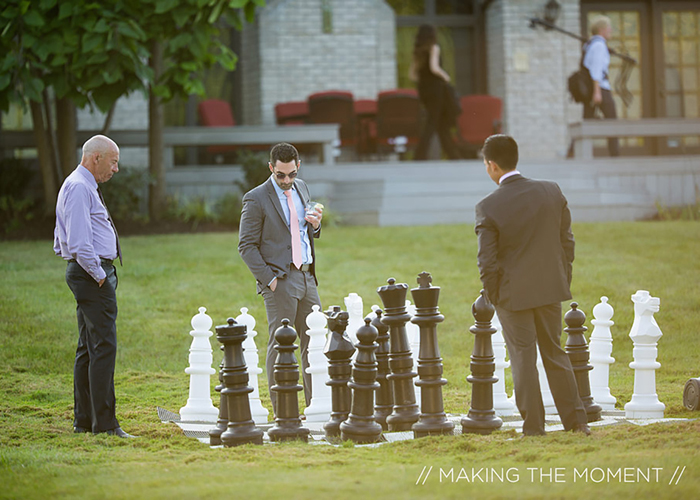 Popular Yard Games to Offer
With Rock The House Entertainment, you can rent just one game or their entire inventory! Giant Jenga blocks in the corner of the reception or an entire arcade of outdoor games can offer a bit of fun competition. "We have an array of modern, classic, and giant games available. There's truly something for everyone!" Stephanie says. Some of the options available at Rock The House Entertainment are:
Giant Jenga
Giant Checkers & Chess
Bocce Ball
Cornhole (Bean Bag Toss)
Giant Connect 4
Giant Light Bright
Giant Foosball
Giant LED Ping Pong
Giant Red Cup Shoot Out
Giant Scrabble
Rock Shots Arcade Basketball
And more!
---
Rock The House Entertainment ensures your wedding reception is a once-in-a-lifetime experience. From interactive DJs and MCs to lively bands & musicians, plus photo booths, lighting, and now yard games, they provide everything you need to make your wedding a night to remember!