The 411 on Receiving Lines
It's so important to make sure each of your guests feels welcomed and appreciated at your wedding. No guest wants to feel like the couple didn't care that they were there. That's why greeting your guests in a receiving line is so important.
Tradition Says…
Receiving lines are a great way to greet your guests if you have a guest list of 100 or more. They ensure that you don't miss anyone. Traditionally, the receiving line immediately follows the ceremony. The newlyweds proceed down the aisle and stand in the sacristy or lobby of the ceremony space to greet and thank their guests as they exit.
Typically, the couple and both sets of their parents stand in the line. Whoever is footing the majority of the bill is first in line. Having your parents beside you can be very helpful, too, if they've invited guests that you don't know as well. Simply introduce your spouse and in-laws to anyone who hasn't met them yet, and thank them for attending. However, if you'd like to speed up the process a bit, you can limit the line to just the newlyweds. 
Alternative Options
During the Reception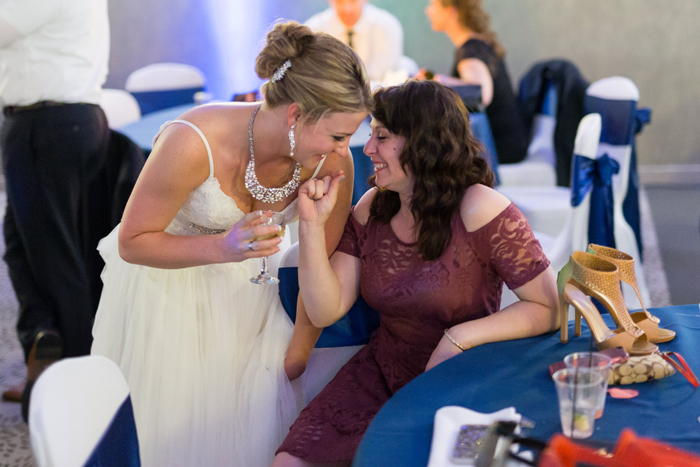 If you'd prefer to not have a receiving line, the most popular alternative is to greet each guest during dinner. If you're having a small celebration – we're talking less than 100 guests – you and your spouse could make your way to each table to welcome and thank each guests. This is a great way to save time as you can talk to 6-8 people at once, rather than individually. However, couples often lose track of time and don't get to enjoy their own dinner meal!
During the Ceremony
Another option is to could forgo the ceremony recessional and stand at the end of each row, instead, inviting the guests seated in that row to exit. As they make their way out of the pews, you can share shake hands, hug, or kiss to show your gratitude for their attendance.
During the Cocktail Hour
Furthermore, if you and your spouse have a first look shoot before the ceremony, you could make it a point to greet your guests at the cocktail hour. Stand at the entrance welcoming and directing guests or spend the hour walking around and mingling with each guest.
---
Receiving lines aren't the most glamorous part of your wedding day. It takes quite a bit of time for you to greet and thank each and every guest! However, the appreciation and gratitude you show to each attendee should be heartfelt and genuine. Take a moment to thank each guest for helping you celebrate with a receiving line.