Rehearsal Dinner FAQs
Now that you've planned an event as major as your wedding, intimate get-togethers and themed parties should be nothing for you! But your rehearsal dinner is something you'll want your guests to enjoy. But are you even the one who plans it? What activities are supposed to happen? Read on for the answers to your most pressing questions!
Find Local REHEARSAL DINNER SPOTS:
---
Who hosts the Rehearsal Dinner?
Traditionally the groom's parents will host the Rehearsal Dinner, but anyone can take over the responsibilities! Your aunt, godparents, parents-of-the-bride, or family friends may want to take over those duties. Hosting doesn't necessarily mean that the dinner is held at their home. It's basically a nice way to say that they're responsible for footing the bill. Though your guest list should be consulted and respected, ultimately the final guest list is up to the host, as well as the menu, decorations, and location. Consider printing out this blog and passing it on to your host so they know exactly what to expect when planning the Rehearsal!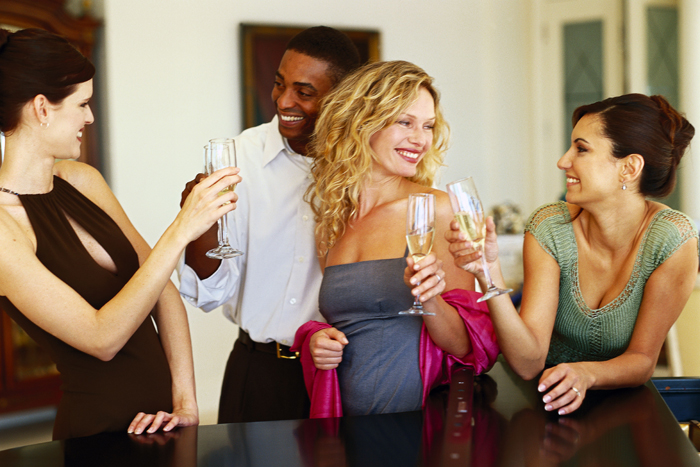 Where and when should it be held?
The Rehearsal Dinner should be held near the ceremony site so your guests don't have to drive far, and is typically held the night before the wedding. This way, you can ensure that the entire wedding party is present, especially if some members are from out-of-town. Where you decide to have the rehearsal dinner depends on the budget of whoever is throwing it, who is in attendance, and what kind of party the host envisions. Most commonly, rehearsal dinners are held at local restaurants, wineries, a banquet hall, the host's home, or the reception venue.
Check out these Unique Spots in NE Ohio to Host your Rehearsal Dinner!
Who should we invite?
Regarding the dinner, the guest list can be as simple as including your immediate family, the wedding party, and their significant others. You should determine whether or not children will be invited (other than the ring bearer and flower girl). If you do invite children, it can be a long dinner to expect them to sit through patiently. Offer coloring books, games, and a kid's menu for them to choose from.
You should also invite anyone who is part of the ceremony rehearsal. Your bridal party and their spouses, Officiant, Musicians, readers and performers, ring bearer and flower girl, and immediate family of both the bride and groom should receive an invite.
If you're inviting out-of-town guests to your wedding, it's becoming popular to invite them to the rehearsal dinner, too. However, if you prefer an intimate gathering but don't want to exclude other guests, consider hosting the rehearsal dinner two nights before the wedding day and having a welcome party for out-of-town guests the night before the wedding.
Do we send out invitations? When?
Whether or not you should send invitations depends on the guest list. If you've decided to invite out-of-town guests to a giant bash, invitations should be sent about 6 weeks in advance. However, it's not common to expect RSVPs. If your Rehearsal Dinner will be a smaller gathering of your families and wedding party, you can simply share this information via word-of-mouth, event page, email, text, or e-vite. Because it's a more casual event, you can get away with a less formal invitation.
What happens at the dinner?
Traditionally, the Best Man offers a toast to the soon-to-be spouses. The groom then follows with a toast to his bride and her parents. However, this is a party meant to honor you and your fiance. If you're not into the formalness of speeches and toasts, you can forgo this step! You should make sure that all guests are introduced to one another, either by formal introductions or through mingling. A special touch would be to introduce your wedding party and say something personal about each one, like how you met or why you asked them to be in your wedding. This is also the proper time to pass out wedding party gifts, toss the ribbon bouquet you made at your bridal shower, and cut into a groom's cake.
Getting all your friends and family together can be a ton of fun, but you should make sure that it doesn't last too long. We suggest ending it no later than 10 pm if it's being held the night before the wedding.

What's the dress code?
The Rehearsal Dinner can be as casual or as formal as you'd like. You can wear jeans with a t-shirt, slacks and a nice blouse, or a cocktail dress! When choosing what to wear, consider where the dinner will be held. If it'll be hosted at a fancier restaurant, a more formal attire may be required. If it'll be held in your's or the host's backyard, summer dresses or khaki shorts may fit in best. Check with the location to see if they have any dress requirements that must be met. The most important aspect to the Rehearsal Dinner's dress code is to relate it to your guests. Whether it's on the invitation or included in a text, make sure everyone knows what to wear. When in doubt, it's always best to be dressed too formal rather than too casual.
What food should we serve?
Whether a buffet, cookout, seated dinner, or food trucks, it's considerate and fun to vary the dinner options from the wedding meal. For example, if you'll be serving Italian food at your reception, consider offering seafood or tacos at the Rehearsal so guests can have different experiences! Ask your caterer if they have Rehearsal Dinner options, and check with your location to see if you can bring in outside catering.
It's important to avoid overeating at the Rehearsal Dinner. Your wedding day is a long day. You'll wake up early, go to bed late, and have a lot of drama and excitement in between. Overeating can lead to a food coma, which is something you absolutely don't want to deal with on your wedding day. You may find that your body retains salt and that putting on your wedding band – which previously fit perfectly – may not fit onto a bloated finger. Eat a single portion and be sure not to drink too much to avoid having a dress that won't zip and that you're walking down the aisle refreshed and alert.
---
Your Rehearsal Dinner is a great time to relax and spend with your friends and family. Though the bride and groom typically don't host the dinner, it is a day to honor your upcoming marriage, so make sure it's the way you want it to be! Whether casual or formal, large or small, the most important part is to have fun on your last evening of being single!
Find Local REHEARSAL DINNER SPOTS: