Our 25th Anniversary Party!
First things first: When you're celebrating 25 wonderful years of business, you have to do it in s.t.y.l.e. And for us, that meant having one heck of an anniversary party! We're certainly fans of putting together a great party (or wedding!) & we knew we had to bring out the big guns on this one … so we brought Maria from Elegant Events by Maria on board to help pull together all the vendors & littlest of details.
(As you scroll further down this post, you'll see exactly why we were so lucky to have Maria & her creative talents on board!)
Now when it came to where to have the party, well the choice was pretty clear cut. The Taverne of Richfield was where we introduced the first Today's Bride magazine to 40 new, fresh-faced vendors — so it only made sense to invite the now hundreds (!) of vendors we've grown to call friends. Hosting the 25th anniversary party at the Taverne truly added a touch of nostalgia and brought everything full circle for us.
Of course, we had to make sure all this pink magical goodness was captured, so Digital Photos by Dale was there to document it all. Let's just say we were  blown away with a capital B when we received these photos from Dale!
When guests entered the party they were first greeted by a (or many) Today's Bride rep(s) and a hot pink keepsake lanyard!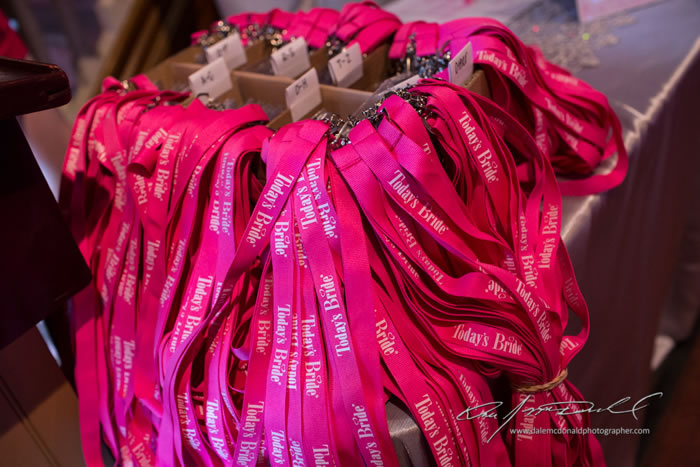 One of the first things guests also noticed were these adorable little bottles of pink bubbly — which they were later able to take home with them! From there, they were able to meander around the first floor and mingle with other guests, admire decor from L'Nique Linen Rentals and Farah & Nour, taste some of the scrumptious eats Taverne of Richfield & Tangier had prepared & take in tunes from Rock the House Entertainment.
From the get go, we were in love with the idea of a Martini Bar/Jazz Lounge on the lower level of the venue, so we were so excited to see this come to life. Event Source provided lounge seating that was just ahhh-mazing while Countryside Florist and Farah & Nour provided the flowers and decorations. Cleveland Music & Entertainment Group brought it all together by providing a jazz band for guests' entertainment.
As guests made their way upstairs to the third level, they were greeted by one decadent dessert spread. Like seriously decadent (and delicious).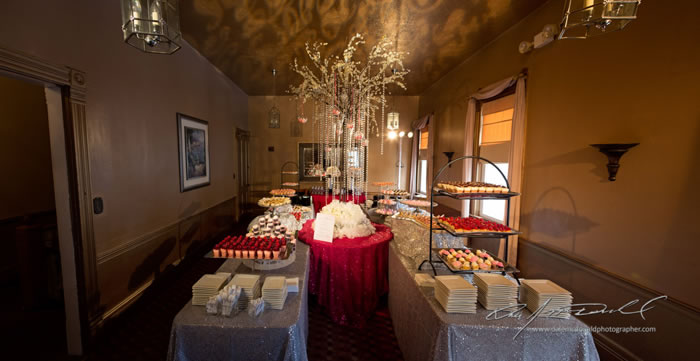 Let's get a few close-ups here. Yes, those are macaroons hanging from that lovely little tree!
And just wait until you see the rest of these incredible treats that captivated guests' hearts (and sweet tooth cravings!) Our gratitude goes to West Side Bakery & Reeves Cake Shop who are responsible for these sweet treats. We'd also like to acknowledge eye candy in another form — with the decorations from Farah & Nour and Miller's Party Rental.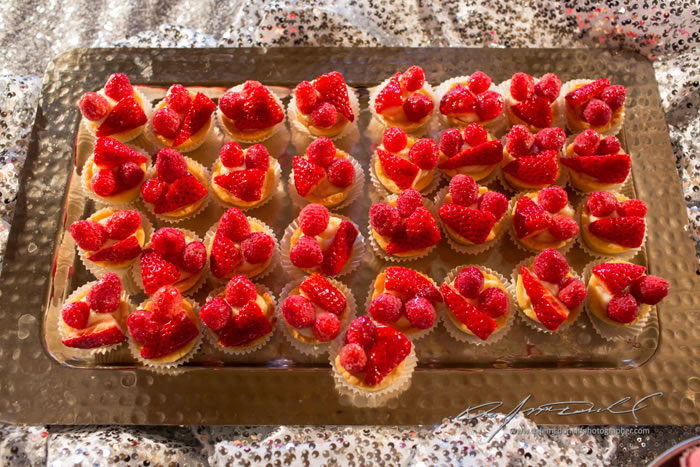 Once guests were able to tear themselves away from the array of goodies, they could make their way into the next room, which was completely gorgeous and completely full of fun features. First, we were fortunate to have Beach Boyz Entertainment on hand to provide music for the area. And next, well Taverne of Richfield put together a sushi bar … need we say more? Party Decor and Countryside Florist provided decorations that enticed guests and gave the ballroom that extra inviting touch.
And then we all filtered back downstairs for the main event of the night: a speech from Jim, co-owner and Chief Marketing Officer of Today's Bride! These crowd reaction shots are everything.
And then Jennifer (V.P. of Shows and Internet Operations) stepped in to say a few words … and share some words from others.
We also presented owners Jim and Denise with a special tribute gift for all their hard work & dedication!
Meanwhile, outside we had this crazy gorgeous uplighting from Something New Entertainment happening! Anna-Jeannine from Something New even shared this behind-the-scenes blog about how they designed the lighting for the night.
Before we wrap up, we want to take another minute to thank Sonya, Serena (below) & their staff at the Taverne of Richfield for all their hard work! The food, the service, just everything was above & beyond and all of these elements, combined with the talents of all the vendors involved, truly made the evening.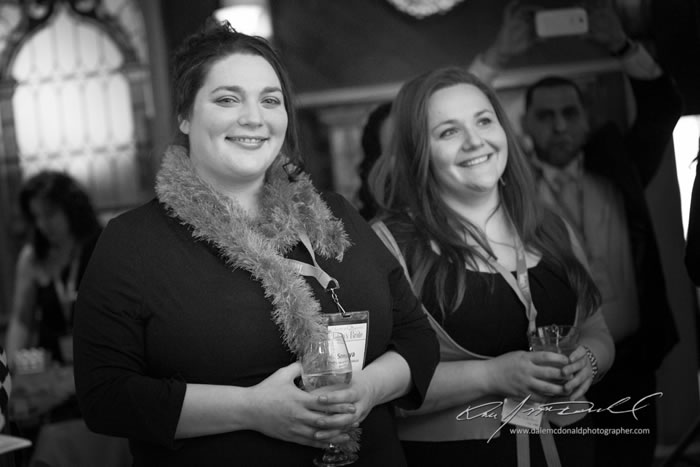 We'd also like to thank Classic Valet for their services as well as Pink Tomato for the oh-so-adorable Thank You tags and Rock the House for videography, TV & audio. And finally, another thank you to everyone who helped make this party — and beyond that, Today's Bride — possible! Here's to another 25!