An Ode to Marsala
If you follow wedding news like we do (and why wouldn't you?!), you may already know that Pantone announced their Color of the Year last week. In previous years, the colors that have been deemed with this high honor included Radiant Orchid (2014), Emerald (2013) and Tangerine Tango (2012).
[Um, side note: Can a color possibly have a cooler name than Tangerine Tango?]
Anyways, this year's color is vintage, earthy and seductive (but not too seductive). Any guesses on what it might be? *Drumroll pleaseeeee*
Your 2015 Color of the Year is … Marsala! (Okay, so I guess we did give it away in the post title. You've got a point.)
Image Above: Cake photo by David Corey Photography
Pantone, the experts in all things color, describe Marsala as"a naturally robust and earthy wine red." While last year's Color of the Year, Radiant Orchid, "encouraged creativity and innovation, Marsala enriches our mind, body and soul, exuding confidence and stability," says Leatrice Eiseman, executive director of the Pantone Color Institute.
"Much like the fortified wine that gives Marsala its name, this tasteful hue embodies the satisfying richness of a fulfilling meal, while its grounding red-brown roots emanate a sophisticated, natural earthiness. This hearty, yet stylish tone is universally appealing and translates easily to fashion, beauty, industrial design, home furnishings and interiors," Pantone proclaimed.
Though not pointing out weddings directly, fashion & beauty trends do tend to carry over to the wedding world so we have high hopes for its emergence on the scene this year. Here are some of the ways our brides are already including it:
In flowers and decor
In their bridal attire
On invites
And even in their signature drinks!
As you might have noticed from the images, marsala acts as a bit of a chameleon, teetering right on the lines of red, brown and purple. If you're thinking about including marsala in your own big day, remember that this highly varietal shade pairs beautifully with neutrals, including warmer taupes and grays.
Because of its glossy undertones, sultry marsala is also highly compatible with amber and golden yellows, as well as greens and blues in the more vibrant range.
Here are some of our favorite Pantone-based combos: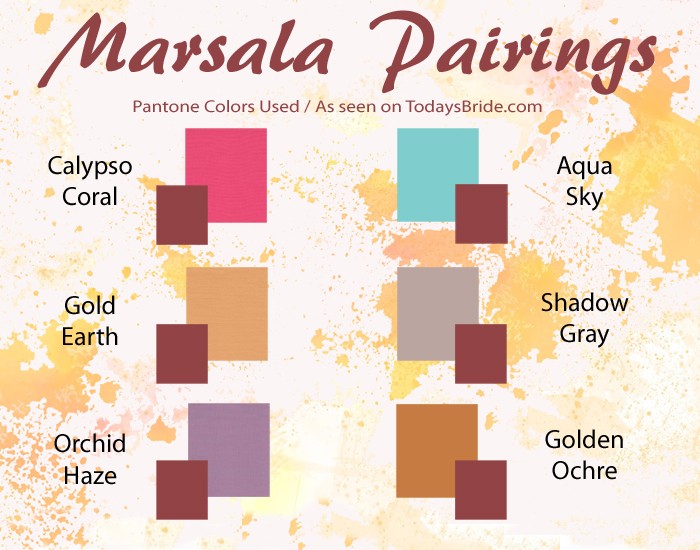 So there you have it: Marsala usage and pairing ideas to get your wheels turning! Brides, tell us: How would you use marsala for your wedding?