Can My Fiance Help Me Pick Out My Wedding Attire?
If you watch Say Yes to the Dress as often as we do, you'll notice the shocked looks from the consultants when the bride says her fiance will be helping her pick out her dress. Why isn't your fiance allowed to see you in your dress before the wedding, and in 2016, is it still a superstition that should be prominent in your planning process?
Tradition says
The tradition of grooms not seeing brides in their wedding dresses started because of arranged marriages. The parents of the bride were afraid that if the groom saw her before the wedding, he would break the arrangement. So in today's society, is it necessary for the groom to avoid seeing the bride before the ceremony?
Some couples say no – especially those who aren't superstitious. Seeing each other in your outfits before the wedding ceremony will not affect your marriage, so why wait? Others believe it increases the suspense, anticipation, and excitement of the day. The truth is, there is no right or wrong answer. This decision should be made mutually between you and your intended.
Arguments for not seeing the wedding outfits before the ceremony:
First look wedding shoots are a huge trend right now. For those of you who want a first look shoot, keep in mind that it might not be as exciting. The best part of a first look is the reaction of the couple as they see each other for the first time in their gowns and suits. If you've already seen each other when you were picking them out, your reactions may not be as genuine.
If you're in a long-term relationship, you may not put as much weight on your wedding day as others do. After all, you're already in a committed, loving relationship. Your wedding is just a representation of the first day you are legally bound to each other; not the first day of your relationship. However, this is still an exciting, memorable, and notable day of your relationship. Spending the night together and getting dressed together may make it seem like it's just another day whereas keeping your attire secret will increase the anticipation and excitement to see your loved one again.
Arguments for seeing the dress before the ceremony:
There are a lot of reasons as to why you might want to see each other in your chosen attire before the wedding. For instance, you are each other's very best friends in the world. You share everything with each other, so why not share the experience of finding your dress together, too?
One benefit is that he or she can make sure you stick to your budget. Sometimes brides will fall in love with a dress that's over their budget but buy it without consulting their fiances. With your fiance there to help you, you can decide together that this dress is worth rearranging the budget.
If you're concerned about not having the excitement factor when you do see each other on your wedding day, don't be. When you're all done up – with full hair and makeup, a veil, accessories, and jewelry, plus with the emotions of the day – you'll still experience the emotional shock and joy at seeing each other for the first time.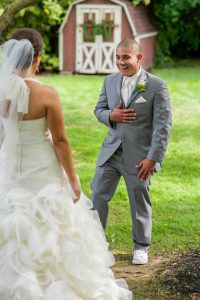 LGBT Couples
If you're an LGBT couple, there are no rules. You can choose separate dresses that reflect your styles or choose ties and vests in colors that complement or match each other. One benefit of going dress shopping together is that you can be sure you don't pick the same dress – be sure to schedule two separate consultations. They can be at the same time, but we suggest planning different times so you can dedicate your attention to each other rather than focusing on finding the right dress.
For grooms who don't want their suit or tuxedo styles to clash, you can choose to shop together or outline credentials before you buy separately. Choose things like suit vs. tux, silhouette, colors, etc. You don't want to arrive at your wedding in a blue tuxedo while your intended is wearing a tan suit. If you want a print for your tie, that can be one aspect that you choose together, as prints can easily clash with each other. For more tips on complementing your partner's wedding outfit, check out this blog!
All in all, this decision is ultimately yours to make as a couple. If your groom doesn't want to see you in the dress before the wedding, don't force him to. If you're not superstitious but don't want to ruin the anticipation of the day, do what feels right for you. Keep in mind that whatever you decide, this tradition will not affect the future of your marriage, so don't let that stop you from shopping together or modeling for each other. It's your day, and every aspect of it should reflect your relationship. Talk to each other about what you want to do, try to find a compromise if you disagree, and respect each other's wishes.
Find Local Photo Bridal Shops: