Stages of Dating your Wedding Vendor
You found "the one," but now it's time to choose your wedding vendors. How do you sort through the hundreds of businesses out there to find the right fit for you? The same way you sorted through all the playboys to find your soulmate…by dating them!
stage one: It's a match
Ok, so you heard about a company and got in touch with them – whether via email, face-to-face, social media, or phone. Turns out, you're basically soul-sisters. You get along great, he or she understands your vision and expectations, and you could basically be best friends. Move on to stage 2.
If you don't immediately click with this person, that's ok! You may find that you trust them completely due to their experience or will end up bonding with them later on. However, if you can tell that they just don't understand what you're looking for or you don't vibe well, swipe left and move on. You're going to be spending A LOT of time with this person, so it's important that you get along well and feel comfortable sharing your opinion.
stage two: Don't lead them on
It's important to be honest and upfront with potential vendors. Let them know what your budget it at your first meeting. Just because their typical package is outside of your range doesn't mean you won't be able to work with them. Once you share your budget, a good vendor can usually custom build a package that works best for you. You should also share your wedding date if it's firm. If you keep that piece of information to yourself because you know they're unavailable, you're only wasting their time and your own.
Likewise, you should share what is important to you, what you expect from them, and who else you're considering hiring. This will ensure that you're getting the best impression of what they can do for you.
stage three: no ghosting
If you're just not that into them, let them know! It won't hurt their feelings or cause them to show up at your doorstep begging for you to hire them. If they continue to leave you voicemails or emails, show them the courtesy of responding. Their time is valuable and this is their livelihood. Don't waste their time or efforts by ghosting. Simply be honest and let them know that you're considering others. I promise you won't be the first – or the last – to tell them that.
stage four: Facebook stalk them
Just like you would a potential suitor, you should creep on potential vendors. Check their social media accounts, and website for reviews, examples of their work, and an about us. Anyone can set up a business Facebook page or write fake 5-star reviews. Go a little deeper with your investigating by checking out bridal magazines, wedding resource websites, and bridal shows to see if they advertise anywhere. An advertisement costs money, so if they advertise in one or multiple platforms, they're more likely to be credible and reliable. You can trust that they'll take your wedding seriously and have years of experience to back it up.
stage five: Get your friends' approval
You trust your friends' and family's opinions more than anyone else's, right? If they don't like someone you're dating, you're more likely to dump them. You need their approval! Just like with dating, you should ask your friends and family for referrals and opinions. Have they heard of the businesses you're looking at? Do they know anyone who has used them in the past? Whose services would they recommend? If you wish your friend or parents could meet this vendor but don't want to bring them to an appointment, consider bringing them to a bridal show! This is the perfect place to meet various vendors at once, and your entourage will be able to formulate a more valuable opinion, having met the potential vendor in-person.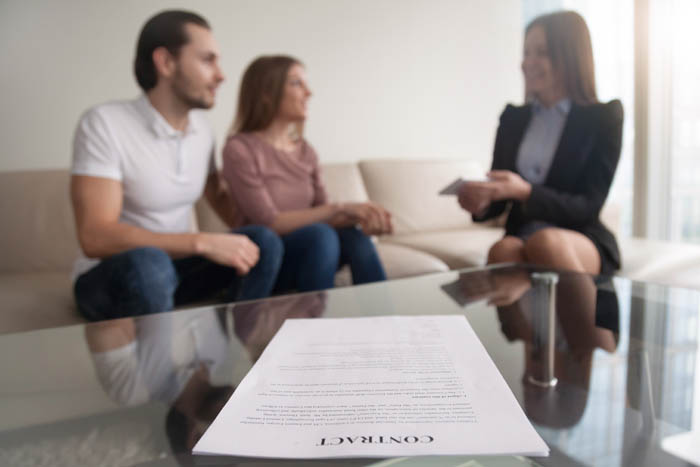 stage six: time to commit
Now that you've "dated" this wedding vendor, it's time to make it official. You get along, they understand your wishes and budget, and you've done your research. There should be nothing holding you back! You can confidently say Yes! to this relationship knowing that this wedding vendor is "the one."
---
Wedding planning is a new experience for you, so it's important to find someone you trust to take some of the pressure off your shoulders. If you find a match, are honest, and do your research, we promise you'll find "the one."