Meet our Real Bride Blogger: Abby!
Hello, everyone! My name is Abby, and I am so excited to share my bridal experience with you. Over the next few months, I'll share the highs and lows of the planning experience.
Everyone knows planning a wedding can be stressful. We have to choose colors, linens, food, and a plethora of other tiny details, with the hope that everything in our minds comes together on the big day. No pressure. However, if I've learned one thing over the past few months of being engaged, it's that we (as brides or grooms) have our friends and family to help us every step of the way. At the end of the day, all that matters is that I get to marry the most incredible guy in the whole world. (This is the mantra I keep repeating to myself as I try to pick which shade of purple the table runners will be at the reception. So far, it's helped keep me sane.)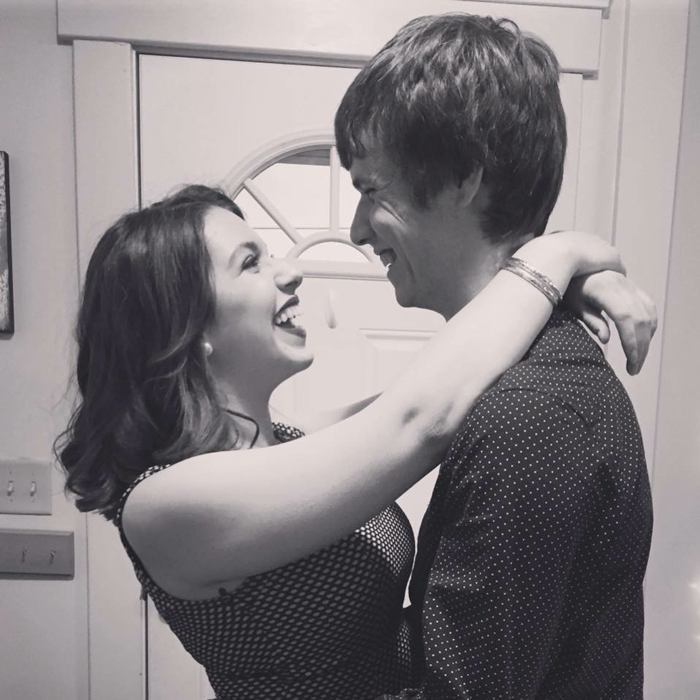 And SPEAKING of my amazing fiancé… I met Robby 2 ½ years ago during a small group at The University of Akron. I'm about to go all cliché/gross/romantic on you guys, but I swear the first time I saw him, time slowed. I have this crystal clear memory of that moment, and my heart skips a beat every time I think about it. We started dating about a month later, and it's been love ever since. He makes me laugh constantly, he's so encouraging, and I know that, with him by my side, I have a partner in crime for the rest of my life.
Robby and I knew we were going to get married pretty early on in our relationship. We were really fortunate to have a natural, solid connection. In 2017, Robby promised me that we'd be engaged by the end of the year. I waited (mostly impatiently, as he'll readily tell you) for him to ask the big question. We had gone ring window shopping a few times, and with the help of my best friend, he picked out a STUNNER. The last week of September, he took me to our favorite park, prepared a picnic lunch, and popped the question with my best friend and her brother taking pictures from the bushes. It was a truly special day that I will never forget! I am SO EXCITED to live #HappilyEverLongshore (that hashtag took me about two weeks to come up with.) ((His last name is Longshore. In case there was any question.))
Being this in love makes me even more excited to plan a wedding. I want a huge celebration signifying the fact that Robby is officially stuck with me until death do us part. Of course, in order to plan a celebration like that, you need to find vendors, a location, and THE dress. Enter in Today's Bride. The thing that I really like about the website (and the shows, which I'll talk about in a sec), is that they feature local vendors only. Because Today's Bride is so specific to our area, you know the vendors you're seeing aren't random business names pulled off of a Google search – they are businesses that care about their bridal customers. That was really evident to me at the Cleveland Expo. First of all, that event is a BLAST! I loved watching the fashion show, and got some serious inspiration for my dress. My mom even found a mother of the bride dress that she was in love with! (Hey, mom's gotta look great, too.) Between the cake samples and business cards, I found a few vendors that I really loved. I was inspired by the table decorations, the photographers, and the other excited brides. And, of course, I got a few great pictures with my Maid of Honor/provider of my sanity and my mamma. I wanted to go into the show with an open mind. I didn't study the vendors beforehand, which helped me look at the booths unbiasedly. That process paid off! For the first time in this whole wedding process, I feel like I have a vision!
On June 15, 2019, I will  be saying "I do" to my best friend in the whole world at Thorncreek Winery in Aurora. We chose the venue because we are huge wine lovers. Besides having a general idea of our colors, we really don't have a lot else planned. We will be working together to create our vision, and all of you get to take part in that! For the next couple months, I'll be finalizing colors, cake flavors, and picking out the perfect ensemble for the bridal party. I'm sure the other brides and grooms can sympathize with the stress and excitement that is wedding planning. I hope that, through this journey, you all will find some encouragement, have some of your questions answered, and be even MORE prepared to walk down that aisle. So make sure to tune in once a month!
Until next time,