Grand Wedding Exit Ideas
Forget the grand entrance – this post is all about the exit! A last impression is a lasting impression, so make sure to leave your guests awestruck with these wedding exits!
The traditional throwing of rice at the bride and groom as they exit the church is starting to fade, as it's not eco-friendly and it's hard to get out of your hair and clothes. A lot of venues won't even allow you to throw it anymore! Here are some different options to arm your guests with on your wedding day.
JANUARY – Bells
Ring in the new year with wedding bells! Whether you tie tiny bells to ribbons, provide cow bells, or hand out silver plated bells, your exit will play like music to your ears!
FEBRUARY – Confetti
Confetti is a colorful alternative to throwing rice, and is very celebratory! Create customized confetti canons for each guest, or create baggies they can toss into the air. They'll make for beautiful photos as the scraps float down around you.
MARCH – Flower Petals
A more eco-friendly, yet still beautiful and elegant, way of sending off the newlyweds is by tossing petals. Leftover from the flower girl, or requested from your florist, these fragrant petals are both beautiful and soft (read: they won't hurt being thrown at you).
APRIL – Ribbon Wand
If your venue doesn't allow your guests to throw rice, birdseed, petals, or confetti, consider having a handheld send-off! They'll be waving their wands to bless you with well wishes as you traipse beneath a tunnel of your wedding colors.
MAY – Glow Sticks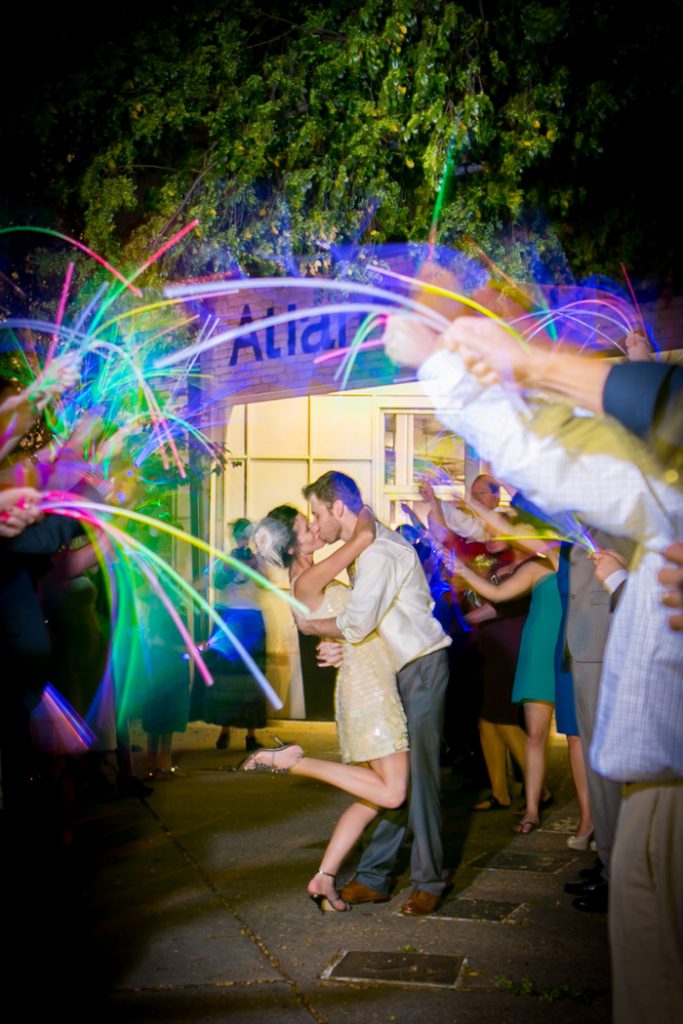 As the sun starts to set later in the evening and stay warmer longer, glow sticks are a perfect way to capture a gorgeous shot. Whether you select colors that coordinate with your color scheme or choose a rainbow array, you'll be able to see the love in the air.
JUNE – Silly String
What better way to celebrate a summer wedding than playing with silly string? Though this option may trash your dress or be just as hard to get out of your hair as rice is, it makes for a great photo-op and fun first memories with your now-husband-or-wife.
JULY – Sparklers
Though you may not have actual fireworks celebrating your departure, you can have the next best thing – sparklers! Light the night with your love and highlight the sparkle in your eye with this beautiful and festive exit.
AUGUST – Bubbles
You're never too old to play with bubbles! Both kids and adults alike will have fun puffing up their cheeks to blow as many bubbles as they can as you make your grand exit. Non-damaging to your hair, body, or wardrobe, this option makes the perfect accompaniment to the child-at-heart couple.
SEPTEMBER – Balloons
Growing in popularity for the past few years is the release of Chinese lanterns, but have you considered lighting the night sky with LED balloons? This ritual is not only beautiful, but also makes for a great tradition to celebrate each anniversary. Be aware of where they land, though, and plan to have someone clean them up. They can do major harm to the environment and animals!
OCTOBER – Leaves
As the leaves start to change and the breeze kicks in, this organic exit make the perfect companion to a fall wedding. Plus, who doesn't love to play in the leaves?! Incorporate some of your wedding flowers into the mix to tie everything together.
NOVEMBER – Marshmallows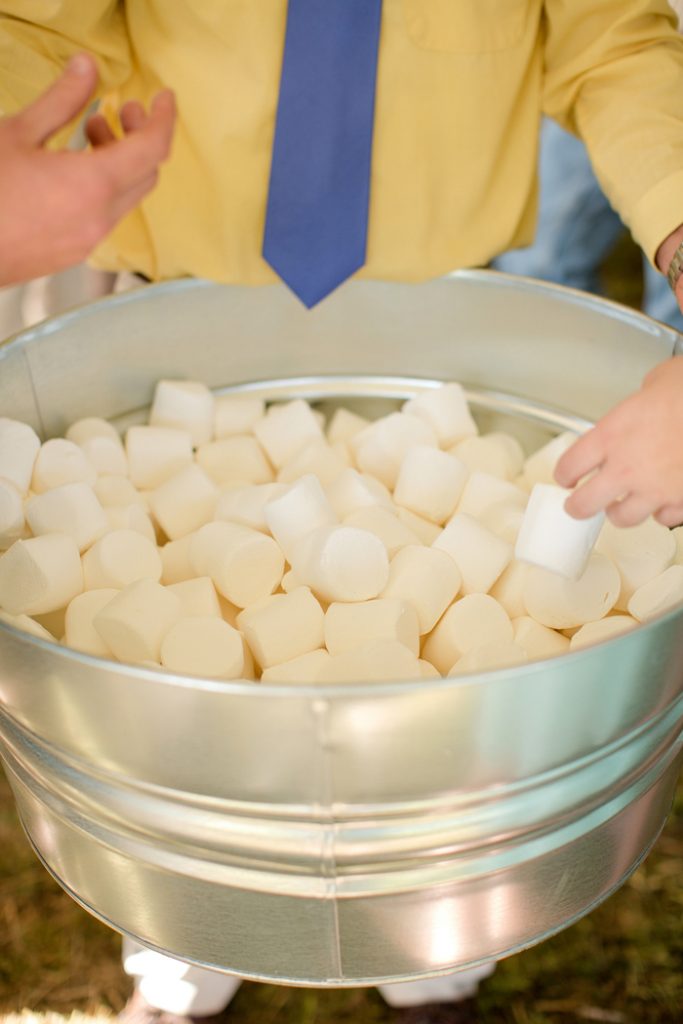 You better serve s'mores at your dessert table if you go with this signature send-off! Though it'll take place at the end of the night, you can be sure your guests will get an instant sweet tooth as they toss marshmallows your way – just make sure they don't eat them all before you make your getaway!
DECEMBER – Artificial Snow
If you choose to get married in December in Ohio, odds are you're expecting snow. As we all know, though, you can't control Ohio's weather! You may have sun shine and 60 degree weather on your December wedding day, so be prepared by handing out baggies of artificial snow for your guests to coat you with as you depart.
---
It's all about the grand exit! Make sure your guests leave with a lasting impression of fun, joy, and love by incorporating a unique and interactive exit into your big day!