Various Bouquet Shapes
Your bouquet is a vital accessory to completing your bridal look. It's important to get it just right! While showing pictures of bouquets you like helps a florist get an idea of what to make you, you don't want an exact replica. You want something completely unique! Speak your florist's language by telling him or her exactly which bouquet shape you want.
Round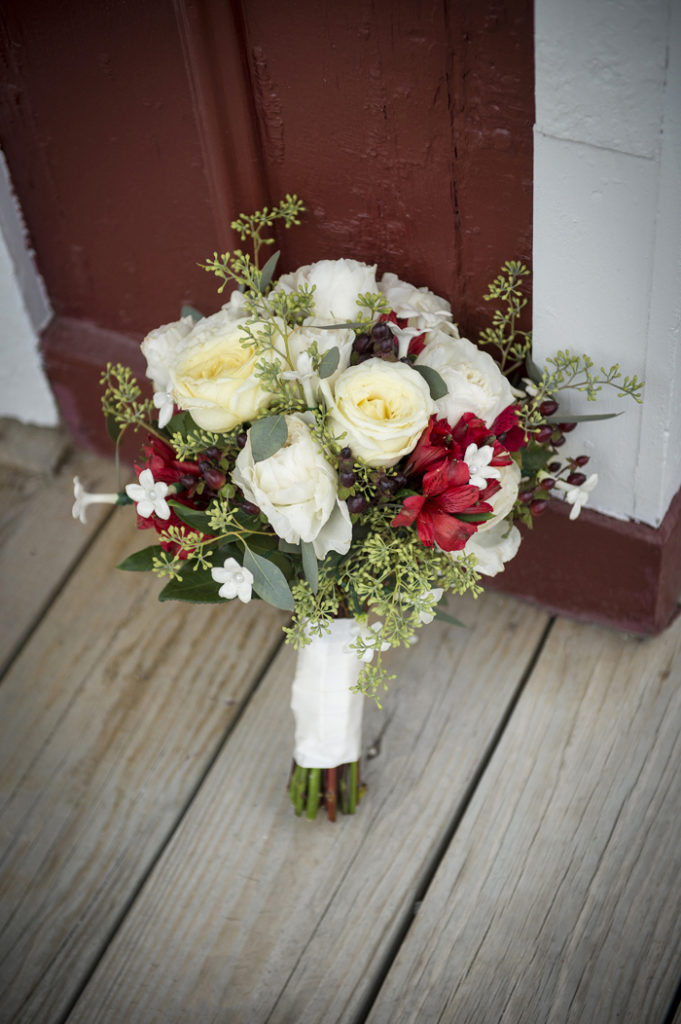 While round bouquets aren't typically shaped like a sphere or ball, they may seem a bit more rounded on the top, giving them their name. They are one of the most traditional bouquets when it comes to weddings, and they tend to have more flowers than greenery. The stems are tightly tied with ribbon or twine, and consist of fewer types of flowers. This is the perfect bouquet shape for the traditional bride or a more formal wedding.
Hand-tied
Hand-tied bouquets are very popular among the modern bride. The stems are tied together in a much looser arrangement, giving them more volume. They tend to feature a variety of shapes, colors, and textures, with lots of greenery and filler. This type of bouquet shape gives the impression that the bride just picked her flowers from a meadow before walking down the aisle. It's perfect for any wedding theme or bride style.
Asymmetrical
One of the most popular bouquet shapes among brides today is the asymmetrical bouquet. There is no specific shape or design to adhere to; florists get a bit of freedom in their creations! While the center of the bouquet contains the bride's choice of flowers, filler flowers and greenery extends to the right and left. This bouquet shape is perfect for boho, industrial, romantic, and traditional brides alike, and fits in with any venue.
---
Find Local FLORISTS:
---
Nosegay
A nosegay bouquet is very defined and perfectly arranged. The flowers are all the same length and it has a rounded top. The stems are wrapped tightly to each other, making it easier to hold. Because there's not much diversity in the shape or length of the blooms, it's best to mix up the type and color of each stem to add some variety. It's simplicity will showcase keep the attention on the bride, and it's stiff nature is perfect for toss bouquets.
Posy
While their smaller nature makes posy bouquets ideal for mother-of, flower girl, and bridesmaid bouquets, many brides carry them, too! Their smaller size and fewer stems means that they're a more affordable option. They're much lighter in weight and less substantial in size which allows you more freedom of movement and will show off your dress better. A posy bouquet is romantic and whimsical, perfect for an outdoor wedding.
Cascade
A cascade bouquet was widely popular in the 80s and has recently become a favorite among fairytale and garden weddings. Resembling an upside teardrop, the top curves like a round bouquet and the flowers literally cascade down in front of the stems. This effect is typically created by using a lot of greenery. Though this bouquet shape will add a dramatic flair to your overall look, the volume may hide a good portion of your attire.
---
Find Local FLORISTS:
---
Composite
This design is most common with paper and silk flowers, as they can be quite difficult to create using real blooms. They take a lot of creativity and tinkering to get them perfect. The price tag will reflect the amount of time put into creating this look – aka…a lot. However, they're very unique and elegant arrangements perfect for the glamorous bride wanting to stand out and make a statement.
Pageant
Also known as a presentation bouquet, pageant bouquets are the type of arrangements you see beauty queens carry when they're crowned. They lay in the crook of your elbow, similar to how you would hold a baby. You could create this bouquet shape using a single type of flower – like a bouquet entirely of calla lilies – or a more wildflower arrangement. Longer stemmed flowers, like orchids, calla lilies, lavender, and snapdragons, are perfect for layering in this type of bouquet.
---
Now that you know what each shape means, check out our Flower Glossary to learn the names of your favorite flowers! Knowing what you want will make it easier for your florist to produce your perfect bouquet.
Find Local FLORISTS: