12 Must Know Tips Before Wedding Dress Shopping
The dress — it's the number one thing a lot of brides dream about for their future weddings. From girlhood doodles in pink notebooks to Sunday afternoons spent watching endless hours of Say Yes to the Dress to wedding-gown Pinterest boards created years ago, our fantasies change as we age and evolve with trends. But the question is ever looming… what will I wear when I walk down the aisle?
Shopping for your wedding dress is one of the most momentous parts of one of the most momentous periods of your life. But, it requires a little bit of careful planning and some key background knowledge to feel ready for the fitting room.
You've picked out the boutique you want to hit first and invited your closest family and friends. Besides screenshots of your favorite bridal gowns on Instagram and a lifetime of wedding-dress dreams, there are a few other important items to bring with you to the salon, and a few things to keep in mind once you're there! We're giving you the who, what, when, where, and why of wedding-dress shopping to ensure a stress-free experience that you will look back on with a smile. (And, more importantly, that will get you the dress of your dreams!)
---
WHO
To invite, to rely on, to be inspired by, or simply to be — let's dive in to the 'who's of your wedding dress shopping experience.
Invite only your closest group of confidants.
It's a big day for you. Naturally, you want your loved ones to attend. We understand wanting to bring everyone special in your life — parents, grandparents, siblings, friends, wedding party, everyone. But too many opinions (and opinions from distant cousins or future in-laws who may not know you that well) only add hesitation and indecision. Remember that the day is about what you want, not what everyone else wants for you. We recommend sticking to no more than four of your closest confidants who know what you want and want to support you.

Trust your consultant.
We've said it a hundred times and we'll say it a hundred times more: you plan a wedding once; wedding professionals do it every single day. Trust that your consultant knows what they're doing, and consider that they may even know what will look best on you better than you do. You might not love every dress they choose. In fact, you may hate one or two — and that's okay! That's the worst case scenario, and you won't hurt their feelings. And the best case scenario? You find a dress that you fall head-over-heels for.
Be your most open-minded self.
Of course you should (and will) have an idea of what you like as a starting-off point. But, it's important to keep an open mind. Try on a variety of styles and silhouettes to see what fits your theme, body, and vision the best. We guarantee you will learn something each time you try a dress on!
---
What
To prepare, to pack in your bag, to wear the morning of your dress shopping excursion. We've got you covered.
Prepare a selection of inspiration photos.
Whether you're looking for a traditional bridal gown or you haven't completely nailed down the dress style you picture yourself in, coming to your appointment with reference photos is a great way to help narrow down the options. Research beforehand to get an idea of what kind of dress you're looking for. Do you like a lot of beading or a more vintage lace? Do you like a tight bodice or loose-flowing? What type of materials are you drawn to? Is there a designer you absolutely love? Coming to your appointment with details like these can help narrow down your selection quickly and make it easier to find your gown. And bringing in inspiration for your wedding aesthetic and venue can also help give your consultant an idea of what your vision is!
One great resource to bring shopping with you is the Today's Bride Magazine! Check out our pickup locations where you can get a copy or view the entire magazine online.
Bring heels similar in height to your wedding shoes.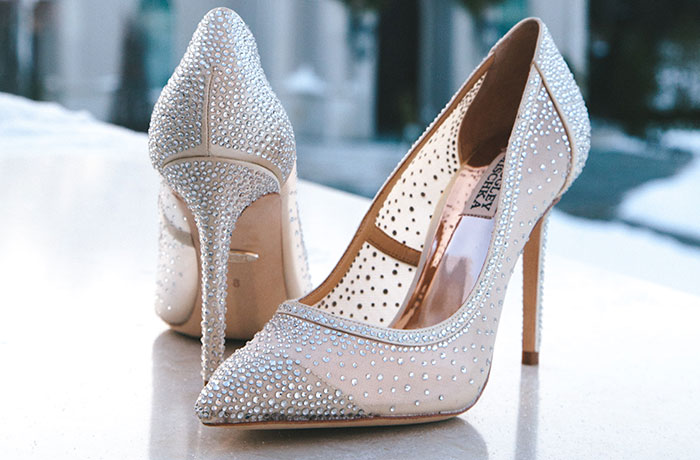 Once you find the dress, the consultant and alterations staff will take your measurements to order your custom gown. It's important to wear shoes similar in height to your wedding shoes so that there are minimal alteration changes to be made when the dress arrives. Heels also make your posture look better in a dress, and bringing your own shoes will make you comfortable. Confident plus comfortable is a winning combination for any shopping event.
Wear the right undergarments.
One thing that will definitely not go with your dream dress? Bright pink undies peeking through. So make sure to opt for nude or light-colored underpinnings! Another thing to keep in mind is what style of dress you're looking for when deciding what bra to wear. A strapless, nude-colored bra is always a safe choice! And if you're looking to add some support or smooth over certain areas, bringing shapewear to your appointment will also minimize any questions you might have about how they will look under any gown, especially if you find one you love.
---
When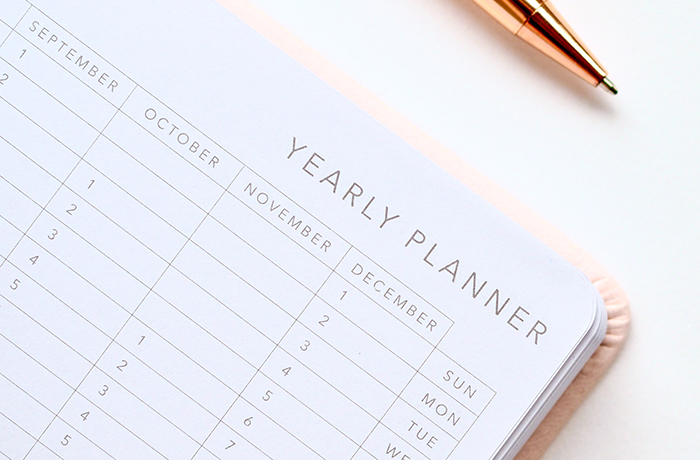 Start looking at TWELVE months before your wedding day.
It can take anywhere from six to ten months to produce your gown, and you should allow for at least two fittings to ensure the fit is perfect. But make sure you don't start too early! Although you can start shopping before the 12-month mark, allowing too much time between falling in love with your gown and walking down the aisle in it can lead to questioning your decision, FOMO, and changing trends. 12 months will allow for enough time to find the gown, have it ordered and shipped, and have it properly fitted.
Plan your wedding budget before shopping.
You should absolutely have an idea of how much you want to spend before going to your first appointment. One hidden cost that most brides don't account for when coming up with their wedding dress budget is the cost of alterations. Alterations can cost anywhere between $300-$600. If you don't account for that within your dress estimate, you'll end up overspending. Before meeting with your consultant, subtract around $500 from your dress budget and give them that number instead. That way, you can find your dream dress and stay within budget.
Coffee & breakfast come before shopping… not during!
It's going to be a long day. Coffee is a must. But you and your party should avoid bringing in any snacks or beverages to the consultation. Accidents can easily happen, and an accidental coffee spill onto the hem of a dress can ruin the entire gown. Eat a hearty breakfast first and finish your coffee before arriving at your consultation.
---
Where
Limit your store selection to three to four stops.
If you try to stop by every bridal shop in the area, you'll end up forgetting what dresses you tried on, what dresses you loved, which store the dress you loved the most was at, where you want to return, who you worked with, etc. Having too many options makes things too confusing, so limit your selections to three or four bridal shops in the area.
Research which shops carry what you're looking for.
Do your research! Different shops offer different designers, styles, and even sizes. If you know that you're looking for something specific, cut the shops that don't offer what you're looking for from your list.
Shop local!
You don't need to make a pilgrimage to Kleinfeld's in Manhattan to say yes to the gown of your dreams. There are so many incredible shops and boutiques right here in Northeast Ohio that carry the styles and designers you love. Here are a few of our favorites.
---
And most importantly, remember why you're shopping
The pressure to find the perfect dress can be stressful. Don't let the stress take away from the excitement of planning, the joy of spending time with loved ones, and the love that is the reason you're dress shopping in the first place. We know that it's easier said than done, but we know you're up to the challenge.
The biggest piece of advice we can give you is this: once you have your bridal moment, stop. Shopping is addictive. It's hard not to imagine there being something better out there just waiting for you to find it. FOMO is a real struggle during the dress-shopping process, but it's an urge that needs to be repressed if you want to stay sane.
Trust that the dress you love is everything you've ever imagined and that you'll look beautiful in it walking down the aisle. Is there a dress out there somewhere that you could love more? Probably. But as long as this dress makes you feel absolutely gorgeous, stop looking for something better. Otherwise, you'll never stop shopping.