4 Factors to Consider for a Packed Dance Floor
Written by Ted Karter, owner of SoundProof Entertainment
Picture This…
It's your big day. The ceremony went great, cocktails were on point and dinner was delicious. It's time to start the open dance party. Instead of spending all that money on a DJ, you've got a custom-built Spotify playlist of tunes that you know are going to crush it. You fire up the playlist on the Bluetooth speakers you picked up for a bargain at a wholesale store and…nothing. Everybody is smiling, talking, and drinking, but you're the only one out on the dancefloor.
What happened? Those songs you picked out were awesome! How come nobody danced?
Anyone who has been to a wedding reception knows that the music can make or break it. Whether the entire playlist was one genre, guests got sick of sitting down every time a song they didn't know came on, or maybe they got sick of doing one line dance after another, there's nothing worse than seeing an empty dance floor. While you may think a custom-built playlist and some fancy speakers are all you need for your big day, there's so much more involved in packing the dance floor at your wedding.
MIXTURE OF SCIENCE  AND ART
According to Ted Karter, owner of SoundProof Entertainment, "Getting a crowd out on the dancefloor is a mixture of science and art. Much like cooking, many people can follow the same recipe, but the results can often differ each time. Sometimes the results are better than the original and sometimes not so much. With the right knowledge, a unique twist, or a substitution, you suddenly have a Michelin Star-level dish. In the wrong hands, an extra dash of this or too little of that, the next thing you know whatever your cooking is a dish from Kitchen Nightmares"
The same thing can happen with music and a party. Here's all you need to know about packing a dancefloor and why you should hire a professional to be certain that it's done properly.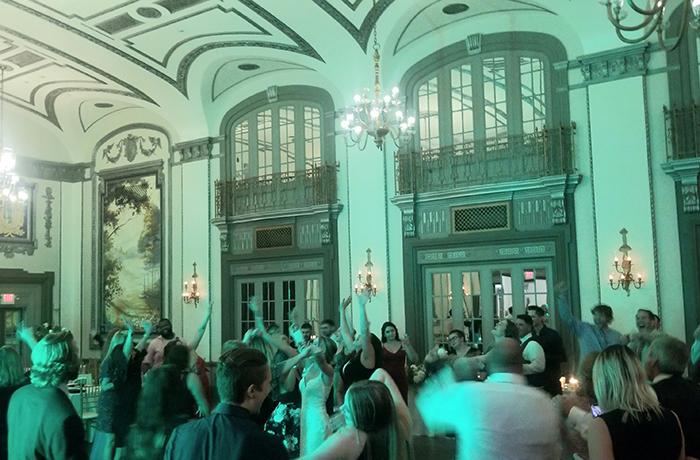 FACTORS TO CONSIDER
When it comes to packing the dance floor, the top four factors to consider are familiarity, timing, comfortability, and sound quality. The most important thing to understand about music is that it's been SCIENTIFICALLY PROVEN to activate the pleasure centers of our brains. The more familiar we are with a song, the more our brain releases dopamine. Studies have shown that our brain even anticipates our favorite parts of a song and triggers an early dopamine rush to prepare for it.
FAMILIARITY
It's important that songs should be played that people are familiar with. But it's also important to have the couples fill out a request list with songs THEY personally love and will dance to. If the bride and groom aren't dancing, guests will quickly lose interest in the dance floor. Remember, when it's your big day, your guests will naturally gravitate to wherever you are… whether that be at the bar, outside, or on the dance floor. Be certain to choose songs you know you're going to love and want to dance to.
An experienced DJ will know the right time to play songs they know the crowd will respond to. They also won't let their own biases get in the way of what to play. "Personally, I dislike the Cupid Shuffle more and more every week that I play it (let's keep that confession between us, shall we?). But whether I like it or not, there are scientific reasons why line dances are so popular at weddings," Karter mentions. "I'm happy to avoid playing line dances, but they're a great tool to be able to use to loosen people up. Not only will it get Aunt Karen off of your back bugging you all night to let the DJ play "The Electric Slide", but it will also appeal to folks that are only comfortable dancing to line dances their familiar with.  Songs that have set moves will make it easier for those who are nervous about being judged to join the dance floor."
Line dances have a strong appeal to the "familiarity" part of the equation as well as the comfortability part that we're getting to. There's been more than a few times Karter has had couples say "NO LINE DANCES" only for them to give in to the demands of their friends and family as the night goes on. The "No line dances" brides suddenly turn out to be the ones on the dance floor, smiling, laughing, and doing The Wobble like it's the best thing ever.
Comfortability
Comfortability is HUGE when it comes to getting people to dance. There are many factors in this category that have an impact on the dance floor. Lighting in the venue can help people feel comfortable by both setting the mood, as well as serving as a sense of "camouflage" for the non-dancers. "Many folks aren't comfortable dancing when they feel people are watching. If your reception hall has a lot of windows and the sun is shining through, it may be a little more difficult to coax people out to the floor. If your venue has controllable lights, I recommend that you get them turned down when the open dance begins if your DJ hasn't already asked the venue to do it," Karter explains.
Uplighting, light shows, and monograms are controllable factors that can make a dance floor more appealing to many folks. Not all dance floors and receptions may need these extra enhancements, but most can definitely benefit greatly from one.
SOUND QUALITY
The next big factor that can impact a dance floor is the sound quality of the music. While an expensive audio system doesn't automatically make someone a good DJ, a cheap speaker setup can make an amazing DJ sound bad. It should go without saying that a professional DJ will only use high-quality audio files. Great music doesn't sound great if it's from a subpar audio file. If the sound system being used isn't the right one for the job, it will have a negative effect on the dance floor.
There's a lot of science behind sound quality… but to sum it up, Karter says "Low-quality or cheap speakers can lead to the potential distortion of sound and can be uncomfortable for some guests' hearing. The wrong speakers at your reception can kill the party before it begins. A high-end speaker system will have notable clarity in the high and mid-range frequencies. Whatever is being played through these speakers will be pleasant to listen to. Balancing the right amount of sub frequencies for the size of the room and the crowd is CRITICALLY IMPORTANT. When Meghan Trainor says it's, 'all about that bass', she isn't lying!
It's easier for people to react to, and desire to dance to, songs with deep bass sounds. Our brain picks up the rhythms of the bass in music more quickly than the high-pitched sounds. The parts of the brain responsible for timing, coordination, and movement are all triggered by music and it's far more difficult to resist dancing if you can "feel" the bass.
This is why it's so important to hire a professional DJ company that can provide the right speaker system for your reception! The larger the room, the more sub you're going to need. The more people in the room, the more sub, mid, and high frequencies you're going to need. Even if you're in a smaller room or have fewer people, you'll still need a properly balanced and equalized audio system for everything to sound ideal.

TIMING
DJing is also all about timing. Assuming that all the other factors above are perfect, the next important thing… timing. Timing is essential for maximum dance floor impact. The biggest sign that will separate a professional DJ from an amateur one, is a DJ that understands that the reception is not about them. It's about knowing what song to play and when.
Professional DJs have developed the ability to "read the room". Your DJ has already begun scanning the room during cocktail and dinner hours. They've played "feeler" songs to see who's responding to what. When the open dance begins, they'll already have a good idea about what first few songs to play to get people out to the floor. It's also important your DJ is also checking-in to see what you as the couple are doing, where you're at, and who you're with before playing one of your top requests.
"Another part of being a professional is not being afraid to upset someone. Record scratch… wait, what?" Karter explains. "Hear me out. Yes, clearly the DJ should do everything the bride and groom asks. They should be polite to the bridal party and the parents of the newlyweds. But here's the truth. As far as requests go, a professional DJ has to have the conviction to NOT play a song regardless of who they might make angry or how much slack they might get for it. This is why it's important to have a DJ that realizes it's not about them. A DJ that thinks that your big day is about them will likely be easily influenced by requests. An insecure, inexperienced DJ will be worried about what people will think if they don't play a certain song. They will try to make everyone happy by playing every request, even if it's not the best time to play that particular track or even if the song just sucks."
There's a lot of pressure from guests to "play this", "play that", and "can you play this song next?" The professionals at SoundProof Entertainment have the experience to handle these requests politely and not let it bother them when people expect the DJ to be their personal Spotify playlist.
"Some songs are best played earlier in the evening, some are great for the middle, and some should only be played later in the night. But there are some songs that should not be played at all. No matter how much you're uncle is pushing me to play Creed, we can promise there isn't a 90's grunge song that won't bomb on the dance floor!", explains Karter.
"Sometimes a song just isn't a good fit. Maybe it's on the bride & groom's Do Not Play List. Maybe, it's just the wrong time to play it," Karter continues.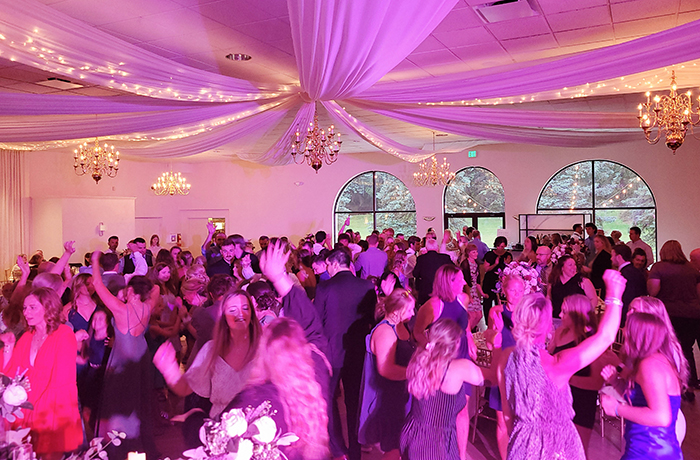 The Science of the Dance Floor
Weeks prior to your wedding day, SoundProof Entertainment has already met with the bride and groom, gone over their request list, and has a pretty good idea of what the couple's favorite songs are. That being said, not every song that's played is guaranteed to be a hit. Recognizing when a song is not working and knowing how to gracefully mix out of it is important to keep the floor going.
Familiarity, comfortability, sound quality, and timing are all factors that are involved with getting a dance floor packed. For Karter, getting people to dance is an art that applies science, years of experience, intuition, and timing. To do this, a true professional will make sure that the music is not only awesome, but sounds amazing, is played at just the right times, and that YOU are the only stars of the show.
Always go with a professional entertainment company and do your research before choosing for your special day.
---
SoundProof Entertainment is a full-service entertainment company that has been serving the Northeast Ohio area for over a decade. SoundProof Entertainment is set apart by having found the balance between the classic and the contemporary. Their professional DJ's all have had club experience as well as professional wedding MCing and DJing. They'll give you a modern reception with a traditional feel!
When the music starts you can expect elegant ceremonies, classy cocktail hours, great dinner vibes, and banging dance floors!
SoundProof Entertainment also has extra-large photo booths, uplighting, and unique monograms to customize your perfect day to be exactly how you want it to be.
To learn more about SoundProof Entertainment, visit www.soundproofentertainment.com or call 216-236-4616.